Confederate Flag Banned At Veterans Cemeteries? New VA Policy Restricts Use At Federal Sites
The Civil War has been over for a long time, but the battle over the Confederate flag's appropriate place, if any, in today's culture rages on.
The Department of Veterans Affairs is shifting policy to restrict prominent display of the Confederate flag in federally funded veterans cemeteries. The new policy comes at the request of California Rep. Jared Huffman who, along with other Democratic Congressmen, has been putting pressure on the VA to address concerns about the government footing the bill to display such a divisive symbol. Huffman wrote a letter to the VA in early July, urging the Department to act. Ronald Walters, the interim undersecretary for memorial affairs, responded to Huffman in a letter Friday signaling the new policy.
"We are aware of the concerns of those who wish to see Confederate flags removed from public venues because they are perceived by many as a symbol of racial intolerance," Walters wrote, according to the Los Angeles Times. "We are also aware that the national cemeteries originated during the Civil War and that they are the final resting places of those who serves on both sides of that conflict and as such flags of the Confederacy are also viewed by some merely as historical symbols."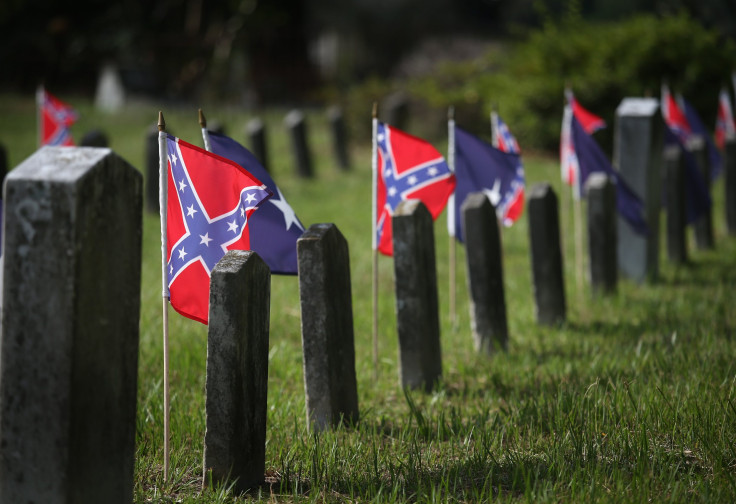 As per the new policy, which will go into effect later this year, federally funded veterans cemeteries will no longer be able to fly the Confederate flag on flagpoles or allow the flag or reproductions of the flag to be prominently displayed. Previously, veterans cemeteries, especially in the South, have flown the Confederate flag on select occasions, such as Confederate Memorial Day.
However, the VA will not interfere with private groups or individuals who wish to place smaller versions of the flag or items with its image on individual graves. The only stipulation is those displays must come at no cost to the government.
"While racist individuals and groups continue to embrace the Confederate battle flag, it has never been more clear that this anachronistic symbol of hatred, slavery, and insurrection should not be promoted or gratuitously displayed on federal property," Huffman said in a statement reacting to the news. "That's why I am so grateful that the Department of Veterans Affairs responded to our letter and to public concerns and decided to prohibit the large-scale display of Confederate flags on our national veterans cemeteries."
Critics argue that the government should not interfere with cemeteries and families honoring the legacy of fallen Confederate soldiers, but the new restrictions come amid growing concerns about the ethics of flying the Confederate flag in any official capacity. Multiple state legislatures have voted to remove the flag from state houses and other prominent places in the face of criticism in recent years.
© Copyright IBTimes 2023. All rights reserved.