Corinthian 15 Student Loan Debt Strike Admirable, But Unrealistic Protest Against For-Profit Colleges, Experts Say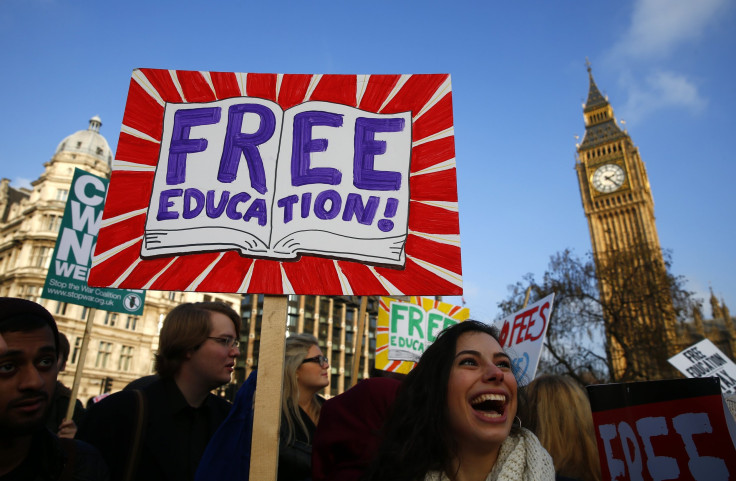 The stories out of for-profit colleges all seem to have the same plot points: aggressive recruitment, exaggerated claims, worthless degrees. But one group of students is fighting to get a happy ending -- in the form of forgiven loans.
A branch of Occupy Wall Street's Debt Collective arm on Monday launched a debt strike by 15 students who attended schools run by Corinthian Colleges Inc. The members of the so-called Corinthian 15 are refusing to pay back any of their student loans as a way to protest not only for-profit schools but also what they see as government-approved predatory lending. The Corinthian 15 are calling for the federal Department of Education to erase their debt as reparation for supporting a broken system -- a proposal similar to one 13 senators suggested in a December letter to education secretary Arne Duncan.
But experts say that while the debt strike is admirable and arguably deserved, the Corinthian 15 are unlikely to see repayment. Expecting this to spark a rebellion among other students is also unrealistic because of the consequences for defaulting on loan payments.
"I understand that they are trying to make a statement," said Natalia Abrams, executive director of Student Debt Crisis, a nonprofit based in Los Angeles. "I just don't see the federal government doing a special case for 15 students especially when it's so hard to get any kind of federal loan forgiveness."
Roughly 40 million Americans owe a total of $1.2 trillion for school and getting out of paying it is notoriously difficult. There are a few circumstances under which the government will forgive student debt, like disability or accreditation issues, but the Corinthian 15 don't fall under them.
The 100-campus network of Corinthian Colleges has been under investigation since 2013 for misleading students. Campus officials allegedly faked job placement rates by paying temporary employment agencies to hire its graduates for short time periods. Students have also complained about intrusive recruiting techniques and the quality of their degrees.
The government should share the responsibility for student success, Abrams said, because like other for-profit schools, Corinthian Colleges regularly derived up to 90 percent of its revenue from federal aid. "By the federal government giving so much aid and loans, it creates this tacit approval that this is an OK institution to go to all while it's crumbling [under]neath," she said.
Instead of closing the schools, which would have erased loans for students who were enrolled within 120 days of the shutdown, the education department sold them. The Consumer Financial Protection Bureau negotiated $480 million in forgiveness for private borrowers, but students with federal loans were left without an option for retribution, Abrams said. Included are the Corinthian 15, who complain they're unable to make payments because they can't get jobs with their inadequate education.
The controversy isn't new. The White House has been fighting to hold for-profit colleges accountable in recent years. President Barack Obama's gainful employment policy and national college ratings system both aim to tie federal funding to student performance. Sen. Elizabeth Warren, D-Mass., was among the senators who asked the education department in December to discharge the federal loans of students involved in lawsuits against Corinthian.
"When students take on loans to pay for college, they are making a serious financial decision that will affect them for years to come," the senators wrote. "If colleges fail to hold up their end of the bargain — if they break the law in ways that bear on their students' educational experience or finances — students should not literally be stuck paying the price."
But in the case of the Corinthian 15, financial aid expert Mark Kantrowitz said the education department doesn't have the obligation or authority to cancel students' loans. "There is nothing in the law that says because you're dissatisfied with your education you don't owe the debt," said Kantrowitz, senior vice president of Edvisors.com. "All they're going to do is hurt themselves."
Missing loan payments can impact people's credit history, decrease their paychecks and prevent them from getting tax refunds. Basically, Kantrowitz said, the government is going to get its money one way or another.
There's an even bigger argument against the government's repayment. "Do you recognize the kind of precedent that would set?" said Michelle Asha Cooper, the president of the Washington, D.C.-based Institute for Higher Education Policy. "Everyone would want their loans discharged."
Cooper, however, said the students are right to question the caliber of the education the government is essentially endorsing. If Corinthian Colleges had prepared them properly, they would have steady incomes and no problem paying for loans. "What they're really saying is, 'We're demanding quality,'" she said. "It's a very serious call to the government and to the institutions that are serving them to do a much better job."
© Copyright IBTimes 2023. All rights reserved.