Coronavirus: China Will 'Absolutely' Pay A Price For COVID-19 Pandemic, Pompeo Warns
KEY POINTS
Trump has long said China is to blame for COVID-19's global spread
Pompeo says Communist Party will "pay a price" for the pandemic
China will remain top national security problem if Trump is reelected
With the World Health Organization (WHO) punished, the Trump administration is again taking aim at China. It says China will "absolutely" pay a price for unleashing the COVID-19 pandemic wreaking havoc across the United States and the much of the world.
This new threat against China was made Wednesday by Secretary of State Mike Pompeo, who also said this punishment will be reflected in a change in relations with China. The Trump administration declared China a major strategic competitor in 2017.
"I think the world will absolutely make them pay a price (for the pandemic)," said Pompeo in an interview with Bob Cusack, editor-in-chief of The Hill, on Wednesday.
"You can see it, every place I go, every foreign minister that I talk to, they recognize what China has done to the world."
On Monday, Pompeo condemned China for its unlawful claim to own most of the South China Sea, and for bullying other Asian nations. He said China's "claims to offshore resources across most of the South China Sea are completely unlawful, as is its campaign of bullying to control them."
This criticism has now been extended to China's role in the global COVID-19 pandemic.
"I'm very confident that the world will look at China differently and engage with them on fundamentally different terms than they did before this catastrophic disaster," said Pompeo.
A U.S. National Security Strategy issued December 2017 describes China as a "revisionist" power. It said China "seeks to displace the United States in the Indo-Pacific region, expand the reaches of its state-driven economic model, and reorder the region in its favor."
The Trump administration's U-turn on building closer relations with China, which were the aims of the Bush and Obama administrations, hews to the strategic campaign against China being waged on a wider front.
Pompeo said China will remain the top national security problem if Trump is reelected in November.
Pompeo said the Trump administration's strategy against China is to keep squeezing China "to make sure we have a fair and reciprocal set of relationships with the Chinese Communist Party." Attaining the aims of this strategy has meant more forceful direct action against the Communist Party on all fronts.
Trump now says he has no interest in talking to President Xi Jinping or moving to the next phase of a trade deal with China.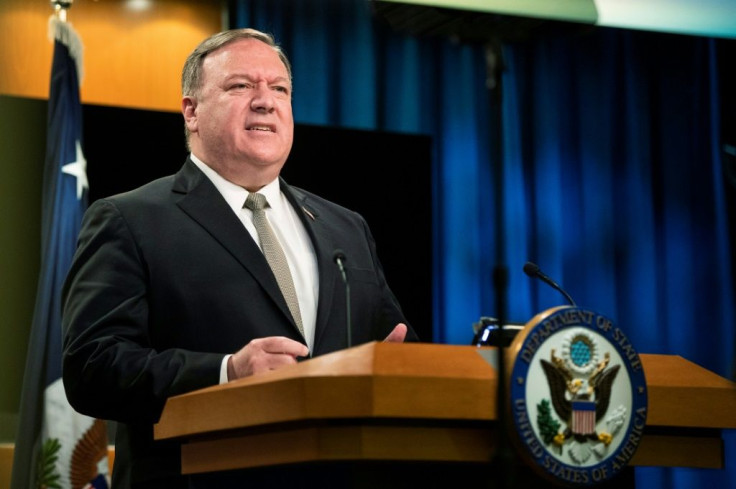 © Copyright IBTimes 2023. All rights reserved.
FOLLOW MORE IBT NEWS ON THE BELOW CHANNELS