Coronavirus Enforcement: Restaurant Loses License After Video Shows It Packed On Mother's Day
A Colorado restaurant has been shut down indefinitely after violating statewide coronavirus policies.
In a video shared Sunday, C&C Breakfast and Korean Kitchen in Castle Rock can be seen with a packed dine-in crowd for Mother's Day, despite the state's rules still banning large public gatherings. According to the poster of the video, the eatery's owners said the crowd was double that of a typical Mother's Day.
After the release of the video by Colorado Community Media, C&C's license was suspended by the Tri-County Health Department on Monday. It will stay closed until the Department is able to review its practices and potential violations.
"It is disheartening that this restaurant has chosen to move ahead of the public orders and not even consider implementing best practices to prevent the spread of COVID-19," said John M. Douglas Jr. of Tri-County Health Department.
"We all believe in the rule of law and need to follow the laws and work through legitimate channels to change those laws," Gov. Jared Polis said about the incident. "We don't have the ability to violate laws."
Restaurants in Colorado have been closed for dine-in service, like in most of the country, since mid-March, when the COVID-19 outbreak began to rapidly escalate. While Polis has moved to allow some businesses to reopen, eateries like C&C are still required to stick with takeout and delivery options only.
"I know they're trying to punish us," C&C co-owner Jesse Arellano said. "They're going to try to make us an example, which is fine. We're willing to accept that."
According to Johns Hopkins University, Colorado has seen nearly 20,000 confirmed cases of the novel coronavirus and over 3,000 reported deaths.
Castle Rock has an estimated population of nearly 65,000 and is located roughly 30 miles south of Denver.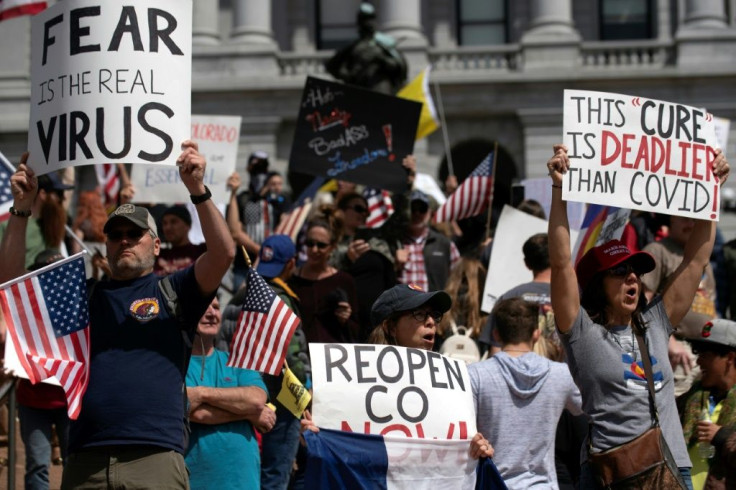 © Copyright IBTimes 2023. All rights reserved.