Coronavirus Less Deadly Than First Thought, Tests Show 1% Fatality Rate
KEY POINTS
The COVID-19 mortality rate in the United States might be as low as 0.5%
This lower figure is based on the infection fatality rate, or IFR
Indiana has an IFR of 0.58% and New York state, 0.5%
The COVID-19 mortality rate for the entire United States might be as low as 0.5% based on a metric called the "infection fatality rate (IFR)," whose proponents argue is a better measure compared to the "case fatality rate (CFR)" widely used today. COVID-19 mortality based on the commonly used CFR ranges from 1% to as high as 5%.
IFR represents the proportion of deaths among all the infected individuals. It attempts to account for all asymptomatic and undiagnosed infections. On the other hand, CFR calculates the number of dead among the number of diagnosed cases.
Studies using IFR, such as one now being conducted in Indiana, also suggest COVID-19 might be more common but less deadly than is currently assumed. This assumption is based on the results of serologic assays, commonly called antibody tests, which detect antibodies to the coronavirus in a person's blood instead of the coronavirus itself. SARS-CoV-2 (severe acute respiratory syndrome coronavirus 2) is the coronavirus that causes COVID-19.
These studies have found, as have others, that large numbers of COVID-19 infected people in the U.S. never became seriously ill from the disease. Some doctors noted when these mild infections are included in coronavirus statistics, the illness appears less dangerous.
"The current best estimates for the infection fatality risk are between 0.5% and 1%," said Dr. Caitlin Rivers, an epidemiologist at the Johns Hopkins Center for Health Security quoted by NPR.
Dr. Rivers, however, admitted even a fatality rate smaller than 1% is still a formidable threat. She said this percentage is still "many times more deadly than seasonal influenza."
The U.S. Centers for Disease Control and Prevention (CDC) reports there were 34,200 deaths from influenza in the 2018-19 flu season. Some 35.5 million people in the U.S. fell sick with influenza. The U.S. flu season lasts 13 weeks, on average, starting in late fall.
In contrast, there were 1.77 million confirmed COVID-19 cases and more than 103,000 deaths -- all since January -- as of 8:00 p.m. ET Thursday, according to Worldometer data.
Prof. Nir Menachemi was tasked by Indiana governor Eric Holcomb with finding out how many Indianans had been infected and how many would die from COVID-19. Prof. Manachemi is the Fairbanks Endowed chair and serves as chair of the Health Policy and Management department of the IU Richard M. Fairbanks School of Public Health.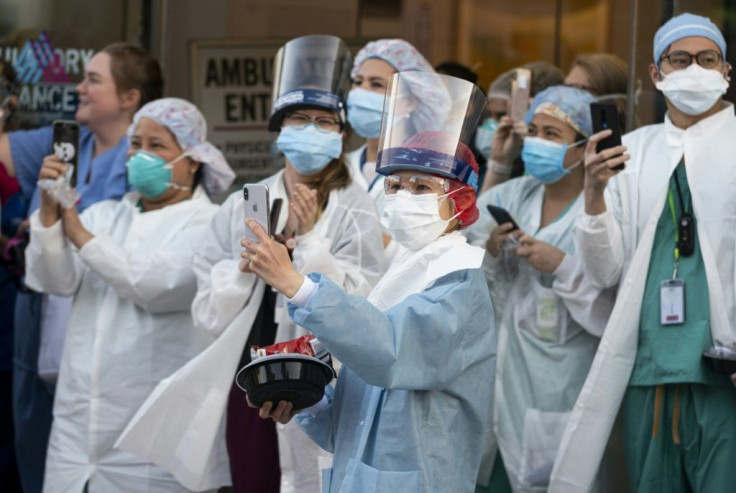 When he was given this job a few months ago, he said "it was really difficult to know for sure," to answer Holcomb's questions.
That was because state health officials only knew about people that had been sick enough to be tested for the SARS-CoV-2. Prof. Manachemi said this number can be misleading since it doesn't include the vast number of people that might be infected but aren't seeking medical care.
In April, Prof. Menachemi and the Indiana State Department of Health launched a study of involving more than 4,600 randomly selected people statewide. These volunteers were tested twice: once using the standard swab test and the other a seroligic assay looking for antibodies to SARS-CoV-2 in the blood.
Preliminary results show SARS-CoV-2 had infected some 3% of the state's population, a number that comes to 188,000 people.
"That 188,000 people represented about 11 times more people than conventional selective testing had identified in the state to that point," said Prof. Menachemi, noted NPR.
He also said 45% of those infected reported no symptoms at all. The study data allowed Prof. Menachemi and his team to calculate the Indiana's IFR, which comes to 0.58%, or about one death for every 172 infected persons.
The results are similar to those suggested by other antibody studies throughout the country. In New York, an antibody study indicated the state has an IFR of some 0.5%.
© Copyright IBTimes 2023. All rights reserved.