Coronavirus Senate Testimony: Fauci Warns Of 'Serious' Consequences If Mitigation Ignored
KEY POINTS
Redfield testified the nation is not "out of the woods" when it comes to controlling COVID-19
The FDA fast-tracked Moderna's vaccine for coronavirus
Fauci said the U.S. death toll is "almost certainly" than the nearly 81,000 cases that have been confirmed
Dr. Anthony Fauci warned Tuesday the United States could face "serious" consequences if the country is reopened prematurely amid the coronavirus pandemic and failure to follow mitigation guidelines could lead to an explosion in cases.
Dr. Robert Redfield, the head of the Centers for Disease Control and Prevention, said the nation is by no means "out of the woods yet" when it comes to controlling COVID-19.
Also testifying Tuesday was Dr. Stephen Hahn, head of the Food and Drug Administration.
The testimony came as the FDA approved fast-tracked testing of a vaccine developed by Moderna Inc. President Trump has been pushing for businesses to reopen.
The latest count by Johns Hopkins shows 1.35 million confirmed coronavirus infections in the United States and nearly 81,000 deaths. Fauci testified the death toll "almost certainly" is higher.
"What I've expressed then and again is my concern that if some areas, cities, states, what have you, jump over prematurely over those checkpoints [to mitigate spread of the contagion] and prematurely open up without having the capability of being able to respond effectively and efficiently," Fauci, the director of the National Institute of Allergies and Infectious Disease, said in testimony before the Senate Health Committee.
"My concern is that we'll start to see little spikes that might turn into outbreaks."
He added: "There is a real risk that you will trigger an outbreak that you may not be able to control."
Under questioning from Sen. Lamar Alexander, R-Tenn., Fauci said it is unlikely there will be an effective treatment in time for schools to reopen in falls, and a vaccine is still far into the future. He said remdesivir, the treatment approved for emergency use by the FDA, has shown only modest results.
"Even at the top speed we're going, we don't see a vaccine playing in the ability of individuals to get back to school this term," Fauci said.
Eight vaccines currently are in development, he said.
Fauci contradicted claims by Trump last week that the virus would go away even without a vaccine.
"That is just not going to happen," Fauci said. "It's a highly transmissible virus. It is likely there will be virus somewhere on this planet that will likely get back to us."
Fauci emphasized the need for widespread testing and contact tracing in keeping the virus in check.
"It's the ability and the capability of responding to those cases with good identification, isolation and contact tracing [that] will determine whether you can continue to go forward as you try to reopen America," he said.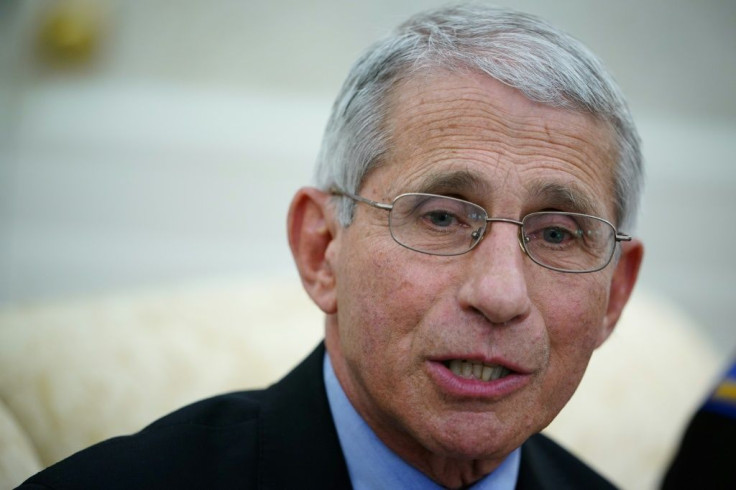 © Copyright IBTimes 2023. All rights reserved.
FOLLOW MORE IBT NEWS ON THE BELOW CHANNELS