Coronavirus Treatment: Trump Is Taking Hydroxychloroquine Despite Studies Proving Higher Death Rate
KEY POINTS
President Donald Trump claims he's taking hydroxychloroquine to prevent infection by the novel coronavirus
He didn't say who prescribed the drug to him
"Here's my evidence. I get a lot of positive calls about it," Trump said
President Donald Trump's claim he's been taking the anti-malarial drug hydroxychloroquine as a prophylactic for COVID-19 since last week is raising eyebrows among the medical community.
Hydroxychloroquine is a prescription drug. Several new studies have shown the drug is as likely to kill its patients from a heart attack as it is to cure them of COVID-19.
"A lot of good things have come out about the hydroxy," alleged Trump. "A lot of good things have come out. You'd be surprised at how many people are taking it, especially the frontline workers -- before you catch it. I happen to be taking it. I happen to be taking it ... I'm taking it -- hydroxychloroquine -- right now."
On Monday after Trump said he now takes "hydroxy," White House physician, Commander Dr. Sean Conley USN, confirmed that the president was indeed taking the drug after concluding "the potential benefit from treatment outweighed the relative risks."
This is despite the U.S. Food and Drug Administration (FDA) in April cautioning against using for COVID-19 outside of a hospital setting or a clinical trial "due to risk of heart rhythm problems."
Asked again for evidence of hydroxychloroquine's efficacy against COVID-19, Trump said: "Here's my evidence. I get a lot of positive calls about it."
Originally developed over four decades ago as an antimalarial drug, hydroxychloroquine is also used to treat lupus and rheumatoid arthritis. There are no approved treatments for COVID-19.
"If I was his physician, I'd be pushing back strongly," said Dr. Vin Gupta, a pulmonologist and global health policy expert. "It's definitely not totally safe. He's putting himself at risk."
Dr. Gupta also told NBC News it's unwise to take a medicine unless there is a real medical need.
Even Fox News was aghast at the news. Asked why Trump would be taking the drug, Dr. Manny Alvarez, senior managing editor of Fox's health news, said it's "highly irresponsible" for Trump to claim he's now taking hydroxychloroquine. He also wants Dr. Conley to explain what's changed in the past week or two since studies have shown no benefits from hydroxychloroquine.
Dr. Alvarez also said all the data that's been coming out repetitively shows no major benefit from prescribing hydroxychloroquine. He also said his hospital doesn't even use the drug.
One of those studies published as a preprint on April 22 revealed "an association of increased overall mortality was identified in patients treated with hydroxychloroquine alone." The study found no evidence using hydroxychloroquine, "either with or without azithromycin, reduced the risk of mechanical ventilation in patients hospitalized with COVID-19."
The key study results show the rates of deaths were 27.8% for patients given hydroxychloroquine (HC) only; 22.1% for the HC+ azithromycin (AZ) group; and 11.4% for the no hydroxychloroquine (NC) group. It also shows the risk of death from any cause was higher in the HC group compared to the no HC group, but not in the HC+AZ group.
The authors said their findings "highlight the importance of awaiting the results of ongoing prospective, randomized, controlled studies before widespread adoption of these drugs." They also said multiple prospective, randomized trials of hydroxychloroquine are now being undertaken and will provide valuable information about the safety and efficacy of this antimalarial as an alleged cure for COVID-19.
Trump has touted hydroxy since late March and has repeatedly called the drug a "game changer."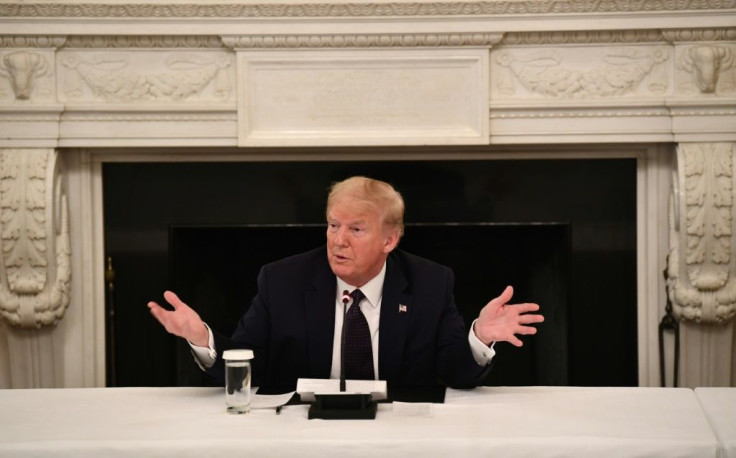 © Copyright IBTimes 2023. All rights reserved.