Costa Concordia Pulled Upright In An Operation That Cost $800 Million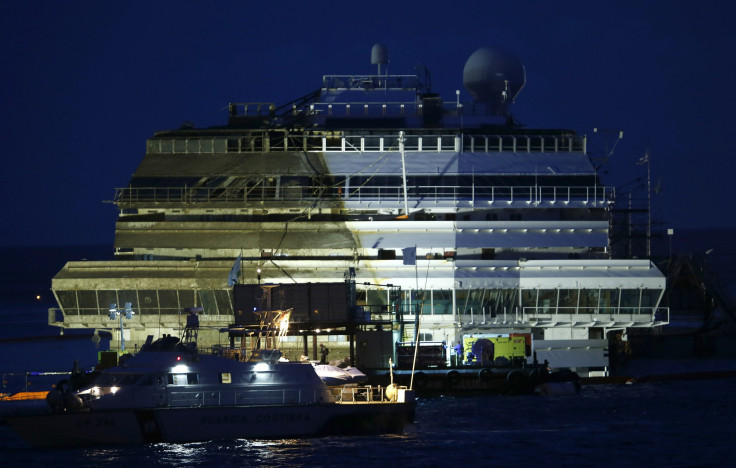 The capsized luxury cruise ship, Costa Concordia, was pulled upright early Tuesday about 20 months after it ran aground off Giglio Island off the coast of Tuscany in Italy.
The 19-hour salvage operation of unprecedented scale employed cables and metal water tanks to raise the ship onto a platform, and ended at 4.00 a.m. local time (10:00 p.m. EDT), Reuters reported.
"The rotation happened the way we thought it would happen and the way we hoped it would happen," Franco Porcellacchia, leader of Costa Cruise's technical team, was quoted as saying by Reuters. "It was a perfect operation, I would say."
He added that there was no indication of any environmental damage from the disaster, which occurred in January 2012.
The cruise liner, which was carrying 4,000 passengers and crew, capsized after hitting rocks close to the shore, claiming the lives of 32 people. Bodies of two of the victims have never been found, and there are hopes that the bodies may be located during the salvage operation.
"I think the whole team is proud of what they achieved because a lot of people didn't think it could be done," Nick Sloane, who oversaw the operations, was quoted as saying by Reuters.
The salvage operation is said to be the most expensive maritime recovery in history and cost more than $800 million, far higher than the value of the ship itself, according to Wall Street Journal. The exorbitantly expensive and complicated recovery exercise was due to the Italian authorities' insistence that the ship be removed from the water intact without cutting it up into pieces, in order to reduce damage to the local environment.
The ship will be fully inspected before preparing it for the next stage, which will involve repairing the ship so it can be towed away and destroyed.
© Copyright IBTimes 2023. All rights reserved.
FOLLOW MORE IBT NEWS ON THE BELOW CHANNELS