Crackdown In Lebanon Pushes Some Sunnis Toward ISIS, Al-Nusra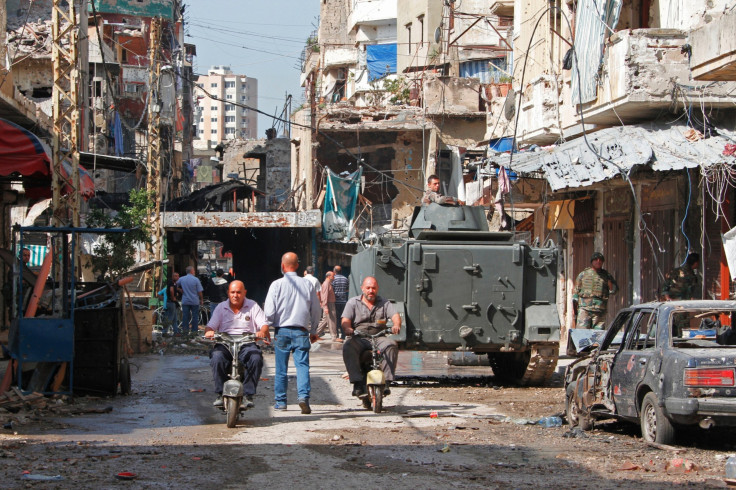 A recent wave of Shiite-led crackdowns in Lebanon is causing some Sunni Muslims within the country to adopt extremist ideology and align with jihadist groups like the Islamic State or al Qaeda. The Lebanese Army, working with Lebanon's own Iran-backed, Shiite militant group Hezbollah, is fighting a recent upswing of Sunni extremist activity -- but the crackdown makes no distinction between Lebanese and Syrian Sunni militants, hits Syrian refugees and moderate rebel fighters as well, and may contribute to inflaming sectarian conflict in Lebanon, linking it to the war in next-door Syria.
"The objective of pro-Syrian-regime groups in Lebanon is to contain and undermine any Sunni base," said Imam Salamey, a professor at the Lebanese American University and author of The Government and Politics of Lebanon. "Most of the Sunni-concentrated urban centers are surrounded by Lebanese fighters."
Sunnis are reacting. In the past few weeks, a handful of Lebanese Sunni soldiers announced their defection to either the al-Nusrah Front, the current offshoot of al Qaeda in Syria, or the Islamic State group, also known as ISIS. Lebanese soldier Omar Khaled Shamtieh announced last week he was joining the Nusra Front because the army had become a "tool" for Hezbollah. In Tripoli, a pro-ISIS Lebanese Sunni militant group opened fire on army forces Friday, prompting a weekend of violent clashes in a prominent Sunni neighborhood, which left at least two civilians dead.
Lebanon's constitution itself recognizes 18 different religious sects, so sectarian conflicts are not a new phenomenon in the country's history. More than 50 percent of the population identifies as Muslim, and the numerical split between Sunni and Shiite is fairly even. However, this current wave of clashes is unique in that the Syrian civil war has significantly increased the country's population through the influx of refugees, and provided ready-made insurgent groups for radicalized Lebanese Sunnis to join.
In the past, "they didn't have these outside forces taking advantage of fissures," said Thomas H. Henriksen, a senior fellow at the Hoover Institution.
More than a million Syrian refugees have entered Lebanon since 2011. Tuesday, the Lebanese prime minister announced that this has had a "destabilizing effect" on the country. "Everyone is feeling that the threat is overwhelming," said Salamey. "Syrian refugees could include fighters, which would create significant insecurity for the country."
Refugees who have already made it across the border now face what Salamey called "extremely discriminatory" restrictions. The recent crackdown even frustrated some refugees to the point of holding a pro-ISIS rally in Arsal last month, according to the Daily Star.
'Fighters' is a blanket term when it comes to the Lebanon-Syria border. Arsal has long been home to moderate Syrian rebels from the Free Syrian Army as well as fighters from extremist groups like ISIS and the Nusra Front. While they may be enemies in Syria, they share an enemy in Lebanon in Hezbollah, and are using the country to secure safe passages from Arsal to their strongholds in Syria, to have some kind of refuge for fighters, and create a new supply line for the winter months, Salamey said.
So far, the Lebanese army has succeeded in eradicating pockets of extremist uprisings and has refused to give militants safe passage or access to a supply route. But it's far from sure that the Lebanese state will fall to the expanding influence of ISIS in the country. "Lebanon is proportionally different than other countries," said Salamey. "It's impossible to foresee the ability of ISIS to take over the country and establish an Islamic State."
© Copyright IBTimes 2022. All rights reserved.
FOLLOW MORE IBT NEWS ON THE BELOW CHANNELS