Critical Race Theory Backlash Widens: Texas School Principal Forced Out
KEY POINTS
Whitfield's resignation came after the board voted for his non-renewal in September
Whitfield will remain on paid leave through Aug. 2023
Texas Gov. Greg Abbott recently signed a new law that further bans CRT in classrooms
Some believe Glenn Youngkin's Virginia win was also driven by his anti-CRT stance
A Texas high school principal was forced to resign as discussions on critical race theory (CRT) heated up, with parents accusing the principal of indoctrinating students. Texas is among several states that ban the teaching of CRT.
Colleyville Heritage High School principal James Whitfield tendered his resignation this week at a closed-door special school board meeting following months of dispute with the Grapevine-Colleyville Independent School District (GCISD), the district confirmed, according to NBC affiliate KXAS-TV.
A joint statement after the board meeting said "both the district and Dr. Whitfield each strongly believe they are in the right," but that the two sides "have mutually agreed to resolve their disputes."
Whitfield's resignation came on the heels of a September board vote of 7-0 that moved to not renew the principal's contract with the district. The controversy stemmed from a call to fire Whitfield by former school board Stetson Clark, who accused Whitfield of pushing CRT. This week's vote unanimously voted for Whitfield to remain on paid leave until Aug. 15, 2023.
Despite the reported mutual decision, students and parents who supported Whitfield spoke on his behalf during the public comment session of the board meeting, ABC affiliate WFAA reported.
Some of Whitfield's supporters said the Black principal was targeted over his vocal beliefs on diversity and inclusion even if he didn't directly teach CRT. The district previously said reasons for Whitfield's non-renewable included allegations of insubordination, dishonesty with the media, and deleting emails as a public record.
During the September meeting, Whitfield, whose wife is white, spoke before the trustees. "I stand before your today no different than I was when I came in '18-'19. I'm an advocate for all kids. I believe every student regardless of race, religion, sexual orientation, whatever bucket you want to put them in, I believe they should have access to excellent equitable education," he said.
CRT is based on the idea that racism is ingrained in American institutions and that the said institutions function primarily to maintain white dominance in the U.S. society.
In mid-September, Texas Gov. Greg Abbott signed a bill into law that further bans CRT teaching in classrooms, despite pushback from advocacy groups who believe CRT can help address inequities in schools.
Whitfield's case, which has attracted national attention, comes even as political pundits have attributed the backlash against CRT as one of the main reasons conservative candidate Glenn Youngkin won the Virginia governor's job in recent elections beating Terry McAuliffe, in a huge shock for Democrats.
Republican Youngkin vowed to "ban critical race theory" in a campaign speech, The Guardian reported, while McAuliffe said, "I don't think parents should be telling schools what they should teach" in a debate session. Some commentators believe Youngkin won the gubernatorial race by finding opportunity in the state's concerns related to CRT.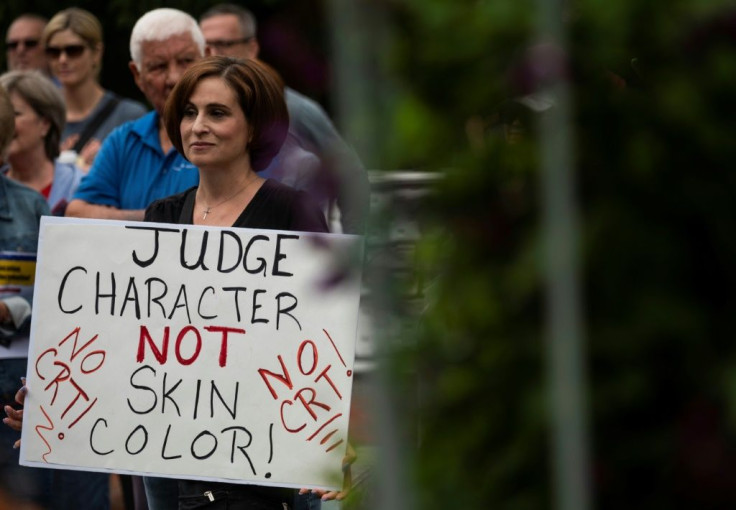 © Copyright IBTimes 2022. All rights reserved.
FOLLOW MORE IBT NEWS ON THE BELOW CHANNELS