Cuba Gooding Jr. Slammed By Twitter After Lifting Sarah Paulson's Skirt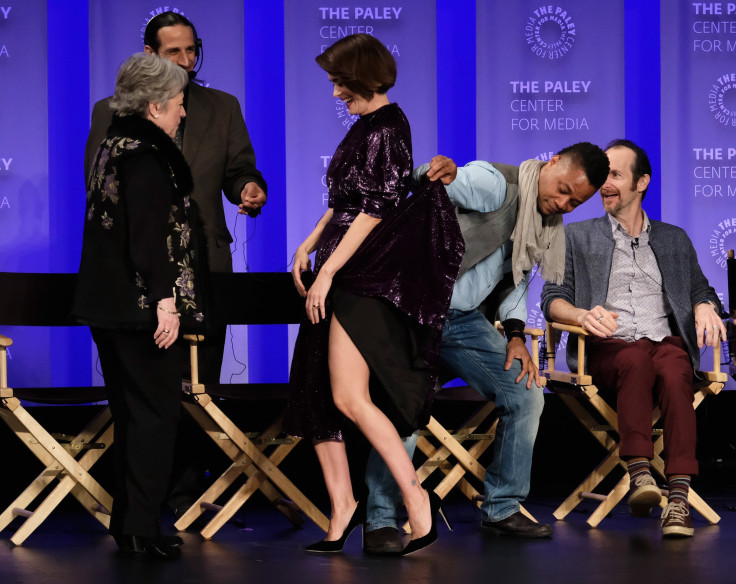 During Sunday's PaleyFest in Los Angeles, "American Horror Story" actor Cuba Gooding Jr. landed himself in hot water when he lifted up the skirt of his co-star, Sarah Paulson. As Paulson was walking up to greet Kathy Bates, Gooding Jr. lifted the bottom half of her outfit while she wasn't looking, revealing her thigh.
Footage from the event shows Paulson laughing and smiling just as Gooding Jr. pulled up her dress, but it appears her reaction had more to do with hugging Bates than getting her legs revealed. Following the incident, fans on Twitter blasted the actor saying what he did was not ok.
Digital Spy reports that prior to the incident, Gooding Jr. had also tried to pull at her dress after she had taken a seat, which led to Paulson slapping his hand away. Following both incidents, the panel is said to have gone on smoothly with a light-hearted vibe.
According to series creator Ryan Murphy, Season 7 of "American Horror Story" will deal with the 2016 presidential election. "And what I'm interested in doing is not just the obvious, single-minded point of view but rather express all sides of that equation," he told The Hollywood Reporter.
Murphy said the stuff he is currently developing will highlight people "who don't have a voice in our culture." The show creator went on to describe them as "people who are ignored by the current administration and who are afraid and feel terrorized that their lives are going to be taken away."
© Copyright IBTimes 2023. All rights reserved.