Cuomo Slams Alexandria Ocasio-Cortez For Failed Amazon HQ In New York
In a stunning about face, Gov. Andrew Cuomo is blaming Rep. Alexandria Ocasio-Cortez and her influence over Democrats for playing a key role in scuppering the deal that would have led Amazon.com to establish its second headquarters, or HQ2, in Queens, New York City.
Cuomo last week said Ocasio-Cortez, a socialist Democrat who advocates a greater government role in fighting inequality and boosting social safety nets, didn't play a significant role in the deal's demise. His sudden turnaround was flabbergasting, said political observers.
Cuomo, who is also a Democrat, was an outspoken proponent of HQ2 and pushed hard to close the deal. He was loudly criticized for negotiating the deal in secret without the participation of the State Legislature.
Opponents of the deal objected to the $3 billion in tax breaks and subsidies the city and state offered Amazon to build HQ2 in Long Island City. They also blasted Amazon for saying it wouldn't allow workers at HQ2 to unionize.
In his first public statement after the city denied the deal, Cuomo said Ocasio-Ortez's unexpected victory over Rep. Joe Crowley in the Democratic primary of 2018 caused local politicians to flip from supporters of the Amazon deal to opponents because they feared a primary challenge from progressives.
Opposing Cuomo was Ocasio-Cortez (who represents the city's 14th district) and a coalition of local politicians. Among these Amazon opponents were Council Member Jimmy van Bramer and state Senator Mike Gianaris, who were the leaders of the movement against the deal.
Gianaris served on the obscure Public Authorities Control Board (PACB) where each voting member had a veto on the Amazon deal. PACB would have had to approve the deal unanimously. Gianaris dissented and vetoed the deal.
Also against the deal was a grassroots coalition of local advocates including Make the Road, the Tech Workers Coalition, the Democratic Socialists of America, the Retail Wholesale and Department Store Union, and the Teamsters.
In the same radio interview, Cuomo blasted Gianaris and van Bremer for changing their minds about supporting the deal. Cuomo said this was due to a "political shift" after Ocasio-Cortez's victory.
"Then they (Gianaris and van Bremer ) oppose the very application that they supported.," said Cuomo. "They signed the darn application. We win. The same people who sign it then say, 'Oops, the politics changed, I changed my opinion.'"
Cuomo also criticized fellow Democrats who control the state Senate for giving Gianaris veto power over the project. He slammed this move as "irresponsible."
"I think they should've stuck it out, but I also think you had politicians playing their own local politics and the state Senate as a body represents the entire state and should not have deferred to just a local politician's political interests," said Cuomo.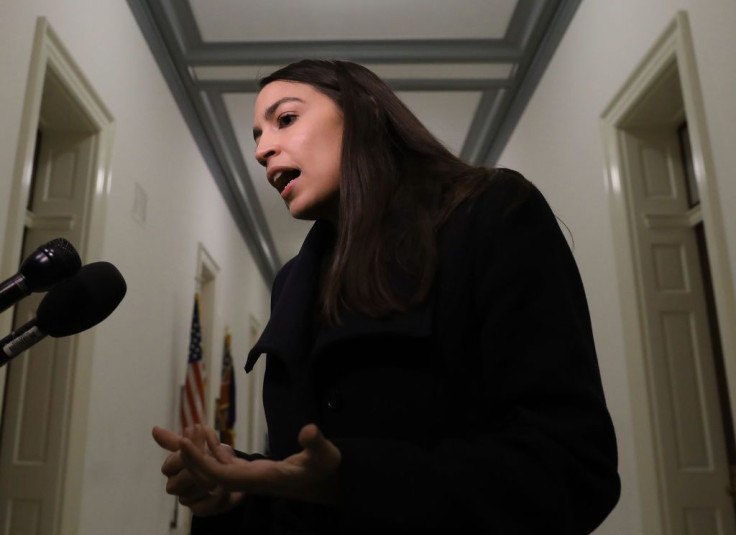 Opponents of the Amazon deal were having none of Cuomo's grandstanding, however.
"A real leader would take responsibility for his mistakes and learn from them instead of pointing fingers at everybody else," said Gianaris.
"The fact was this was a deal the governor negotiated in secret, kept it hidden from everyone, and then once he reached a bad deal expected everyone to accept it without asking questions. That's not how it works."
Van Bremer said "We for our values. Even when we were faced with the richest man in the world and the wealthiest corporation in the world we did not buckle … Amazon's values are not New York's values."
© Copyright IBTimes 2023. All rights reserved.