Dalai Lama Calls On Japanese Leaders To Investigate Tibet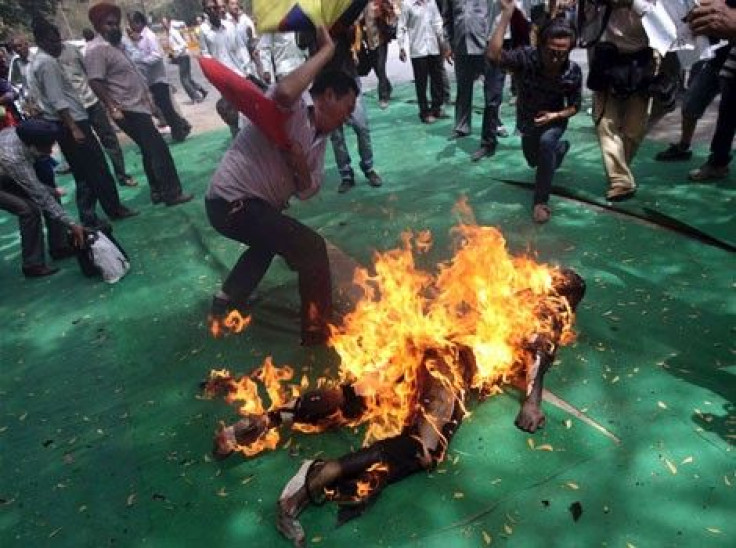 The Dalai Lama has turned to the Japanese for help in investigating recent self-immolation cases in various areas of Tibet.
China had rebuffed the Dalai Lama's request that Chinese officials investigate Tibet, where a reported nine people burned themselves to death just this past week. Beijing reacted, as it usually does, by condemning the Dalai Lama and any country or individual people who give the exiled Tibetan spiritual leader a platform to speak.
"China is opposed to any country or any individual providing a stage for his separatist moves," Hong Lei, a spokesperson for the Foreign Ministry, said Monday.
According to a report in The Telegraph, the Dalai Lama has urged Japanese parliamentary groups and foreign media to visit Tibet, and investigate the recent incidents, since the Chinese refuse to do so.
Such trips are restricted, particularly for foreign media and human rights groups. Access to Tibet is controlled by regional security officials; access is only granted to foreign media with special government permission on rare occasions. Recently, these occasions have become even more infrequent. The recent immolation incidents have caught the attention of foreign press, but Chinese state-run media have not run any reports regarding the self-immolations or the protests, only publishing the response by the Foreign Ministry.
The Dalai Lama addressed a group of Japanese lawmakers, including opposition leader Shinzo Abe, the outspoken conservative leader who is very critical of China, and is a top contender to be Japan's next prime minister.
Abe made a speech before the Dalai Lama, calling on other MPs to use diplomatic powers to investigate and prevent self-immolations and vowing to help Tibet himself.
"I promise to continue to support Tibet and do my best to change the situation in Tibet in which [people] are oppressed," the conservative politician said.
China has long denounced the Dalai Lama and his supporters, and Tokyo formally recognizes Beijing's stance that Tibet is part of China.
The Japanese MPs however, have made a statement strongly urging China to ameliorate human rights issues for Tibetans and other ethnic minorities, including the Uighurs in the northwest.
Abe's remarks will likely be highly criticized by Chinese, especially if he is elected prime minister. Relations between the two nations are already strained over disputed islands in the South China Sea. Beijing's response to the Dalai Lama was even more vehement than usual as it accused him of referring to the islands by their Japanese name, Senkaku, rather than the Chinese Diaoyu. Upon review of his statements, the Associated Press reported that he only made reference to "the islands."
Tibetan support groups and other human rights activists overseas say that the timing of the recent spate of self-immolationsis not an accident. The increase in recent protests and deaths as a result of self-immolation highlights Tibetan unrest and unhappiness with Chinese rule just as the country's leaders begin the transition of power to a new president and prime minister at the 18th Communist Party Congress in Bejing, which began last week.
© Copyright IBTimes 2023. All rights reserved.