Dan Loeb, Founder Of Third Point Hedge Fund, Reveals Long Position In FedEx, Responds To Clooney Criticism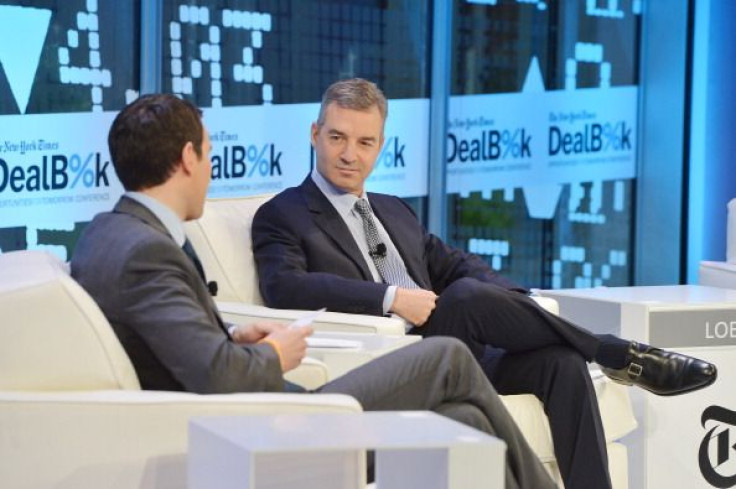 When activist hedge fund investor Dan Loeb speaks publicly, which doesn't happen very often, the markets listen.
Just minutes after Loeb mentioned Tuesday morning that he owns shares in FedEx Corporation (NYSE:FDX) and that he met with CEO Fred Smith last week, whom he "likes," stocks jumped in response, gaining 2.4 percent in mid-morning trading. Loeb added that he does not want Smith to be replaced, which is a significant comment since Loeb is known for his aggressive tactics to force changes at some of the biggest companies on the planet, including Sony Corporation (TYO:6758) and Yahoo! Inc. (NASDAQ:YHOO).
Loeb stunned an audience Tuesday at the New York Times Dealbook conference when he claimed that he hadn't read a recent hard-hitting Vanity Fair article about his role in the Herbalife Ltd. (NYSE:HLF) saga. "I haven't read it," he claimed. When Times columnist Andrew Ross Sorkin doubted him, Loeb conceded that he had seen "snippets" of the piece.
He also sought to clear up the depiction of his relationship with fellow activist investor Bill Ackman:
"Let's be clear about a couple things. I have a fiduciary duty to earn a rate of return for my investors. My fiduciary duty is to my investors, not Bill Ackman. An opportunity was created where we thought a sell-off in Herbalife was overdone. I spent my Christmas vacation last year analyzing the company ..."
He was also asked to respond to George Clooney's tough comments about Loeb's role in trying to force Sony to spin off as much as 20 percent of its entertainment assets.
"That sounds a little hyperbolic," Loeb said. "Look, I get where George is coming from. I call him George. Actually I'd love to meet him sometime. We'd actually agree more than we'd disagree about the company ... I think we both want the same thing. We want less money spent on overhead and more money spent on making money." He added that he respects Clooney.
© Copyright IBTimes 2023. All rights reserved.
FOLLOW MORE IBT NEWS ON THE BELOW CHANNELS