'Dance Moms' Star Maddie Ziegler Joins Mackenzie Foy, Patrick Schwarzenegger On Teen Vogue's Next Big Things List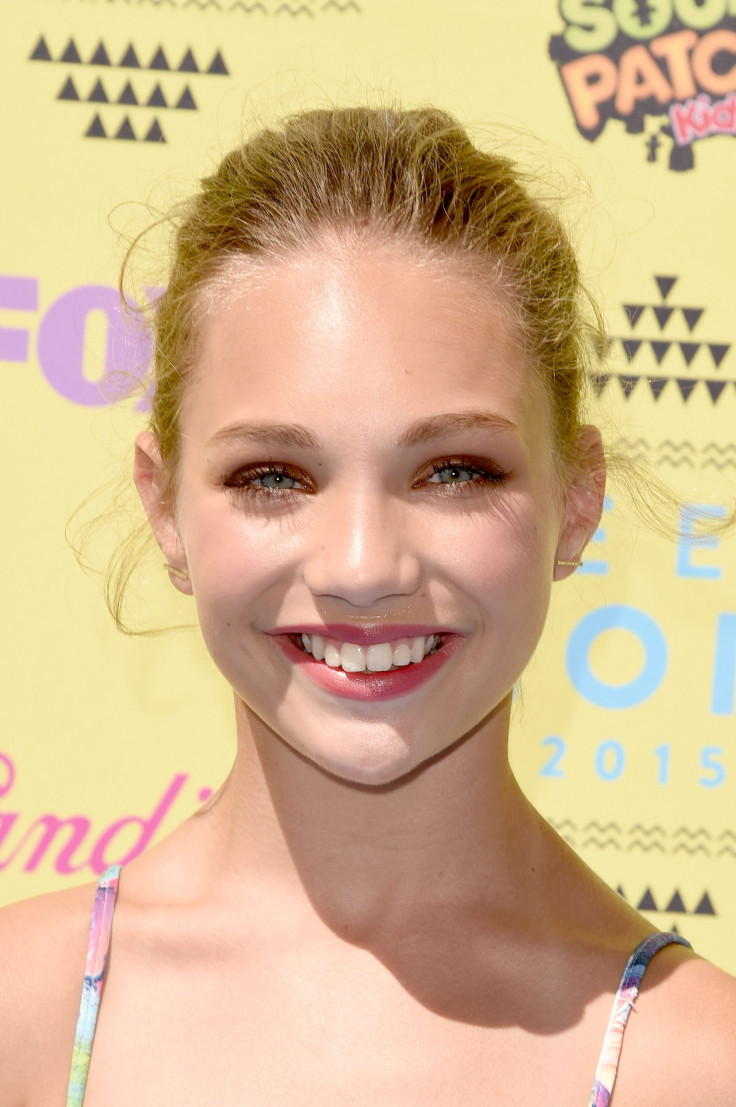 Maddie Ziegler is one of Hollywood's next big things, according to Teen Vogue, that is. The magazine has included the 12-year-old "Dance Moms" star in their annual celebrity portfolio of "Hollywood's Next Big Things: Introducing the 12 Stars of Our Young Hollywood Issue."
Following five seasons on the Lifetime reality series and her starring roles in several award-winning Sia music videos, Maddie has found herself slowly becoming a household name. And with recent cameos on hit shows such as ABC's "Dancing With the Stars," "Pretty Little Liars" and "Drop Dead Diva," plus a movie in the works with pop singer Sia, it doesn't appear she's slowing down anytime soon.
In the spread, Maddie, whom the magazine refers to as a "hot commodity" reveals her career plans. "I really want to focus on acting and even sing a little bit so I can be a triple threat," she said. "I definitely want to do a movie or a scripted TV show."
Thankfully for the dancing prodigy, her lofty ambitions are being easily met. The reality star admitted to the magazine she doesn't always have to audition for projects. "It's cool that I get work without begin asked to audition. I feel like people trust me and believe I'm capable of putting in the work."
Maddie is featured in a group shot for the spread, titled "Riding in cars with boys," wearing a 60s-inspired getup. She is joined by fellow rising stars "Twilight" and "Interstellar" actress Mackenzie Foy, pop singer/actress Hayley Kiyoko, "Fosters" actor Tom Phelan and up-and-comer Patrick Schwarzenegger.
Other names on the list include Stacy Martin ("Nymphomaniac"), Jacob Lofland ("Mud," "Maze Runner: The Scorch Trials"), Tony Revolori ("The Grand Budapest Hotel"), Karidja Toure ("Girlhood"), Courtney Eaton ("Mad Max: Fury Road"), Shameik Moore ("Dope") and Antoine Olivier Pilon ("Mommy").
"Dance Moms" Season 6 will begin filming in the coming months. It is unknown if Maddie will reprise her spot on the show. If she doesn't return, her fans have at least one major project to look forward to. Maddie is expected to star in the movie "Sister," penned and directed by "Chandelier" singer Sia.
"I was too embarrassed to tell anyone I wanted to make a movie because I thought it would be seen as a vanity project because I was a singer," Sia revealed at Venice Days, according to the Hollywood Reporter. "And then last year, after I made the 'Chandelier' video, I realized that I was pretty good at directing, so I felt a little bit braver."
© Copyright IBTimes 2023. All rights reserved.