'Dancing With The Stars' Season 23 Pro Maksim Chmerkovskiy Says Pregnant Fiancée Peta Murgatroyd Is Not 'Normal'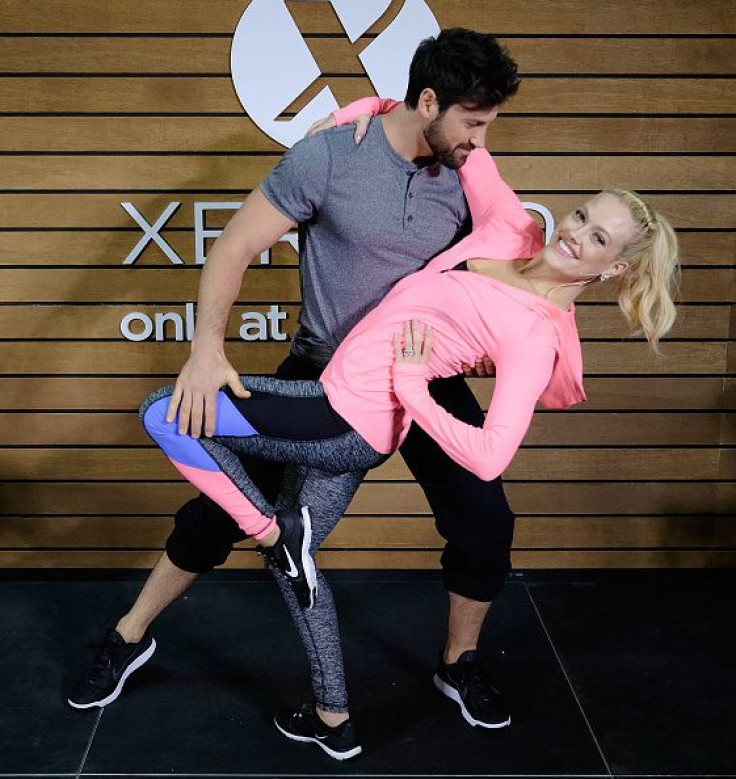 "Dancing With the Stars" pro Peta Murgatroyd might be five months pregnant now, but she's as active as always, according to fiancé Maksim Chmerkovskiy.
Last week, the pair enjoyed a date night together at a pre-Emmy Awards party held at the Nightingale Plaza nightclub in West Hollywood. Murgatroyd, 30, and Chmerkovskiy, 36, have been keeping busy with various activities as well as preparations for the arrival of their first child in January, so the two haven't been able to dress up in a while. In addition, Chmerkovskiy is currently appearing on "Dancing With the Stars" Season 23, while his partner has been busy with her Peta Jane skincare business.
"It's nice to get out, actually. It's nice to be able to dress up a little bit and put on some heels," Murgatroyd told Entertainment Tonight reporter Denny Directo on Friday, Sept. 16.
Chmerkovskiy then joked, "This is like, practice for when we just left the baby at home and we get a night to ourselves."
Murgatroyd added that their baby will likely keep them so busy next year that they'll have to settle for rush jobs when getting ready to go out. "It's true, because we got ready so quickly and there was no time. And that's how it's going to be in the next year," the mom-to-be, who donned a sexy dress with a plunging neckline for the event, told the publication.
Chmerkovskiy also opened up about Murgatroyd's pregnancy, revealing that she doesn't let her current condition slow her down. "She doesn't do what a normal pregnant lady does. She's still fully engaged with all our activities. She literally drove from San Diego from a convention show with her tanning line, straight changed and then here," he explained.
Murgatroyd agreed, saying, "I'm like, 'I can do this! Let's go!'"
Meanwhile, Murgatroyd has been chronicling her pregnancy on Instagram. Earlier this month, she shared a video of her baby bump, which shows her baby kicking inside her womb. Check out the clip below!
Catch Chmerkovskiy when "Dancing With the Stars" Season 23 airs Monday at 8 p.m. ET on ABC.
© Copyright IBTimes 2023. All rights reserved.