Dangerous Oil And Gas Sector Remains Exempt From Key Federal Health And Safety Regulations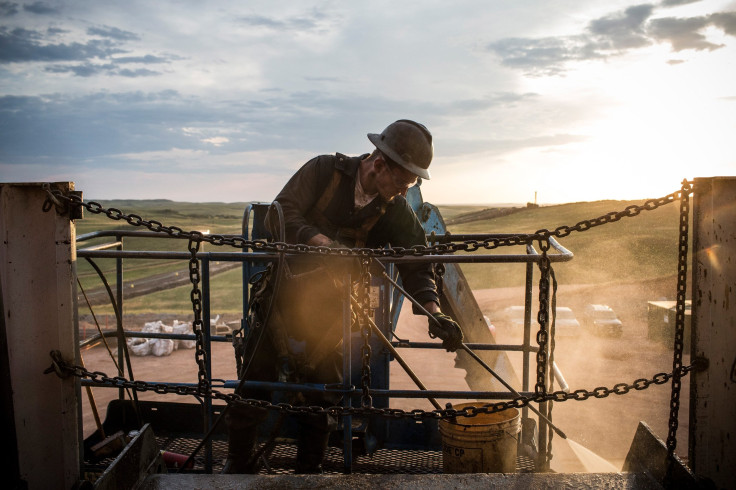 On January 15, Leo Hubert died in the oil fields of North Dakota. A co-worker found him motionless on the catwalk of a storage tank battery with the hatch open, according to the Bismarck area office of the Occupational Safety and Health Administration. Hubert, 58, had been gauging fluid levels inside the tanks, full of freshly harvested hydrocarbons. He was not wearing a respirator.
In the past four years, at least nine other workers besides Hubert have died on oil and gas drilling sites after inhaling toxic chemicals like benzene, a well-known carcinogen linked to leukemia and aplastic anemia. But the companies have little incentive to reduce these hazards, in part because they benefit from a regulatory loophole. Although OSHA's permissible exposure limit for benzene is one part per million, it stands at a much more generous 10 parts per million for the oil and gas sector -- the result of intense lobbying and outcry on the part of industry.
"It's safe to say a stricter limit would lead to a decline in fatalities and injuries," says Peter Dooley, safety and health project consultant for the National Council for Occupational Safety and Health.
The benzene regulations are just one example of how lax health and safety rules in oil and gas drilling have helped contribute to a staggeringly high workplace-fatality rate. From 2003 to 2013, 1,189 oil and gas workers were killed on the job, according to the Bureau of Labor Statistics, from explosions, falls, vehicle collisions and other hazards. That toll includes an all-time high of 142 in 2012, which declined to 112 the following year. The workplace fatality rate for mining -- which also includes the less-fatal coal industry -- ranked third highest overall, according to the BLS, behind the agriculture, forestry, fishing and hunting sector and the transportation and warehousing sector.
In spite of the dangers, oversight lags. The notoriously dangerous coal sector is regulated by the Mine Safety and Health Administration, which conducts mandatory inspections of surface mines twice a year. But no such requirement exists for oil and gas drilling sites, subject to OSHA's infrequent inspection regimen. As a recent report from the AFL-CIO highlighted, the agency has enough federal inspectors to inspect workplaces only once every 140 years.
"The largest problem is just that OSHA can't keep up," says Keith Wrightson, worker safety and health advocate for Public Citizen. More safety inspections translate into more safety overall, he says. "That's a known fact."
But even compared to other dangerous industries covered by OSHA, oil and gas safety regulations are lenient. Unlike agriculture or construction, for instance, there are no industry-specific standards for oil and gas drilling -- only "general industry standards." In 1983, OSHA proposed the creation of industry-specific rules, noting that the "lack of adequate regulatory protection has contributed to the high number of deaths and injuries in this industry." But energy lobbyists from groups like the American Petroleum Institute rebelled, citing high costs and the small likelihood of improvements. The proposal languished until 2001, when the George W. Bush administration scrapped it for good.
Those proposed rules would have enhanced scrutiny over the management of hazardous chemicals and created special safety procedures for welding, both of which could have reduced the risks of explosions--a common source of death and injury on drilling sites.
In the absence of strict safety rules, oil and gas drillers typically practice self-regulation. But Dooley says that model has clear limits. "In general, the less regulation and oversight there is, the less that industry best practices are developed to try to be compliant."
Oil and gas worker exposure to benzene is coming under more scrutiny -- though it's still unlikely the concerns will translate into a proposed OSHA rule any time soon.
Last August, the National Institute for Occupational Safety and Health, a wing of the Centers for Disease Control and Prevention, conducted a study of benzene exposure risks. Fifteen of the 17 samples it collected for workers gauging storage tanks on drilling sites exceeded the agency's benzene exposure limit of 0.1 parts per million. (That limit is 100 times smaller than the oil and gas industry's exposure limit.) Last week, NIOSH, OSHA and oil industry partners issued a "tank gauge hazard alert," encouraging employers to take more precautionary measures like gauging tanks remotely or making workers wear respirators. Still, this is all a far cry from a mandatory rule. Industry self-policing remains the norm for the foreseeable future.
Trial and error tend to shape the learning curve for workers, says one North Dakota oil worker. The state's workplace fatality rate is the highest in the nation, thanks to the recent shale-drilling boom.
When Jason Marshall started working as a roustabout -- a job that involved monitoring storage tanks -- his employer made him train by following around a more seasoned laborer for three days. Even so, Marshall was unprepared for the hydrocarbon cocktail he got after gauging a tank by himself. "It made me sick to my stomach," says Marshall. "I threw up my lunch and I had no appetite for the rest of the day."
That's something of a rite of passage on the rigs, he says. Experienced workers open the storage tank hatches more carefully and turn their faces away from the fumes. "If you're inexperienced and you open it, you're going to get a face full of gas."
FOR FREE to continue reading
✔️ Unlock the full content of International Business Times UK for free
offer available for a limited time only
✔️ Easily manage your Newsletters subscriptions and save your favourite articles
✔️ No payment method required
Already have an account?
Log in
© Copyright IBTimes 2023. All rights reserved.