David Beckham And His Family Jet Off To Los Angeles For Half-Term Break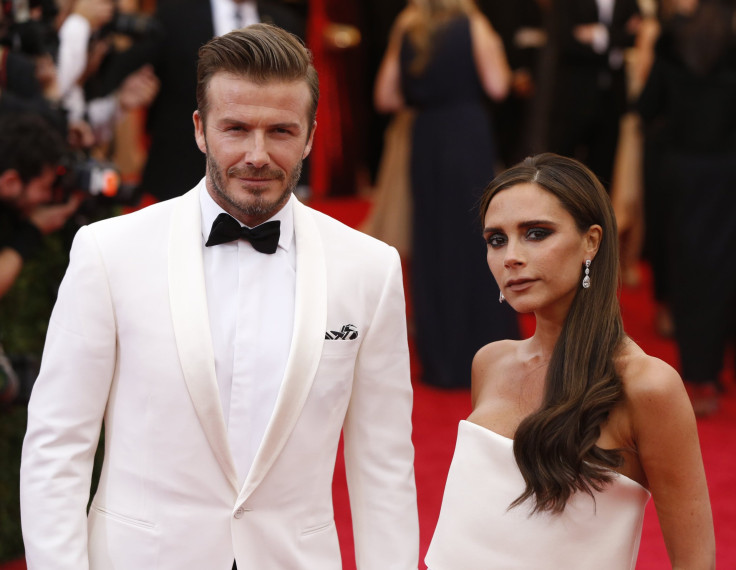 David Beckham and his brood, along with Victoria, were off to Los Angeles for a half-term break on Sunday. The retired footballer and his fashion designer wife have a second home in California.
While in LA, the couple was seen emerging from the SoulCycle exercise class together on Tuesday. The celebrity pair was seen attending the exercise session at Brentwood and was clearly off-duty and keen to work up a sweat, brushing aside rumors of their marital troubles, Hello magazine reported.
Keeping it simple and casual, David opted for a sleeveless black vest with a cap worn in reverse and waterproof shorts. He also sported his trademark designer stubble, and added a pair of monochrome trainers and some designer sunglasses. Together, he cut a rugged figure and added an urban edge with myriad tattoos on his arms.
Meanwhile, Victoria also looked all geared up for the grueling exercise session as she was spotted wearing a grey hoodie with a SoulCycle logo and a pair of trainers. She wore her long brunette hair down and covered up with a baseball cap and sunglasses as she left the class.
Earlier, they were spotted jetting off to LA as their 13-year-old son Romeo began his half-term school holidays. The family often spends time in California, and also enjoyed an extended stay in the U.S. together during the summer holidays.
The celebrity couple was keen to dismiss rumors that their marriage was in trouble, Mirror reported. It was only in July that the two celebrated their 16th wedding anniversary.
"I am blessed to have a wonderful husband and beautiful, healthy, happy children," she said, adding that though they travel a lot owing to their respective businesses and commitments, they always make time for each other, Grazia Daily reported.
She added: "David and I have nothing to prove. We love each other, look out for each other and are strong as both partners and parents."
Victoria was recently nominated for the Womenswear Designer prize at the British Fashion Awards 2015. The winners will be announced at a star-studded ceremony held in association with Swarovski at the London Coliseum on Nov. 23. She has previously won the Best Brand award in 2011 and 2014, wherein she was picked by 800 panelists comprising key leaders in the industry.
© Copyright IBTimes 2023. All rights reserved.