'Days Of Our Lives' Spoilers: Gabi's Loved Ones Race To Save Her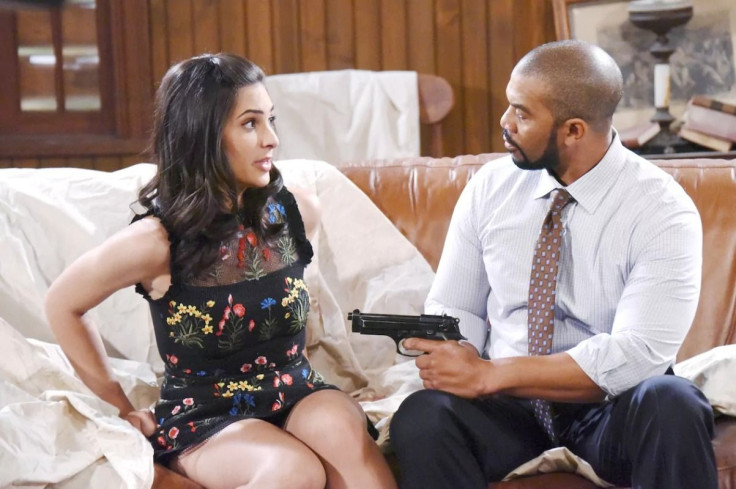 She was taken hostage by Dario's true partner in crime and her life could be on the line. Now, as Gabi fears she will be killed by Raines because of what she's learned about his criminal activity, Rafe, Hope and Eli will race to rescue her before it's too late on the Wednesday, Sept. 6 episode of "Days of Our Lives."
After Dario (Jordi Villasousa) sent new evidence for Rafe (Galen Gering), which proved that Raines (Aaron Spears), and not Abe (James Reynolds) was his partner in the counterfeiting scheme, Gabi (Camila Banus) intercepted the package on the NBC soap. As she listened to the recording that proved Raines' guilt, he came up on her and grabbed her. He has since whisked her away to a cabin and destroyed the evidence, and is contemplating killing her to make sure she can't turn him in either.
Now, Rafe, Hope (Kristian Alfonso) and Eli (Lamon Archey) are working as quickly as possible to try and track the two down, in the hopes they will be able to save Gabi's life before it is too late to do so. While there were no leads right away which seemed like they would help them, Rafe looked into his brother's assets, which had been frozen when he left town. He found one for an address outside of Salem, and they all suspect that is where Raines may be holding Gabi now. With that lead, they will prepare for a rescue mission in the hopes that they are going to the right place and successfully freeing Gabi while also taking Raines in.
The mission is one that involves a lot of personal danger, as Gabi is related to both Rafe and Dario, which makes her a prime target for Raines to try and take out. As of now, his concern is more about keeping her quiet, and he has so far raised the gun to her head and threatened to pull the trigger, even though she has promised to remain quiet.
Raines may be even more motivated to kill her because he feels that things are closing in, and he may need to take some serious action to make sure Abe goes down for the crime, as he had hoped to frame the mayor for his actions, He has already suspected that Myron (Craig Welzbacher) was turning on him and working for the cops now, He ordered the hacker to make up some evidence which would firmly keep Abe as the scapegoat, but has not yet received it. In order to send a message to both the police and Myron that he isn't to be messed with, killing Gabi is a prime decision to make.
However, there would also be a huge risk if he killed Gabi, since it would also only serve to prove his guilt, because with Abe behind bars, there would be no way to pin the murder on him as well, which makes the situation even more difficult for him.
"Days of Our Lives" airs weekdays at 12 p.m. EDT on NBC.
© Copyright IBTimes 2023. All rights reserved.