'Days Of Our Lives' Spoilers: Will Marlena Officially Submit To Stefano?
He managed to successfully kidnap her and get her away from John. Now, after Rolf successfully completed the procedure to program her, Stefano will use the opportunity to finally reconnect with Marlena on the Tuesday, March 10 episode of "Days of Our Lives."
After the plot to get Kayla (Mary Beth Evans) back went wrong and Stefano (Stephen Nicholls) successfully stole Marlena (Deidre Hall) away on the NBC soap, he made it clear to her that Rolf (William Utay) was going to do the same thing to her that was done to Hope (Kristian Alfonso) to make her into Princess Gina, and a microchip would be inserted into her that would program her to want to be with Stefano. She even tried to run as things were about to get underway, but an already hypnotized Chad (Billy Flynn) showed up and blocked her escape.
Now, an unconscious Marlena may have actually been forced into the procedure after all, and as she begins to come to, Stefano will seize the opportunity to officially win over the woman he loves.
"Stefano tries to connect with Marlena after Dr. Rolf's procedure," spoilers reveal.
If the procedure was successful, it will make it harder than ever before for her loved ones to successfully stop Stefano's plans and path of destruction in the quest to take over his family once again. However, if Marlena was somehow able to pull off a trick that neither Stefano or Rolf saw coming, it could also help put an end to his plot as well.
Of course, one element of his plan still seems to be going well, as Chad, who has fallen under a spell his father put on him that allows him to hear orders in his head thanks to some drugs poured into his drink, will seemingly continue to follow orders. Though he didn't go through with smothering Gabi (Camilla Banus) to death after Rafe (Galen Gering) walked into the room, his stopping Marlena's escape could be indicative that he will officially begin to do whatever his father asks. Now, he will receive new orders to make sure someone goes away for good—and this one will be even bigger when it comes to who he has to eliminate.
"Chad receives orders to kill Kate (Lauren Koslow)," spoilers state.
Though she was once an ally for Stefano and kept the secret about his return for a year, Kate has also now become a threat to his plans for the future—and if he has his way, Chad will make sure she never has an opportunity to control the DiMera family empire ever again.
"Days of Our Lives" airs weekdays on NBC.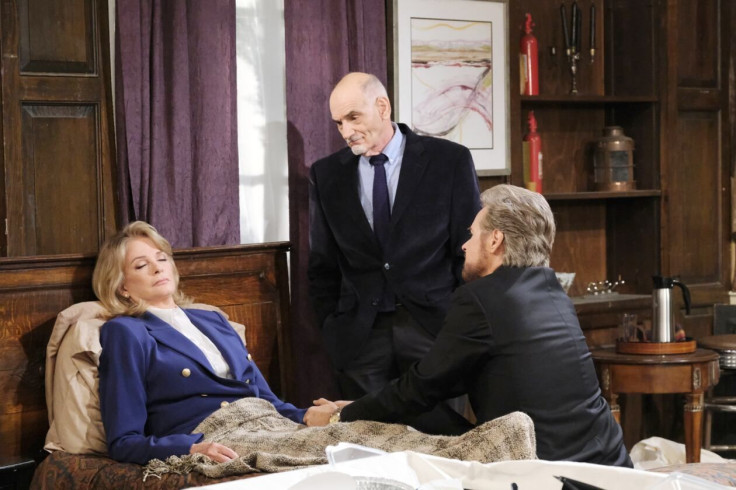 © Copyright IBTimes 2023. All rights reserved.