On Demand 3D Printing Is Here To Cater To Your Every Whim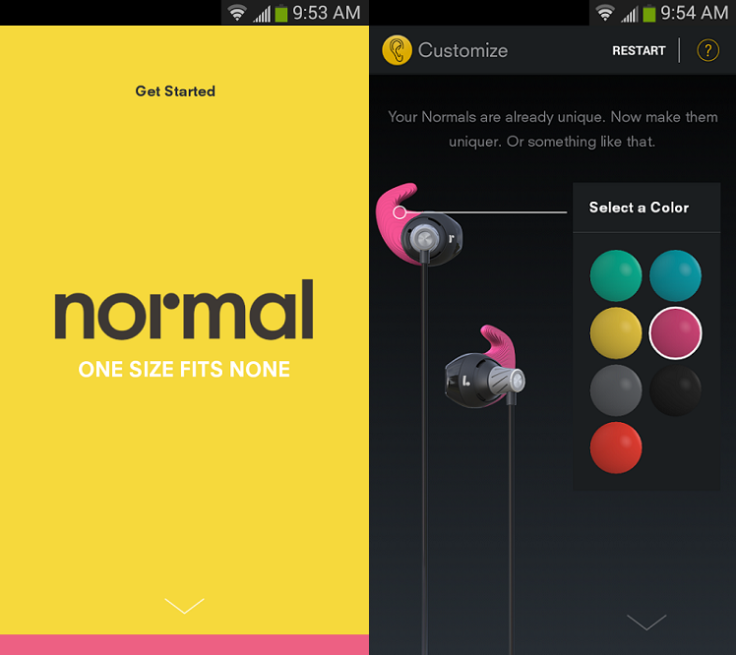 Next month music lovers will be able to walk into a store in New York's Chelsea neighborhood and order personalized headphones that are manufactured to the exact specifications of their ears, representing a new wave in the 3D printing revolution.
Headphone manufacturer Normal is just one of many new retailers looking to profit from what is being called "on-demand 3D printing" or "mass customization," which allows customers to be involved in the creation of the products they crave. Products are printed, piece by piece, in a 3D printer just as the customer imagined them and specifically designed to their unique needs.
Normal will sell its earphones for $199, a relatively high price because they are customized with precision, says company CEO Nikki Kaufman.
"Everyone's ear is different. In fact, your right and your left are different," Kaufman recently told Re/code, touting the earphones' sound quality and premium finish. Customers can order and customize their earphones through Normal's mobile application, which is available for both iOS and Android.
In the burgeoning world of on-demand 3D-printing, many retailers are focusing on specific products, like SOLS, a New York City-based 3D scanning and printing company that specializes in custom foot orthotics. Customers can use the SOLS application to scan their feet and input vital stats such as weight and activity level to order a custom-made model. SOLS insoles are printed at the company's Long Island City, New York, factory and shipped to customers within two weeks.
Other companies, like Shapeways, have established themselves as online marketplaces for creative individuals to design and sell products, like an Etsy for the 3D printing market. Users can make, buy and sell everything from smartphone accessories to jewelry. Currently, a figurine of the World Cup's Flying Dutchman is advertised on the Shapeways home page.
Designer Kostika Spaho, who has sold products on Shapeways for many years, told Fortune in April that he gets ideas for products by quizzing Reddit users. Instead of requesting the usual items like coffee mugs and shoes, they often ask for odd products like a desktop catapult that clamps to the corner of the desk. One of his most popular products is an anteater figurine based on a well-known Internet meme.
While most of these new retailers provide services online and through mobile apps, Normal's decision to open its first brick-and-mortar store could inspire other companies by exposing on-demand 3D printing to a whole new world of consumers. The company's New York City location is a factory store where products will be printed on site rather than shipped to customers.
Shapeways marketing director Carine Carmy told Re/code in February that on-demand 3D printing will get its "big leap forward" when customized products are as available in stores as standard products are.
Beyond startups and Web entrepreneurs, some of the world's biggest companies are utilizing the technology to improve their practices. Luxury automaker BMW (XETRA:BMW) has recently begun utilizing custom 3D printing to create thumb guards tailored to the finger of each individual worker to prevent injuries on the job.
And on Monday, the U.S. Postal Service proposed "If It Prints, It Ships," a 3D printing services program to expedite production and delivery time that could increase the company's revenue by up to $485 million.
© Copyright IBTimes 2023. All rights reserved.