Demi Lovato Exposes Cleavage In Instagram Photos After Replacing Meghan Trainor In Rodeo Houston Lineup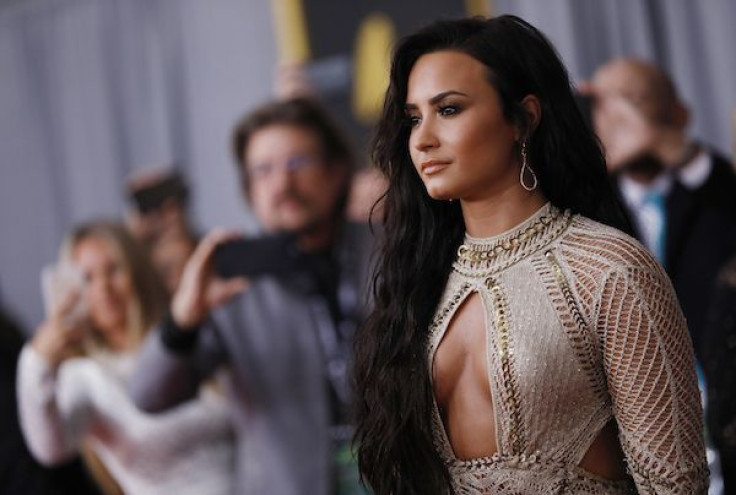 Demi Lovato likes to bare some skin every now and then. The "Confident" singer also likes to highlight the sexy body she worked hard to achieve by wearing skimpy clothing and sultry dresses. At the Grammy Awards 2017, she did both by rocking two outfits that emphasized her curves and exposed some major cleavage. And the 24-year-old loves her look so much that she even posted some snaps of them on Instagram on Valentine's Day.
On Tuesday, Lovato uploaded a couple of photos showing her two ensembles at the recent awards show. The first two photos showed her on the red carpet wearing a gold see-through dress. In one post, the singer playfully pointed out the serious look she gave while wearing the chic Julien Macdonald's dress, which has a keyhole cutout that exposes her ample bosom. She also used the smiling devil and beaming angel emojis to express how she felt about the photo.
The other two pics Lovato uploaded that day showed her look for her tribute performance to the Bee Gees. During her stage number, she wore a dark gray Redemption dress with a high slit in the front. She used a thick buckle belt to accentuate her thin waist and secure the dress' low-cut front.
Since Lovato was undeniably proud of her body in the Instagram posts, her fans couldn't help but compliment her for achieving it. One fan wrote: "Girl, you worked hard for that wonderful bod. I'm jealous." Another commented: "Yes, Demi. Show them who the real sexy diva is!"
Meanwhile, the first-time Grammy nominee has just been tapped to replace Meghan Trainor in the Rodeo Houston lineup. Since the "All About That Bass" songstress was advised by her doctor to extend her vocal rest, she won't be able to make it to the March 14 event, as reported by Chron. Therefore, the Rodeo Houston organizers announced on Tuesday morning that Lovato will be taking Trainor's slot at the show.
This is not the first that Lovato will be performing at the Rodeo Houston Show. She has already graced the stage of the annual event way back in 2010. The "Stone Cold" hitmaker was also part of the 2013 lineup.
© Copyright IBTimes 2023. All rights reserved.