Demi Moore 911 Call: 10 Things to Know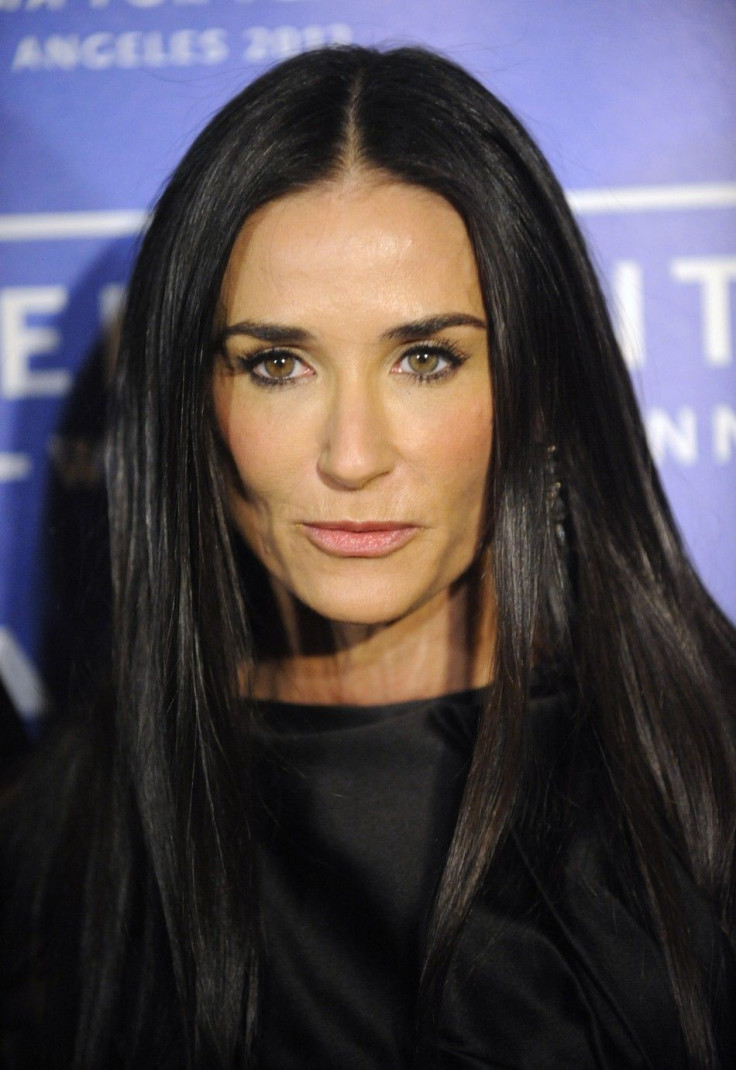 The tape of the Demi Moore 911 call from the actresses' home Monday night has been released, and it appears the situation may have been more serious than her publicist initially related.
The Los Angeles Fire Department released the tape of the 911 call, made by friends, as the 49-year-old Moore was apparently in a medical emergency. Moore's friends were trying to summon an ambulance to her Beverly Hills home.
Send an ambulance right now, the 911 caller said, according to the call transcript. This is an emergency.
(See the full 911 call transcript below.)
Here are 10 things to know about Demi Moore's emergency, and what reportedly happened before and after the 911 call:
1) Reports suggest Demi Moore's hospitalization due to what may have been drug use could have been caused by the death of her AA sponsor. The Daily Mail reported that, According to reports, the 49-year-old actress was left so distraught following the death of Pattsy Rugg, who she previously introduced to friends as her 'mom', last year, that her passing may have triggered the star's health scare which saw her seek treatment for anorexia and substance abuse issues. Demi looked overcome with emotion as she left Rugg's funeral held Christ the King Church in Cape Cod, Massachusetts, in December.
2) One expert, Dr. Howard Samuels, a psychotherapist and expert on alcohol and drug addiction and CEO of The Hills Treatment Center in Los Angeles, said on CBS This Morning: Saturday that Moore was definitely in trouble when the 911 call was made. Said Samuels: This was a real emergency. You could hear the panic in the voices on the telephone. Obviously, you know, this was a 911 call that was very serious. And, especially when the paramedics came, they took her to the hospital, because, many times, the paramedics will come and, if it's not that serious, they'll leave. But they took her to the hospital, which shows you the seriousness of this.
3) One source claims Moore had become addicted to Adderall. Reported RadarOnline, quoting a source close to the actress: 'Demi has been taking Adderall and drinking energy drinks and starving herself and those are some of the serious causes that led her to collapse. The pills and starvation destroyed Demi and this has been a problem for about a year.'
4) Moore is now reportedly out of the hospital and headed to rehab. Her representative released the following statement: Because of the stresses in her life right now, Demi has chosen to seek professional assistance to treat her exhaustion and improve her overall health, Moore's rep said in a statement. She looks forward to getting well and is grateful for the support of her family and friends.
5) Demi Moore and Ashton Kutcher, her ex, are apparently handling their breakup differently. Moore announced in November the couple was divorcing. Just two months later, he was seen partying with models in Brazil on the same night she was being rushed to the hospital. What we see is Ashton moving on in his life. Demi? She's gone down, down, down, clinical psychologist Judy Kuriansky, also known as Dr. Judy, told ABCNews.com.
6) Initial reports before the 911 call tape was release by the Los Angeles Fire Department suggested that Moore had been inhaling nitrous oxide, also known as whippets, causing her medical distress and hospitalization. TMZ reported the whippets use on Wednesday, quoting an unnamed source. Others have suggested she may have been smoking a substance known as Spice a hot, legal synthetic cannabis drug similar to incense and often called K2.
7) Moore was the victim of a death hoax trending on Twitter on Friday. The Twitter topic RIP Demi Moore suggested that Moore had died. There has been no confirmation of the sort, however, and it is believed as her representative said that Moore is in the process of seeking professional assistance for exhaustion.
8) Reports suggested in late 2011 that Moore and Kutcher split up because Kutcher had cheated on her, more than once. Media rumors paired Kutcher with Brittney Jones, 22, and Sara Leal, 23, while he was married. But in October 2011 Celebrity Newz reported that Kutcher moved out of the house he shared with Demi because his wife was experiencing substance abuse problems.
9) The 911 call and hospitalization apparently cost Moore her role on Lovelace, a work about porn star Linda Lovelace. Moore was to play Gloria Steinem, but a reported from E! Online said Sarah Jessica will fill the role instead, with shooting to begin Monday in New York.
10) Moore was apparently having a girls night in at her home the night the 911 call was made, sending her to the hospital. E! News chief correspondent Ken Baker reported earlier in the week that Moore was apparently acting pretty hyper and a little bit crazy during dinner and dessert that night. Friends, Baker reported, said Moore was no acting her normal self.
See the 911 call transcript below, as reported by OnTheRedCarpet.com:
WOMAN No. 1 to DISPATCHER: She smoked something. It's not marijuana but it's similar to, it's similar to incense. And she seems to be having convulsions of some sort.
DISPATCHER: Okay. Are you with the person at this time?
WOMAN No. 1: I'm actually in the other room, but yes.
DISPATCHER: Okay, you gotta be next to her so we I ask questions but we have paramedics on the way. How old is she?
WOMAN No. 1: She is- how old is Demi? You guys?
DISPATCHER: Roughly.
WOMAN No. 1: Okay, we just need an ambulance here.
DISPATCHER: Ma'am, listen to the questions. How old is she, roughly?
WOMAN No. 1: (asks unidentified person) How old is Demi? 49.
DISPATCHER: Okay, right now, is she awake?
WOMAN No. 1: Yes. Well, semi-conscious. Barely.
DISPATCHER: Okay. Is she breathing?
WOMAN No. 1: Is she breathing? Yes.
DISPATCHER: And she overdosed ...
WOMAN No. 1: She's convulsing.
DISPATCHER: Okay, listen to me, keep watching her closely. Don't do anything, don't put anything in her mouth.
WOMAN No. 1: I'm not.
DISPATCHER: Was this accidental or intentional?
WOMAN No. 1: Ac- well, it was, she smoked something, you know, but it, the reaction was accidental.
DISPATCHER: All right. Listen. Help is already on the way.
The woman then asks how long it would take for paramedics to arrive. She soon hands the phone to another woman.
DISPATCHER: Is she breathing normally?
WOMAN No. 2: No. Not so normal but more, sort of shaking ... burning up. DISPATCHER: All right, and what did she take? WOMAN No. 2: Some form of, I think, and then she smoked something, I didn't really see. She's been having some issues lately with some other stuff. I don't know what she's been taking or not ... she's burning up.
The dispatcher asks for someone to meet the paramedics at the home's gate.
DISPATCHER: Is she able to respond to you?
WOMAN No. 2: Demi can you hear me? Yes, she's squeezing hands. There's no .. she can't speak. The dispatcher tells the woman not to put anything in Moore's mouth, hold her down or perform CPR, but rather to continue watching her until the paramedics arrive.
WOMAN No. 2: She's convulsing, so we're holding her down.
DISPATCHER: You don't have to hold her down. Just don't put anything in her mouth ... Just keep watching her, don't hang up.
WOMAN No. 2: Hold on sir, I'm just holding her head.
DISPATCHER: Whatever she took, make sure you have it out for the paramedics. Has she done this before?
WOMAN No. 2: I don't know. There's been some stuff recently that we're all just finding out.
DISPATCHER: Is she a friend, relative, who is she?
WOMAN No. 2: Friend.
The woman then hands the phone to a man.
MAN: I'm here with you.
DISPATCHER: Make sure you keep watching her. Let me know if anything changes. Help is already on the way.
MAN: Okay, she seemed to have calmed down.
The dispatcher reiterates not to give Moore any water or other substances.
DISPATCHER: How is she doing right now?
MAN: She's much calmer.
DISPATCHER: Okay great. Anything change? She's still breathing okay?
MAN: Yeah. Yeah. Now she's breathing fine. She's not convulsing and she's breathing fine. She seems very calm.
The dispatcher tells him that paramedics have arrived at the gate.
© Copyright IBTimes 2022. All rights reserved.
FOLLOW MORE IBT NEWS ON THE BELOW CHANNELS