Dennis Hastert Indicted: Former House Speaker Accused Of Secretly Paying Source $1.7 Million In Hush Money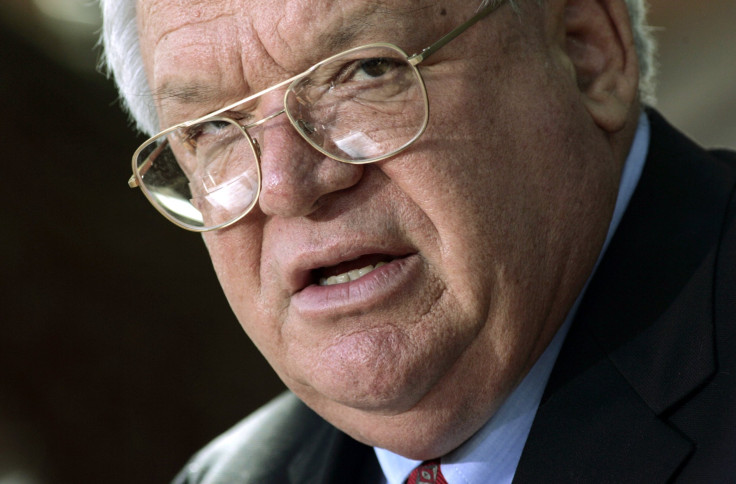 The United States Department of Justice indicted former House speaker Dennis Hastert Thursday for evasively withdrawing large amounts of cash to use as hush money and lying to the FBI about it. From 2010 to 2014, Hastert, R-Ill., paid an unnamed person about $1.7 million of the $3.5 million they'd agreed upon "to compensate for and conceal his prior misconduct," according to the federal indictment.
In doing so, 73-year-old Hastert purposefully took money from his bank accounts in increments of less than $10,000; that way, he didn't have to report them under federal law, the Chicago Tribune reported. Over two and a half years, he completed 106 of these transactions, totaling $952,000, according to the indictment.
When the FBI questioned Hastert about the withdrawals this past December, he allegedly told them he didn't trust the banks to keep his funds safe. "Yeah ... I kept the cash," he said, according to the indictment. "That's what I'm doing."
Hastert is charged with structuring bank transactions to evade reporting requirements and making false statements to the FBI, the Associated Press reported. The maximum sentences for each of the counts are five years in prison and a $250,000 fine.
Hastert, who was speaker from 1999 to 2006, was allegedly paying off a person who knew about his "bad acts," BuzzFeed reported. The person lives in Yorkville, Illinois, and has known Hastert for most of his life, which could suggest the misconduct happened before he entered politics. Hastert was a high school teacher and coach in Yorkville from about 1965 to 1981, at which time he was elected to the Illinois House of Representatives, according to the indictment. Since resigning from the federal House in 2006, he has worked as a lobbyist. A spokesman for Dickstein Shapiro said Thursday evening that Hastert has resigned from the firm.
Hastert will be ordered to appear at an arraignment on a later date, according to a news release from the U.S. Attorney's office for the Northern District of Illinois.
© Copyright IBTimes 2023. All rights reserved.