Denver Flash Flood: Updates On Road Closures, Mudslides, Vehicle Crashes And Rescue Ops
KEY POINTS
Heavy rains and flooding resulting from thunderstorms lashed northeastern Colorado
Several road closures, vehicle clashes and mudslides occurred in the region
A family with multiple kids and a baby was among the many rescued from chest-deep water
Severe weather lashed parts of Northeast Colorado Sunday. Widespread storm, heavy rains and flooding resulted in mudslides, vehicle crashes and road closures on I-25 and I-75.
Many who were left stranded in chest-deep water on the roads were rescued by firefighters. Among them was a family with multiple children and a baby.
The flood watch warning is currently in place until midnight. The latest update from the Colorado Department of Transport's official Twitter page warned of multiple lane closures along I-270 and I-76.
A mudslide between Oak Valley Road and Madge Gulch Road disrupted north and southbound traffic on State Highway 67. The issue was resolved by 10:20 p.m. local time.
The vehicle crashes between Exit 213 - Park Avenue and I-70 affected northbound I-25 traffic but were eventually resolved. A rock slide also occurred between Lower Twin Rocks Road and Jade Road, shutting down the westbound US 24 route for more than an hour.
Denver Fire Department (DFD) crews rescued at least 19 people from flash floods — 11 from I-70 and York Street and eight in the area of 38th and Blake, 9News reported. DFD retweeted a video of the latter, showing crew members carrying babies out of a nearly drowned vehicle as onlookers cheered them on.
Based on the latest update, I-70 has opened for traffic in both directions between York and Steele, which were earlier closed due to flooding.
The flash flood warning for Northwestern Pueblo County remains in effect until 1 a.m. MT Monday, as flooding continues in parts of Pueblo West. Pueblo Reservoir, Salt Creek, Blende and Pinon will experience flash floods, as per a recent update from the National Weather Service, which also reminded people to "turn around, don't drown when encountering flooded roads. Most flood deaths occur in vehicles."
Flood advisory is in effect until 1 a.m. MDT for a portion of east central Colorado, including the Southern Lincoln county, after heavy rain resulting from thunderstorms was recorded around 10:30 p.m. Areas that will experience flooding include Karval, Forder, Wild Horse Point and Punkin Center.
Additionally, a flood advisory was in effect in portions of central and northeast Colorado, including Clear Creek, Douglas and Jefferson counties until 12:15 a.m. Monday. Areas expected to experience flooding included southwestern Castle Rock, southwestern Golden, Evergreen, Roxborough Park, Larkspur, South Platte, Sprucewood, Buffalo Creek, Deckers, Pine Grove, Devil's Head, Conifer, Wellington Lake, Aspen Park, Cheesman Reservoir, Tiny Town, Pine Junction, Perry Park and Westcreek.
The current flash flood warning is Denver's first since June 2020. Rainfall in some areas reportedly reached 1 to 2 inches, and figures are expected to go up Monday.
Denverites questioned the much-hyped Central 70 Project after flooding on I-70 left multiple vehicles stranded for hours.
"Why did Denver move I-70 underground if floods like this could happen so easily?" a local wrote in a tweet addressed to mayor Michael B. Hancock.
Colorado Department of Transportation already issued a statement in response to the concern, noting, "Yes, flooding occurred in the Central 70 Project area. The Central 70 Project is still an active construction project. Our drainage network is not yet complete, though it is nearing completion."
A thorough investigation into what exactly led to the flooding will reportedly be initiated soon and any system failures, if detected, will be rectified.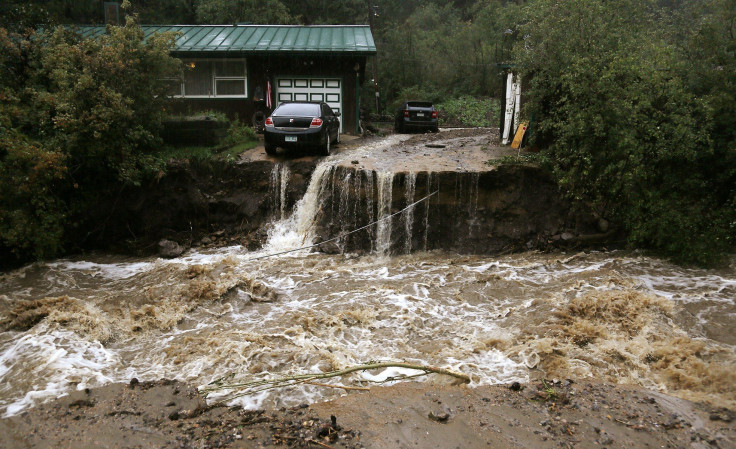 © Copyright IBTimes 2022. All rights reserved.
FOLLOW MORE IBT NEWS ON THE BELOW CHANNELS