Deputy Micah Flick Killed In Colorado Springs Police Shooting, Three Officers Injured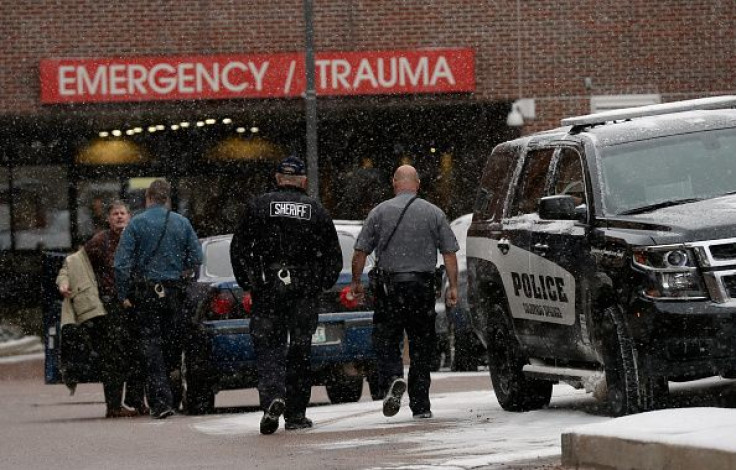 A Colorado sheriff's deputy was shot dead, while three other officers suffered gunshot wounds in the line of duty Monday, while investigating a motor vehicle theft. The incident happened in the area of N Murray and Galley around 4 p.m. local time (6 p.m. EST).
Officers from the El Paso County Sheriff's Office, Colorado Springs Police Department (CSPD) and Colorado State Patrol were in the area to investigate the theft and approached an adult male suspect. A struggle ensued and shots were fired, which hit El Paso County Sheriff's deputy Micah Flick, who was killed, two other deputies of the department and a Colorado Springs police officer. A civilian was also injured.
Deputy Flick, 34, is survived by his wife and 7-year-old twins. He was killed on the 11th anniversary of his job.
El Paso County Sheriff Bill Elder said at a news conference, "His current assignment was as a detective in our investigations division and he has served in the jail at CJC's [Criminal Justice Center] floor security and [inaudible] transport with our Special Response Team and on patrol. He was hired Feb. 5, 2007. Thirty-four years old; born Aug. 20, 1983. … Deputy Flick was an outstanding member of my agency and he will be missed."
A procession for Flick was held in Colorado on Monday night. It started at St. Vrain and Hancock and ended at the El Paso County Coroner's Office.
Colorado Springs Police Chief Pete Carey said during the same conference, "The CSPD officer is in surgery right now and in stable condition. One suspect is deceased and there is no continuing threat to the community. … This is indeed a difficult day for our agencies. Tonight there is no distinction between our uniforms: Colorado State Patrol, sheriff's office and the Colorado Springs Police Department. Our hearts our broken"
The injured officers were hospitalized and their names were not revealed. The lone suspect was killed, authorities said. No details about him were released.
Colorado Gov. John Hickenlooper released a statement following the incident, in which he said, "We will once more come together to provide sympathy and strength for the deputy's loved ones and pray for the recovery of those injured; however, we also must come together and say enough is enough. We want each officer, every deputy, to know we are grateful for their service."
Various agencies across the state tweeted their support and condolences to the Colorado Springs Police Officer and El Paso County Sheriff's deputies.
The intersection of N Murray and Galley Rd remained closed Monday while the probe into the incident was going on. The Associated Press reported the shooting happened in a neighborhood of single-family homes, apartments and retail stores east of downtown Colorado Springs.
Deputy Flick was the third deputy to be gunned down in the past five weeks in Colorado.
Adams County Sheriff's Deputy Heath Gumm was killed Jan. 24 by a suspect he was chasing. Gumm was 31. Douglas County Sheriff's Deputy Zackari Parrish was shot dead in Denver on Dec. 31 by a man with a history of mental illness.
© Copyright IBTimes 2023. All rights reserved.