Despite Low Pay, Poor Work Conditions, Garment Factories Empowering Millions Of Bangladeshi Women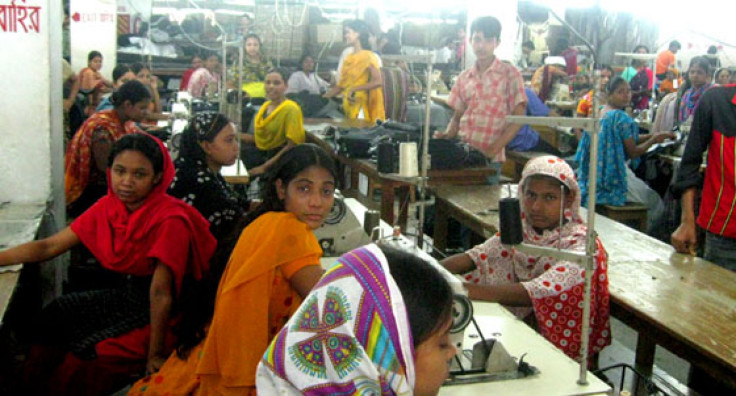 The garment and textile industry provides Bangladesh with much needed jobs and export earnings as foreign manufacturers have rushed to the impoverished South Asian nation to take advantage of cheap labor, low production costs and a huge eager workforce.
In recent years, however, the sub-standard, even dangerous, work conditions and low pay found in Bangladeshi garment factories have come under severe criticism from voices both within Bangladesh and in the west. These concerns culminated in the disastrous building collapse at the Rana Plaza factory complex outside Dhaka in April 2013 which killed more than 1,100 people, wounded hundreds of others, and renewed calls for improved safety measures at such facilities and higher salaries for workers.
Bangladesh is home to more than 5,600 garment factories, making it the world's second largest apparel manufacturer behind only China. About 60 percent of clothes made in Bangladesh end up in European markets – on the whole, apparel exports generates at least $20 billion in annual revenues and is the largest source of foreign exchange earnings. Without textiles, Bangladesh, already burdened by immense poverty, would see its economy collapse. As such, give the dire need for such jobs, for years, many western companies and Bangladeshi businessmen have conspired to cut costs by keeping wages depressed and safety almost non-existent. But Rana Plaza may have changed all that.
"The best way to avoid future Rana Plaza-type disasters and end the exploitation of Bangladeshi workers is to encourage the establishment of independent trade unions to monitor and protect workers' rights," said Brad Adams, Asia director at Human Rights Watch, the New York-based activist group. "The [Dhaka] government has belatedly begun to register unions, which is an important first step, but it now needs to ensure that factory owners stop persecuting their leaders and actually allow them to function."
Deutsche Welle (DW), the German broadcaster, reported that since the devastation at Rana Plaza almost one year ago, Bangladesh's textile industry has actually undergone some slow, but significant, improvements in working conditions, safety standards and job protection. Among other developments, the International Labor Organization has introduced a trust fund to raise money for the survivors of the Rana Plaza disaster and has urged 28 western retail brands who outsource manufacturing contracts to Bangladesh to pitch in financially to the tune of $40 million by next month, the one-year anniversary of the catastrophe. "We need the brands to pay a significant sum, meaning several million each," said Frauke Banse, appeals coordinator for the Clean Clothes Campaign in Germany. "It's not a matter of goodwill, it's not a charity donation. Even though it's a voluntary trust fund, in our view they have an obligation to pay."
DW noted that ten western retail brands, Primark, C&A, Mango, Bonmarche, El Corte Ingles, Loblaw, Mascot, Camaieu, Premier Clothing and Inditex, have already made donations to the fund thus far. Moreover, last year, more than 150 companies that use labor in Bangladesh vowed to improve safety standards at their facilities. "We are constantly working to strengthen the measures in place in the markets we operate," said Biagio Chiarolanza, CEO of Benetton Group, which signed the deal to upgrade workers' conditions in Bangladesh. "This agreement foresees… a joint systems of inspections, training and financial commitments specific to Bangladesh and necessary to build a sustainable garment industry."
Workers' rights have also somewhat improved over the past year – a labor law passed last summer allows employees in Bangladesh to form labor unions without the approval of factory owners (there are now more than 120 registered garment trade unions, up from only three in 2012-2013). Laborers also saw their minimum wage jump from the equivalent of $38 per month to $73 (although that figure remains below the average wages of textile workers in other Asian nations).
The garment industry is crucial to Bangladesh's economic survival – the sector employs some 4 million people, about 90 percent of them women. This fact underlines one of the dominant and perhaps surprising themes of this business: the increasing empowerment of young women in one of the poorest nations on earth. One such young woman in Bangladesh is 19-year-old Mukhta Mollah, one of 350 factory workers/seamstresses at Beauty Garments Pvt. Ltd. in Dhaka, where she makes $20 a day for at least eight hours a day six days a week. That may sound like a pittance to westerners, but her earnings grant her an independence and social freedom unknown to many of her female peers in the traditional Muslim country.
The Los Angeles Times reported that Mollah sends half of her salary to her family in the countryside, leaving her just enough to survive in Dhaka, thereby avoiding the fate of so many rural girls who get married and bear children by their mid- or late teens and endure severe restrictions in their freedom of movement. "For them [rural girls], it's a cage," she told the Times. "My life is much better than theirs because they have no freedom. When I go back to my village and see my friends, they ask me, 'Can you take us with you?'" One of Mollah's roommates, Kanchi Hazi, who also toils as a garment worker, beamed: "I like it here [in Dhaka]. I make my own decisions. I can earn money and help my family." When she returns home to visit her village, the local girls envy and idolize her. "They see me as a role model," Hazi said. "I can do whatever I want. I can enjoy myself. I have freedom."
Indeed, even some those voices who have criticized the poor infrastructure and corruption that endangers the lives of Bangladeshi textile workers admit that such jobs provide a way out of poverty and bondage for millions of the country's women. "It's fantastic that they have this common industry [textiles] that has put women to work," said Charles Kernaghan, director of the Institute for Global Labor and Human Rights in Pittsburgh, to the Times.
Finding a job in a garment factory also prevents many young Bangladeshi women from the ancient (but illegal) practice of marrying underage. The Times reported that an estimated 60 percent of girls in the country get married before they turn 18, the legal age. This custom also perpetuates the system of dowry payments, in which brides have more "value" when they are younger, more fertile and more attractive. Sajeda Amin, a sociologist and demographer affiliated with the Population Council in New York, told the Times that female garment workers are not rejecting arranged marriages, rather they are simply postponing them. "They want to get married, but later. They want to bear children, but at the right time," she said. Indeed, Mollah clarified: "I [will] leave the decision to my parents when to get married."
Having a job also frees young women from some of the strictures imposed upon them by a very conservative Islamic moral code that generally forbids unmarried women from even leaving their homes unless they are required to work in the fields, much less work in the same locale with strange men. Moreover, women who marry later tend to have fewer kids, which is now helping to curb the country's rapidly growing population.
In a research piece published by Berkeley University, Shaina Hyder wrote that the Bangladeshi garment industry has single‐handedly created a "niche" of single women working and living in the city that did not previously exist in Bangladesh. "While garments work is hard, the women working in the industry have optimism and pride," Hyder wrote. "Nearly 90 percent of the women I interviewed thought that working was better than being a housewife, and 70 percent felt that jobs for women were as necessary and important as jobs for men." Hyder cited the example of a 45‐year‐old divorcee named Khadijah who works as a line manager at a factory. Khadijah raised her only child as a single parent, saving and providing for her daughter's college tuition and tutoring by working full‐time for over 15 years, Hyder noted. "Her financial capabilities paved the road for her family's social mobility – in three generations, Khadijah's family had gone from rural housewife to blue‐collar working woman to college graduate," Hyder said.
In a broader context, the textile industry – which did not really even exist in Bangladesh prior to the 1970s – has inadvertently spurred a mini-revolution of sorts in the country by prompting an exodus of poor rural women into cities, working at jobs, earning money and often becoming crucial financial providers for their families. "As garments workers, women are now earning salaries, participating in formal sector work, managing personal finances, encouraging their children to pursue higher education, and defying traditional marriage standards by marrying later," Hyder wrote. "The garments industry has created the rise of financially independent and successful women in Bangladesh and is responsible for a dramatic shift in paradigm for Bangladeshi society. "
Nazma Akhter, an influential labor leader in Bangladesh who founded the Aware Women's Action for Justice Foundation, also assured that, despite their dangers, garment factories have provided a boon for poor women. "You have to understand, most of these women come from the countryside," she told German media. "This [factory work] is their opportunity. But they don't know that they have rights, so they cannot say anything. But when a woman garment worker knows her rights, she can demand them from the factory."
Still, women garment workers face many daunting challenges, including low pay (despite recent gains), threats and sexual harassment from male bosses and factory owners, and persistently dangerous conditions in many facilities. "The workers have been demanding better wages since inflation has been so high recently," said Kalpona Akter, executive director of the Bangladesh Centre for Worker Solidarity to the Guardian. "These workers sew the clothes that earn the country foreign currency, so they deserve better."
Unlike most other developing countries, Bangladesh's agricultural sector employs relatively few women, prompting them to seek jobs in the city. A 2008 study by World Bank attributed this phenomenon to small land-holding sizes in the overcrowded country and falling agricultural productivity, leading to lower demand for labor., Moreover, a study funded by U.S. Agency for International Development revealed that over the past decade, the workforce participation for Bangladeshi women between the ages of 20 to 24 has more than doubled (coincident with the proliferation of garment factories). "There is no other industry that can absorb so many female workers with little schooling or skills," Ahsan Mansur, executive director of the Policy Research Institute, a Dhaka-based think-tank, told the Guardian.
Kalpona Akter, who has endured abuse and beatings herself for labor organizing, concluded that Bangladeshi women have nonetheless benefitted greatly from working in factories. "It is good that women have this job opportunity and are coming from the countryside," she told DW. "Women are gaining independence. They work at night, they move around the city, and make their own decisions. They support their children and their old parents in the villages. All of this is a very positive sign for our country."
© Copyright IBTimes 2022. All rights reserved.
FOLLOW MORE IBT NEWS ON THE BELOW CHANNELS