Despite Political Turmoil In Egypt, Samsung, IBM, Intel, Oracle Are Investing Eagerly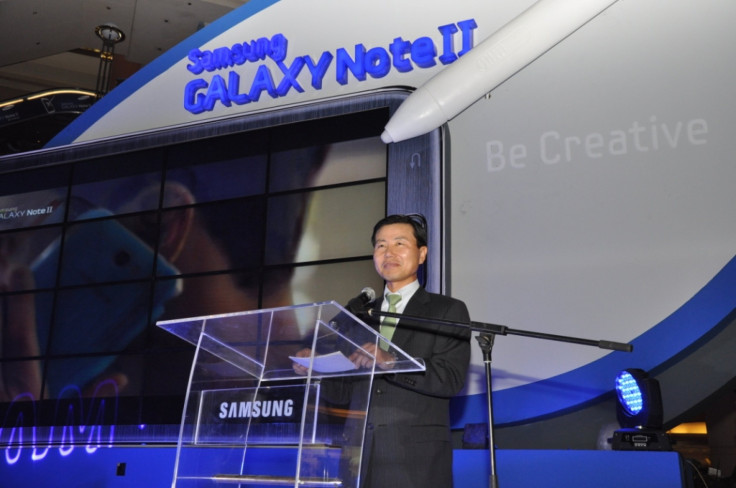 CAIRO -- Egypt may not seem to Western observers like a place where electronics multinationals would launch their latest products before marketing them in the developed world. But that's what happened when Samsung Electronics unveiled its latest smartphone, the Galaxy Note II, at a busy mall in Cairo, complete with laser lights, pop music and stage smoke. The Egyptian launch of the Korean company's smartphone, which took place in October ahead of the U.S. debut, is the latest move to appeal to dynamic, fast-growing, Internet-hungry markets in the Middle East and North Africa.
With this regional push, Samsung (KRX:005930) hopes to overtake Africa's current mobile market leader, Finland-based Nokia (NYSE:NOK).
The company's plans and commitment to the region extend beyond mobile. In September, Samsung announced plans to build its first plant in the region in Egypt. Samsung wants to capitalize on the country's population of 82 million, the largest in the Middle East, its growing consumption rate and increasing demand for Internet use and mobile devices. Securing the Samsung plant was a big win for the Islamist government headed by President Mohamed Morsi, which is trying to win over international investors.
"Egypt offers an investment climate in which Samsung can grow," said Duke Park, Samsung's general manager in Egypt. "Egypt's technology sector has exponential potential for growth."
That's a particularly sunny forecast for a country still struggling to find its way nearly two years after the revolution and increasingly polarized between Islamists and secular, liberal forces.
But Samsung, and other multinationals as well, prefer to see Egypt's travails as transitory -- the growing pains of a new system and something they can navigate with little difficulty. Instead, these businesses focus on the opportunity offered by a relatively young, intelligent and energetic consumer base and worker pool.
Besides Samsung, Egypt has attracted substantial investments from International Business Machines Corp. (NYSE:IBM), the No. 2 computer maker; Intel Corp. (NASDAQ:INTC), the No. 1 chipmaker, and Oracle Corp. (NASDAQ:ORCL), the No. 1 database software company.
The U.S. companies were lured by an advanced technology industrial park near Cairo begun under President Hosni Mubarak, the so-called "Smart City," as well as Egypt's role as telecommunications hub for the region. Oracle has placed a global customer support center in Cairo. "We were impressed by the quality of software engineers available," said Sergio Giacolleto, Oracle VP for Europe and Middle East.
And with the "Intel Egypt" program, the chipmaker has provided 500,000 teachers with "Intel Teach," which is software that promotes use of computers in the classroom. It also shipped 8,000 PCs to more than 300 schools and introduced into the country most of the products for sale in the U.S., including UltraBook laptops. Intel also acquired SySDSoft, a designer of software for mobile chips, in 2011, incorporating the Cairo-based company's 100 electrical engineers and computer scientists into the Intel Mobile Communications division. Arvind Sodhani, president of Intel Capital, said its first Egyptian acquisition demonstrated "commitment to the region and its young, growing talent pool."
Undergirding these investments is the fact that Egypt, like other countries in the Middle East and North Africa, is thirsting for technology to a degree that surpasses most other regions in the world. A recent report by Booz & Company in collaboration with Google identified a so-called "Arab digital generation," technologically savvy users born between 1977 and 1997. This 15- to 35-year-old group currently makes up a huge portion, 40 percent, of the total population in the region. And with limited connectivity and the relatively high cost of personal computers, for many in the region mobile devices offer their only access to the Internet and to health care, banking and education services.
"The more users rely on their mobiles for their day-to-day lives, the more demand there will be for mobile services," said Maha Abouelenein, head of communications in the MENA region for Google (Nasdaq:GOOG).
According to Samsung, regional smartphone sales are up to about 100,000 a month now from only one fifth that last year.
Of course, companies like Samsung cannot charge the same for their products in Egypt, whose gross domestic product per capita is $6,500, as they would in the U.S., where GDP per capita is upwards of $50,000. "Our strategy is to make the smartphone affordable to a vast majority of consumers," said Sherif Barakat, head of the mobile division at Samsung Egypt.
Samsung's most affordable smart phone on the Egyptian market is the Galaxy PocketIt, which sells for 700 Egyptian pounds ($116). That's one-eighth the iPhone 5 made by Apple (NASDAQ:AAPL), according to prices posted on Egyptian e-commerce site Souq.com.
Samsung's new plant will be located about 75 miles, or 120 kilometers, south of Cairo. Construction is due to be completed in the first half of 2013, and production is slated to start in the second half of that year, according to the company. Initially the factory will be producing LCD and LED monitors.
The value of the company's financial commitment is estimated at 9 billion Egyptian pounds ($1.45 billion) over the next three years. Samsung declined to give a specific figure.
"If all conditions are met, such as market needs and requirements, Samsung will expand to produce different cutting-edge products and several thousand jobs will be created," Park said. These products may include full-fledged Samsung TV sets, with long-term plans to introduce washing machines, air conditioners and refrigerators as well.
In some countries, an investment of $1.45 billion may not rate a reaction by the prime minister in person. But in Egypt, the government was thrilled, as it struggles to rebuild the economy after the ouster of the Mubarak regime in 2011, to receive Samsung's vote of confidence. "As a market, we recognize that there are diverse business opportunities across a broad range of industry sectors which is why we always welcome and encourage foreign investment, such as Samsung's," said Prime Minister Hesham Kandil.
In addition to established players, new companies are also entering the market, spurred by local demand. Over the past two years, several Chinese mobile brands such as Tecno Telecom introduced their products to Egypt.
"If you look at Egypt in the last two years, you have the emergence of at least five brands that made the top 10 list -- these are names no one heard about before," said Jihad Srage, senior vice president and president of Middle East, Africa and Central Asia for U.S. telecommunications equipment maker Qualcomm (NASDAQ: QCOM).
But despite the rose-colored glasses worn by multinationals and other companies in Egypt, the country will have to exhibit a lot more political will and economic stability to achieve steady growth and an enthusiastic, well-heeled consumer base. Without that, odds are companies like Samsung will look at their Egypt ventures in a few years as well-intentioned but ultimately foolhardy gambles.
© Copyright IBTimes 2023. All rights reserved.