'Destiny 2' Guide: How To Get Timelost Weapons
KEY POINTS
Timelost weapons drop from the Master version of the Vault of Glass
Players must complete unique challenges to unlock Timelost weapons
All Timelost weapons drop with curated perks
Timelost variants of the Vault of Glass weapons are some of the most sought-after items in "Destiny 2." Much like Adept versions of the gear that drops in Trials of Osiris, Timelost weapons have the ability to equip Adept mods, and they always drop with a curated perk roll alongside two randomly rolled traits.
These weapons only drop after completing weekly challenges from the Master difficulty of Vault of Glass. Here are all of the challenges, their rewards and a few tips on how to beat them.
Vault of Glass Weekly Challenges
Challenges are side-objectives that players need to complete alongside an encounter's main goal. They will require a bit more strategizing than usual, so players must be prepared to adapt accordingly.
Out of Its Way – Fatebringer
Players must defeat the Templar without letting it teleport to other platforms. Have the relic holder focus on preventing the teleport while the rest of the team deals damage to the boss. The DPS team should stand in the middle of the arena in case the relic holder gets trapped by the Templar.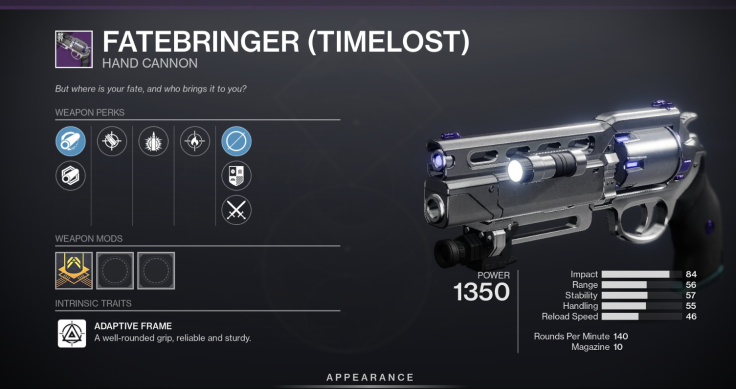 The Only Oracle For You – Praedyth's Revenge
Players must finish the Oracles phase without destroying the same Oracle more than once. Have the team rotate around the arena clockwise after each phase.
Wait For It – Vision of Confluence
During the initial Conflux encounter, only kill Wyverns while they are sacrificing themselves to a plate. Let them begin sacrificing and pour as much damage on them as quickly as possible.
Ensemble's Refrain – Corrective Measure
During the Atheon fight, the teleported team members must not break more than one Oracle for each wave. The relic holder must drop the shield momentarily to destroy an Oracle themselves.
Strangers in Time – Hezen Vengeance
In the Gatekeepers encounter, players in either Mars or Venus must kill a shielded Minotaur and Wyvern within two to three seconds of each other. Communication is key here, and the relic holder must be on standby at whichever portal has the Minotaur.
Timelost Found Verdict
This shotgun can only be obtained by unlocking the Master Glasser triumph, which involves finishing all of the Vault of Glass challenges on Master difficulty.
© Copyright IBTimes 2023. All rights reserved.
FOLLOW MORE IBT NEWS ON THE BELOW CHANNELS