Deviled Eggs Recipes For Easter 2019: 10 Easy Recipes To Enjoy Hard-Boiled Eggs
Eggs are a big part of the celebration when it comes to Easter Sunday—but hard boiling eggs solely for dying them isn't the only thing to do with them when this Spring holiday hits. In fact, another perfect way to enjoy hard-boiled eggs is by making Deviled Eggs to serve as part of the holiday meal.
This classic dish is perfect for serving on this holiday in particular since you likely cooked a whole lot of eggs already when it came to coloring them for the kids anyway. The Egg is also important on Easter for the religious symbolism of rebirth, meaning that whether your celebration is a religious one or simply tied to the more commercial side of the holiday, then Deviled Eggs might be the perfect thing to serve alongside a ham.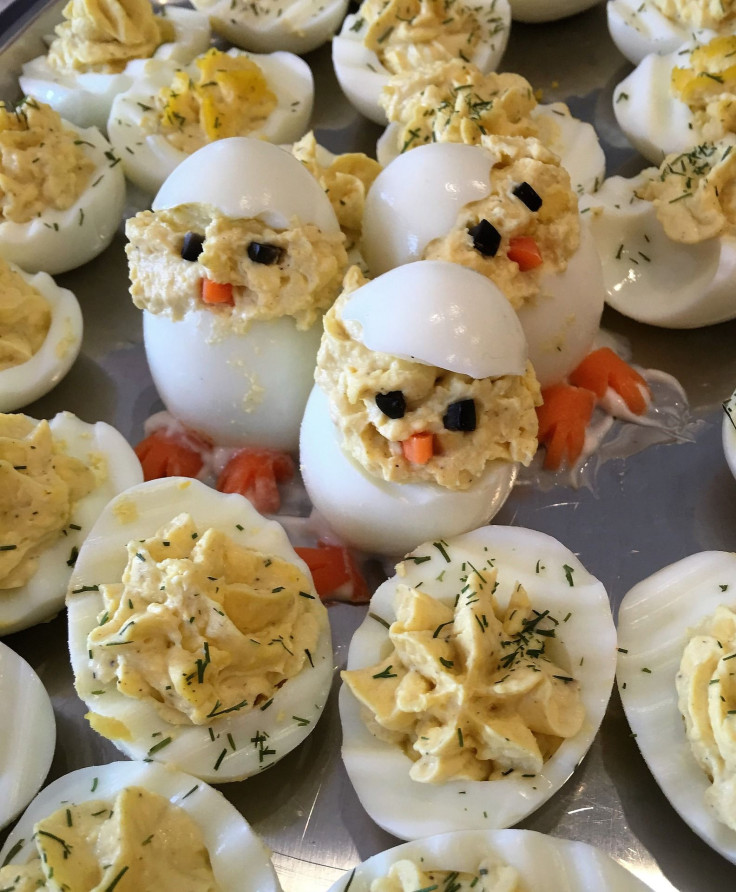 However, in case you're not sure where to start, there are several different recipes you can follow which will allow you to spice up the eggs you serve. Check out these 10 recipes for delicious Deviled Eggs that are sure to please everyone at your celebration.
Alex Guarnaschelli's Fiery Bacon Deviled Eggs: The Iron Chef teamed up with McCormick for this recipe, which combines the classic recipe with the salty deliciousness of bacon and an extra kick of spice with cayenne pepper.
Classic Deviled Eggs: If sticking with the classics is your thing, then this recipe from Mary Nolan of Food Network should work just fine.
Colorful Deviled Eggs: Looking for a social media worthy recipe? Do it for the 'gram with this recipe, which calls for classic eggs, but gives them a gorgeous Spring twist with pastel colors.
French Onion Dip Deviled Eggs: If you're the kind of person who usually loves anything French Onion flavored, then this is the recipe for you-featuring caramelized onion in the yolk mixture for extra flavor.
Guacamole Deviled Eggs: For eggs that are still creamy (but don't require mayo for it), then this recipe is the perfect one, substituting avocado for the mayonnaise.
Luxe Truffle Deviled Eggs: If something a little fancier is to your liking, this recipe featuring truffle oil and black lava salt will give you that extra bit of elegance.
Million Dollar Deviled Eggs: This recipe gives classic eggs a tiny twist with a special secret ingredient.
Red Goddess Deviled Eggs: Give your eggs the perfect twist of originality with this recipe featuring savory roasted red peppers, spicy jalapenos and creamy Greek yogurt.
Red-Hot Buffalo Deviled Eggs: Give your eggs a red hot kick with this spicy recipe.
Soy Sriracha Deviled Eggs: Give your eggs an explosion of unexpected flavor with this recipe, which soaks the eggs in soy sauce before dousing them with a generous Sriracha drizzle.
© Copyright IBTimes 2023. All rights reserved.