DICE Kicks Off 'Battlefield 1' Holiday Event With New Custom Game Mode Blind Delivery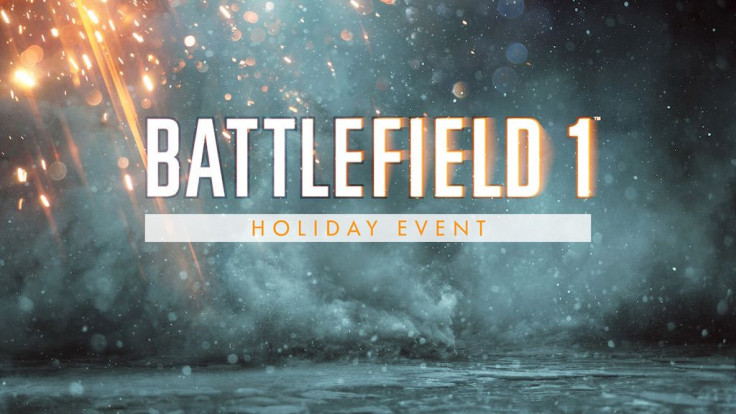 DICE has announced that "Battlefield 1" will be receiving a holiday update which starts off today and ends on Dec. 29. It will unlock new custom game modes and other extra content everyday with the first being called Blind Delivery.
Blind Delivery, which is now available under the Custom Game tab on "Battlefield 1," is a modified version of War Pigeons. In Blind Delivery, the mini map is removed making it a lot more challenging to find pigeons on the field. Another huge difference in this mode is that weaponry is limited to handguns and explosives only, as explained by DICE in its blog post.
On Dec. 22, players will simply have to log in to "Battlefield 1" and they will automatically receive the Holiday Truce Dog Tag. The Dog Tag is inspired by the Christmas Truce during the first World War in 1914, when the British and German armies agreed to an unofficial ceasefire to share food and even play soccer, as pointed out by PC Gamer. DICE noted that the special Dog Tag will be awarded to all players, one for each account.
That same day, DICE will also be introducing Vehicle Skins through its Battlepacks. Players can either get either the Distinguished "Schnuck" or the Legendary "Desert Gold" for the Heavy Tank.
On Dec. 23 until Dec. 29, all players that log in to "Battlefield 1" during those days will be rewarded a free Battlepack (one per account.) For players who've bought the $50 Premium Pass, they will receive two Superior Battlepacks as an additional to the 14 that DICE has already given to them. Battlepacks contain puzzle pieces to complete rare weapons and various alternate skins for other weapons.
"Battlefield 1" is the only major title that's trying to entice people to play during the holidays. "Overwatch" and "Destiny" have already launched their own special holiday events where players are rewarded with extra content and new game modes. "Rainbow Six Siege" has also joined the holiday fun by adding new timed challenged, as pointed out by Game Rant.
© Copyright IBTimes 2023. All rights reserved.