Dick Clark Dies: What Was The 'American Bandstand' Host's Net Worth?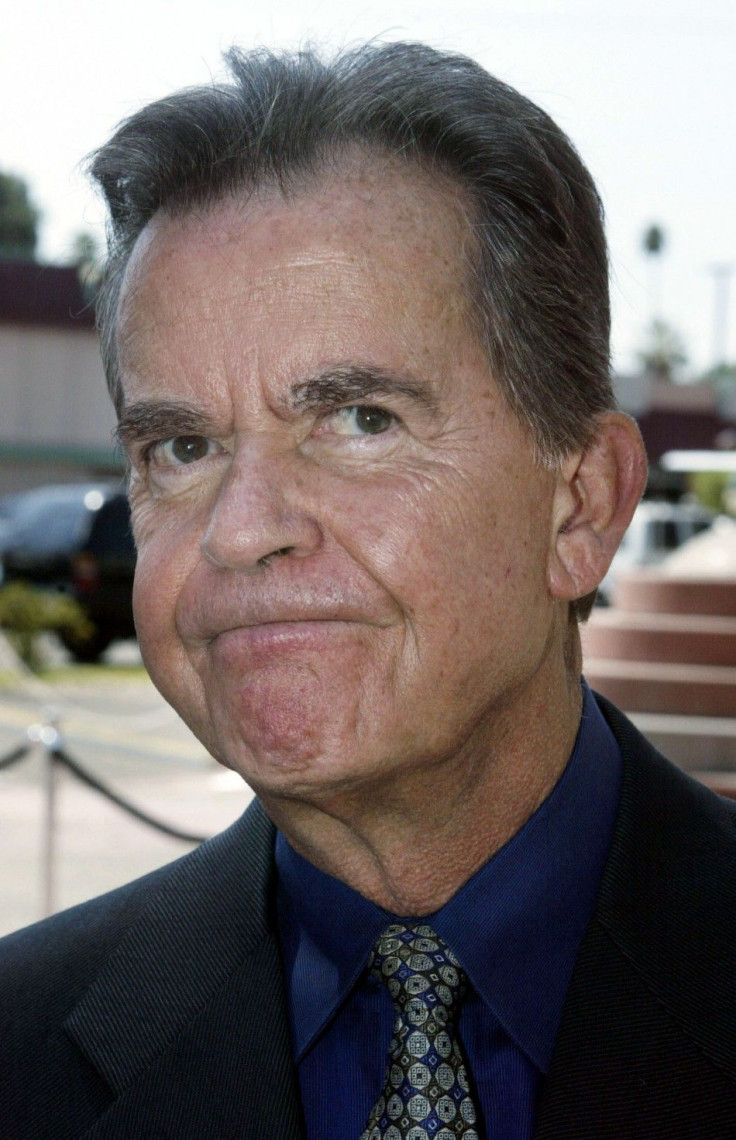 At the time of Dick Clark's death on April 18, it is estimated that the former American Bandstand host/producer amassed a net worth that reached into the hundreds of millions of dollars.
As it is no surprise to those who followed his career closely, Clark was a certified workaholic. From claiming countless industry titles to owning numerous companies, Clark , who died of a heart attack on Wednesday at age 82, left behind a fortune of legacy, memories and an estimated net worth of $200 million, according to CelebrityNetWorth.com
His claim to fame came on July 9, 1956 when American Bandstand, an American music-performance show with Clark as the host, was picked up by the ABC Television Network.
The show was a major success for Clark and ABC, as it became a daily running production until 1963, then weekly on Saturdays until 1987.
Clark served in the announcer position for 10 years before handing the honor off to Charlie O'Donnel, a close friend of the original Bandstand host and an up-and-coming fellow Philadelphia disc jockey.
Clark also acted as the American Bandstand producer and is considered to be responsible for the shows syndication on the USA Network.
Once the entertainment entrepreneur got his feet off the ground, it's as if he never came down. The head of a publicly traded company, a restaurateur, a concert promoter and real estate investor, Clark was an unstoppable force in the entertainment industry, according to Fran La Maina, the longtime president of Dick Clark Productions Inc.
Work was his hobby . . . he had this never-give-up attitude, La Maina told The Associated Press. He was a great salesperson and a task master.
As a very well-known business man, Clark is considered to be one of the early pioneers of the concept of a company that can be formed around an entertainer's personal appeal.
By 1966, the man with many titles had three television shows produced by his own production company -- Swingin' Country, Where the Action Is, and, of course, American Bandstand.
Back during the days when promoters ran the live music industry (as opposed to the way the artists call the shots today), Clark promoted more than 100 concerts a year, boasting artists such as The Rolling Stones and Engelbert Humperdinck.
In the 1970s, he launched productions like the American Music Awards and New Year's Rockin' Eve - shows that are regarded as highly valuable by advertisers because fans still want to watch them live in an age where most productions are pre-recorded.
Clark had so much going on that at one point that he hosted shows on all three major TV networks, including The $20,000 Pyramid on ABC, Live Wednesday on CBS and TV's Bloopers and Practical Jokes on NBC. All the while, he was hosting shows Dick Clark's Countdown and Rock, Roll & Remember on the radio and running a highly valuable business, all of which contributed to his high net worth.
In 1987, when Dick Clark Production went public, the company boasted several thousand employees, a restaurant chain with Clark's name on it, and a communications-promotion business. Revenue for the extremely profitable company exceeded $100 million a year.
In 2002, the company, which at the time was worth $140 million, was taken pivate by an association led by Mosaic Media Group Inc. However, clark opted not to cash out and instead sold a portion of his 70 percent stake, while reinvesting the rest with the new ownership group and staying on as CEO.
In 2007, the company was bought out again, this time to Washington Redskins owner Dan Snyder and his private equity firm RedZone Capital, for $175 million. Clark decided to sell off the remainder of his stake. He remained connected to the company only through his annual appearances on the New Year's Eve show.
At the time of his death, Clark was married to Kari Wigton for over 35 years. The couple owned many houses including a 23 acre compound in Malibu that was modeled after his favorite cartoon, The Flintstones.
Dick Clark is survived by his current wife Kari and two ex-wives. He has three children, Richard Jr, Duane and Cindy.
© Copyright IBTimes 2023. All rights reserved.