Dick Clark Dead: His Rise To Fame On 'American Bandstand' [VIDEO]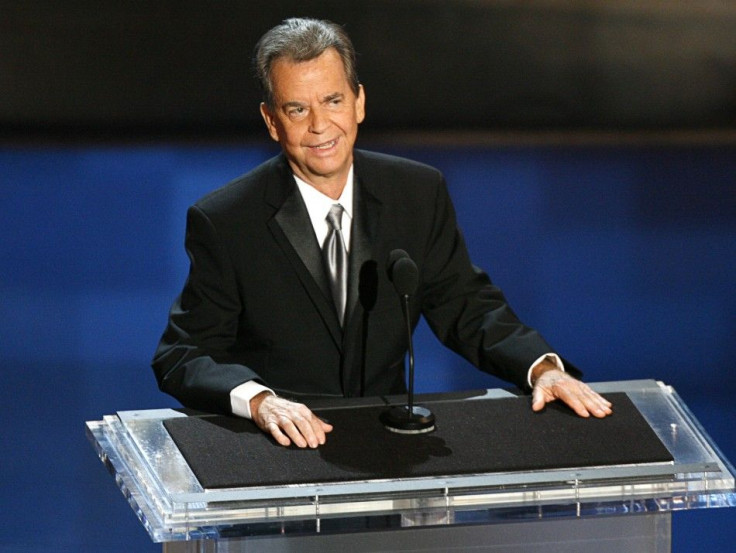 Former American Bandstand host Dick Clark died from a massive heart attack this morning
The New Year's Rockin' Eve host had been in St. John's hospital in L.A. after undergoing an outpatient procedure last night.
Clark suffered the massive heart attack following the procedure. Attempts to resuscitate him were unsuccessful, according to TMZ.
Clark's claim to fame came on July 9, 1956 when American Bandstand, an American music-performance show, was picked up by the ABC Television Network.
American Bandstand with Dick Clark aired on Aug. 5, 1957. The episode featured Clark interviewing Elvis Presley.
The show was a major success for Clark and ABC, as it became a daily running show until 1963, then weekly on Saturdays until 1987.
Clark served in the announcer position for 10 years before handing the honor off to Charlie O'Donnel, a close friend of the original Bandstand host and an up-and-coming fellow Philadelphia disc jockey.
Clark also acted as the American Bandstand producer and is considered to be responsible for the shows syndication on the USA Network. He then went back to hosting the program in 1987 and 1988.
American Bandstand and Dick Clark himself were honored at the 2010 Daytime Emmy Awards.
A spin-off of Bandstand, Where the Action Is, aired from June 27, 1965 to March 31, 1967, also on ABC.
Dick Clark ABBA Interview on American Bandstand
Dick Clark introduces Al Martino and The Young Rascals on American Bandstand
© Copyright IBTimes 2023. All rights reserved.