Did Amber Rose Troll Kylie Jenner With Deleted Picture From Kim Kardashian's Sex Tape With Ray J? Hoax Exposed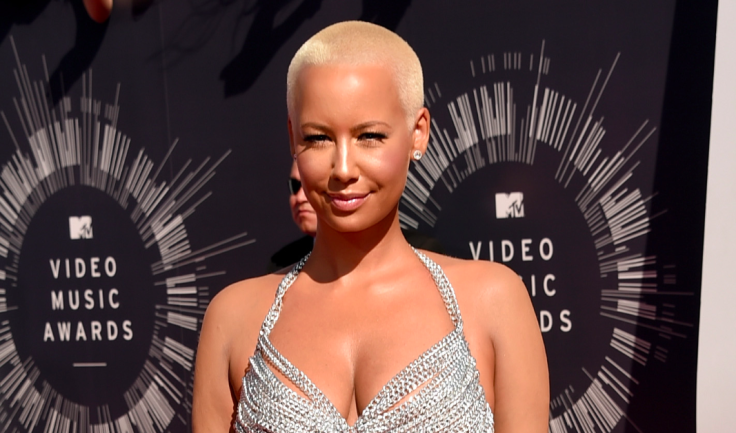 Amber Rose defended "Keeping Up With the Kardashians" star Kim Kardashian West against Pink during her nude picture scandal earlier in the week, so when Rose apparently trolled Kylie Jenner Tuesday, something seemed odd about it. A feminist and model, Rose has taken a strong stance against slut shaming, so it appeared hypocritical when she brought up Kardashian's sex tape on Twitter.
Here's what happened: The drama all unraveled when Kylie Jenner, the youngest member of the Kardashian-Jenner clan, proposed a question to her 14.7 million Twitter followers. "What others videos would u guys want to see for my app," she innocently asked. Rose then tweeted a picture of Kardashian and Ray J when they made their infamous sex tape 13 years ago. "This one," she captioned the image.
The only problem is that Rose most likely didn't send that tweet, even though the blog MediaTakeOut.com wrote she did in a post Thursday. One thing that is off about the whole thing is that it would be out of character for Rose, who almost always stands up for women and their sexuality. Another thing that is off about it is that the screenshot MTO took of her tweet has the wrong Twitter handle. Rose's authentic handle is "@DaRealAmberRose" and the one posted on MTO's site reads "@DaRealAmbRose," meaning it's missing the letters "er" in "Amber."
Additionally, the site claimed Rose quickly deleted the tweet, but the message from the hoaxer remains. It has more than 4,000 shares and over 3,900 likes. MediaTakeOut, dubbed "Media Fake Out" by Gossip Cop, seems to have gotten it wrong this time.
After Kardashian, 35, was criticized by Pink and many other celebrities for posting nude images of herself Monday, Rose invited the reality-television star to join one of her SlutWalks. "I don't know u well but I saw u speak about slut shaming and as u know I'm an activist feminist so it spoke to me. Being Slut shamed and ridiculed is not fun it's hurtful and mean," she wrote on Instagram Wednesday.
"Make a difference and speak on it!" the model continued. "Not only when it's convenient for u but when u can help others," Rose, 32, continued. "Last year at my Slutwalk I told my Slut shaming story. This year I would love for u to come and tell urs. ... Let's let the naysayers know u are so much more then a sex tape (13 years ago) f--- it own it. Ur a mom and a business woman, a wife, sister and daughter. Hope we can make this happen #AmberRoseSlutWalk2016."
Follow me on Twitter @mariamzzarella
© Copyright IBTimes 2023. All rights reserved.