Did K-Pop Star Sunmi Just Come Out As LGBT?
The 27-year-old K-pop sensation Sunmi was in Amsterdam on Tuesday night and took a moment to speak to the audience during the concert and give a shout-out to her LBGTQ+ supporters. "I have many different sides of me like dorky and LGBT," she said, setting off screams and cheers from the audience believing she just opened up about her sexual identity -- considering June is the Pride Month.
Sunmi continued, "…And a bright side of me and a dark side of me, yeah. There are sides of me I know very well like I just said. And sometimes there are times when I don't know myself well. So sometimes I wonder other things about me." She even cheered "Happy Pride!" at one point during the concert, and wrapped herself in a Pride flag.
Fans took to Twitter and here is a sampling of their reactions:
"Y'all don't understand how impactful this is like, Sunmi just came out in a practically homophobic industry.'"
"Wait did Sunmi come out? I'm really confused on what she just said."
"Sunmi said she is LGBT OMG y'all another win for the gays! Happy Pride Month everyone."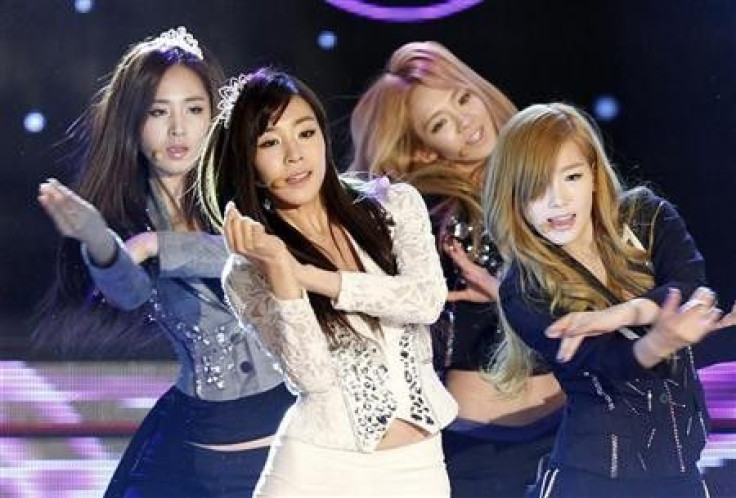 Although everyone thought she had just come out and opened up about her sexuality, Sunmi later tweeted: "Haha I was saying 'I have so many different sides of me like dorky and LGBT queen…' Yeah, I support LGBT but don't get me wrong guys."
A fan posted on Twitter: "Whether she was referring to herself being part of the community or just being an ally, Sunmi is so brave for openly talking about it and either way she's still on our side _."
Before going solo in 2017, Sunmi was a member of the K-pop group Wonder Girls. "I didn't know who I was because I had started promoting when I was very young. I was running at full speed at a time when I didn't even know what I was good at. So I started to 'fangirl' over myself," she had told Billboard about the spilt with the band.
Her image has evolved a lot as she was only 14 when she debuted as a Wonder Girl, but since she went a solo, she has adopted a more sexy image. "I don't expose myself – I express sexiness with my eyes. I think I have special eyes that can do that," she said in the interview with Esquire.
© Copyright IBTimes 2023. All rights reserved.
FOLLOW MORE IBT NEWS ON THE BELOW CHANNELS