Did Leah Messer Lose Custody Of Twins To Corey Simms? 'Teen Mom 2' Star Writes Cryptic Twitter Response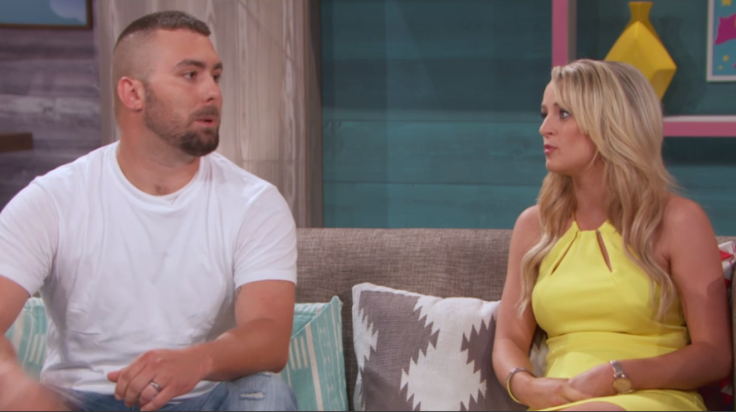 "Teen Mom 2" star Leah Messer reportedly lost custody of her twin daughters, Ali and Aleeah, In Touch Weekly wrote in an exclusive report Wednesday. The MTV reality star didn't directly respond to the report, but -- just days after she supposedly lost a majority of her parental rights -- she issued a cryptic tweet about spending quality time with her twin daughters.
On Oct. 13 her first ex-husband, Corey Simms, "was awarded primary custody, effective immediately," of the 5-year-old girls, the publication wrote. The move comes months after Messer finished a stint in rehab for stress and anxiety, though it's been widely rumored that she battled an addiction to prescription pain pills. Now, she will only see her eldest daughters, the twins, on weekends.
Her second ex-husband, Jeremy Calvert, might seek primary custody their daughter, Addie, who is 2. "If [Jeremy] can find [a job] nearby, he'll go for the same custody arrangement that Corey did," a source told In Touch. Viewers watched their relationship dissolve on Season 6 of "Teen Mom 2." Cavert told Leah he would not reconsider their divorce -- even if she went to rehab.
Aside from the drug accusations, one reason Calvert might want custody is because Messer, 23, is reportedly an absent-minded mother. "Everyone is very worried about Addie. She recently wandered out of the house while Leah was distracted," the insider said. "Thankfully, a police officer found Addie and brought her back home."
On the same day that she reportedly lost custody of her twins, Messer tweeted that she was "thankful" for the "love and patience" God has given her.
A few days later she wrote a mysterious message about spending quality time with her daughters. "There's nothing like actually having actual quality time with my girls, for once. We aren't running around to [appointments] but instead we are having a fun filled weekend together [and] enojoying each other as a family," she wrote. "At the end of the day that's what matters most!" The finished the post with: "#memories."
Neither Simms nor Calvert have issued a statement about Messer reportedly losing custody of the twins.
Follow me on Twitter @mariamzzarella
© Copyright IBTimes 2023. All rights reserved.