Did The Royal Baby Wave? Video Footage Captures Baby Waving To The Crowd Outside St. Mary's Hospital [PHOTO]
Did the royal baby wave? During a live-stream video of Kate Middleton and Prince William emerging from the Lindo Wing of St. Mary's Hospital in London with the newborn royal baby, the child is seen giving what looks like a brief wave back to the huge crowd waiting outside.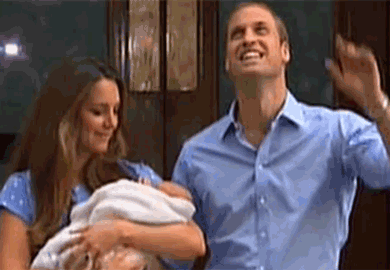 After stepping out in public, the couple answered a few questions for reporters on the scene, jesting with some of their responses. "He's got way more hair than me, thank God," Will said.
Middleton gave birth to the baby boy, weighing 8 pounds, 6 ounces, at 4:24 p.m. local time on Monday.
While the name of the baby has not been announced, its title has already been bestowed: His Royal Highness Prince (name) of Cambridge. In comparison, William's name was not announced until one week after Princess Diana delivered him, in 1982.
The Duke and Duchess of Cambridge thanked the staff at the Lindo Wing in an official press release:
"We would like to thank the staff at the Lindo Wing and the whole hospital for the tremendous care the three of us have received. We know it has been a very busy period for the hospital and we would like to thank everyone -- staff, patients and visitors -- for their understanding during this time."
The baby is expected to be christened sometime in the coming days or weeks in a small, private ceremony, closed to the media.
As for the future of the child, the royal baby is now third in the line of succession to the British throne, behind his grandfather, Charles, Prince of Wales, and his father, Prince William. As a result, Prince Harry and those eligible for the throne are pushed down by one. This new line of succession is illustrated in an International Business Times infographic.
Did the royal baby really wave? Take a look at the video here and see for yourself.
© Copyright IBTimes 2023. All rights reserved.