Do IUDs Work? Apparently Not If You Are Ivana And Donald Trump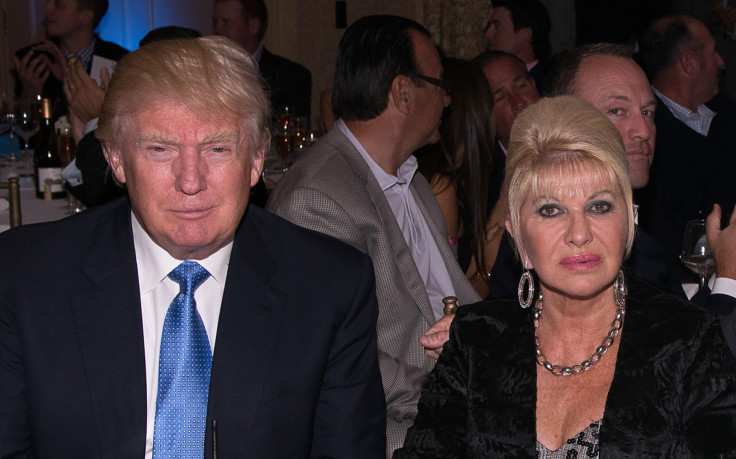 Does President Donald Trump have some kind of super sperm which can result in pregnancy even after an intrauterine device (IUD) is fitted? According to Trump's ex-wife Ivana Marie Trump, the above seems to be quite possible.
According to a New Yorker article titled "The Trumpishness of Ivana," it was stated that in the book "Raising Trump" written by Ivana and published this year in October, she recounted how she got pregnant all three times with her three children — Donald Trump Jr., Ivana Marie (Ivanka Trump) and Eric Fredrick Trump — while she had an IUD.
The report quoted a line from the book describing Ivana's pregnancies: "Start to finish, my entire labor and delivery lasted twenty minutes." She then went on to write, "It would be the same for each baby: a horrible, mercifully brief, and beautiful experience."
According to a report by Planned Parenthood Federation of America, a non-profit organization which provides reproductive health care, IUDs are one of the most effective birth control methods. The report stated that IUDs are 99 percent effective which means that less than one out of 100 women who will use an IUD will conceive each year.
The report stated that one of the reasons why IUDs are so effective is because there are lesser chances of someone forgetting to take it, which happens in the case of contraceptive pills or even use it incorrectly, like in the case of a condom. The report stated depending on what type of IUD is used, contraception can be provided 24/7 for three to 12 years.
Obstetrician-gynecologist Jen Gunter seemed to think that Ivana's case would be "highly improbable." On her blog named "Wielding the lasso of truth," Gunter looked at Ivana's case from a rational perspective.
In her blog-post she said that IUD failures are possible but are very rare when it comes to modern IUDs. According to a report on PubMed Central (PMC), a biomedical and life science journal archive site, the two types of modern IUDs have very low failure percentages. One is the levonorgestrel IUD — which releases small amounts of levonorgestrel, a form of progesterone, into the uterus and a highly efficient method of birth control — with a failure percentage of 0.1 percent. The other is the IUD made of copper and has a failure rate of 0.8 percent.
Gunter then goes on to state the fact that Ivana wouldn't have had access to the levonorgestrel IUD because her last child was born in 1984 (Eric Fredrick Trump) and this kind of IUD was not available in the market till the 1990s. However, Gunter does acknowledge the fact that as Ivana was quite affluent at the time, and given that she made frequent visits to Europe, it wouldn't be a surprise if she had access to IUDs that were available in Europe during the late 1970s or the early 1980s.
Gunter states that European IUDs had a lower surface area of copper which resulted in a slightly higher rate of failure but that percentage was still below 2 percent.
In her blog, Gunter also talked about why IUDs at times fail. She stated that some of the cases are "unrecognized expulsions." She explained sometimes IUDs go down the uterus into a spot that isn't ideal, while at times copper IUDs are placed too low which doesn't allow the copper in the fallopian tubes to stop the sperm from passing by. She mentioned that IUDs are something that requires individual management.
Gunter, referring to Ivana, went on to exclaim that if she had a patient whose IUDs failed twice, she would start looking for reasons which would include a fibroid or a uterine anomaly.
Gunter stated that there was a gap of three years between the birth of Trump Jr. and Ivanka. She assumed the fact that if Ivana did not use any other method of birth control (contraceptive pills at that time came with higher dosage) and Trump did not use any protection, then using a third IUD would have been a fair-minded decision by Ivana because she got three years of contraception during the three years between the births of Trump Jr. and Ivanka.
Gunter concluded that, if Ivana gave a correct description of her medical information then there was a 0.0008 percent chance that she could have conceived while on IUDs.
If that indeed is the case then Gunter gave two other possible options which might have contributed to the pregnancies: Either Trump has "super-duper IUD busting sperm," or this is anti-abortion dog whistle because three unplanned pregnancies took place.
© Copyright IBTimes 2023. All rights reserved.