Does The American Economy Do Better With A Democratic President? Hillary Clinton Says So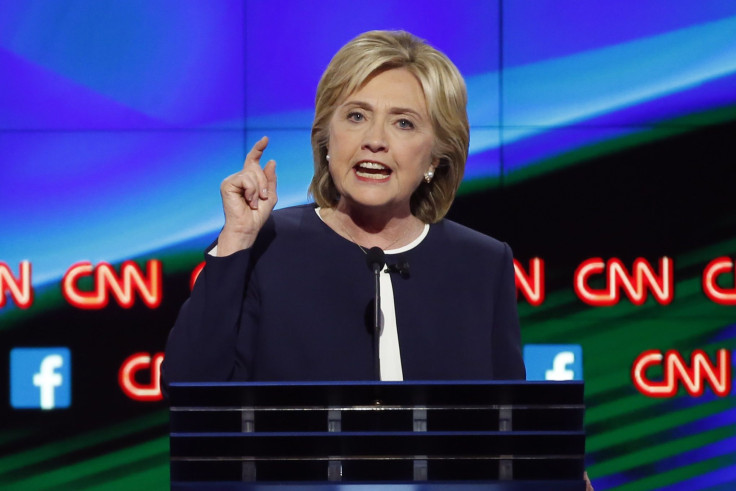 Hillary Clinton told Americans Democrats in office are good for the economy, but whether there is truth to her claims at the CNN debate Tuesday depends on whom you ask. "The economy does better when you have a Democrat in the White House," the former secretary of state said during the first Democratic debate in Las Vegas.
Clinton is right, according to a September 2014 study from Princeton University that looked at the economy over the last 70 years. "This partisan gap has barely been noticed by researchers, but it is wide. Since the end of World War II, there have been 16 complete four-year presidential terms -- seven Democratic and nine Republican. Growth of real GDP averaged 4.35 percent per annum under the Democratic presidents but only 2.54 percent under the Republicans," the researchers wrote. The paper concludes economic growth can be chalked up more to good luck with some influence of good policy.
But Washington Post columnist Robert J. Samuelson has called into question the paper. He said while the Princeton study mentions war, productivity and steep increases in oil prices as contributing factors during Democratic presidencies, it fails to acknowledge a major reason. "The parties have philosophical differences that affect the economy. To simplify slightly: Democrats focus more on jobs; Republicans more on inflation. What resulted was a cycle in which Democratic presidents tended to preside over expansions (usually worsening inflation) and Republicans suffered recessions (usually dampening inflation)," Samuelson wrote.
Clinton was placed at the center of the stage Tuesday since she leads in the polls. The positions of the five candidates was based on polls since Aug. 1 and was announced on CNN's "State of the Union." The former secretary of state was joined by Vermont Sen. Bernie Sanders, former Maryland Gov. Martin O'Malley, former Virginia Sen. Jim Webb and former Rhode Island Gov. Lincoln Chafee.
Clinton was backed by 46 percent of Democratic primary voters in the latest CBS poll released Monday. Sanders polls in second place in the Democratic race with 27 percent of the vote.
Polling for Democratic Candidates | InsideGov
The Democratic face-off comes after two heated Republican debates, one of which also was hosted by CNN. The debate aired at 8:30 p.m. EDT Tuesday at the Wynn Hotel and Casino in Las Vegas. CNN anchor Anderson Cooper moderated the Las Vegas debate alongside Dana Bash, CNN's chief political correspondent, and CNN en Espanol anchor Juan Carlos Lopez.
Viewers were asked to submit debate questions to Facebook and Instagram. CNN anchor Don Lemon asked the questions compiled from social media. Candidates were given one minute to respond to questions.
© Copyright IBTimes 2023. All rights reserved.