Does Evernote's $1B Valuation Signal A Technology Bubble?
The success of young technology companies such as Evernote, which just raised $70M prior to its IPO, has investors questioning whether another technology bubble could be forming.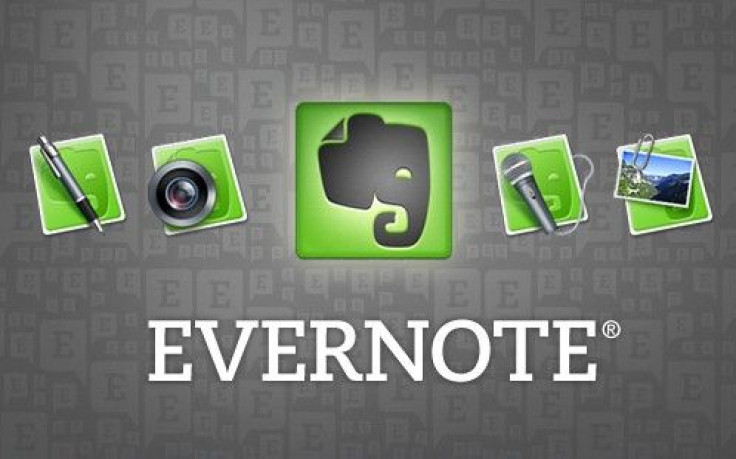 Evernote, the popular cloud note-taking service, has just finished raising a huge Series D round of funding in which it raised $70 million at valuation of roughly $1 billion.
For those that are unfamiliar with the service, Evernote allows people to save notes, entire webpages, photos, text, office projects, maps, documents and more on a cloud server that can be accessed from almost any computer or mobile device.
Our goal is to build Evernote to be a hundred-year company that delivers a lifetime of value to our users, said CEO of Evernote Phil Libin in the official announcement. This financing provides a solid step in this direction by allowing us to build better products, grow our international presence and expand the platform with strategic acquisitions. We are honored to have the guidance and support of such an experienced group of investors.
Evernote's Series D funding was led by Meritech Capital and CBC Capital. There was participation from funds and accounts managed by T. Rowe Price, Harbor Pacific Capital, Allen & Company and other investors.
The company will be using the money to improve its core product, which is essentially cloud-based bookmarking, and it will also look to make future acquisitions and expand internationally. Libin is extremely confident about the future of the brand following the Series D funding. In a TechCrunch report, Libin said, I agree with our very wise investors. I think that Evernote as a publicly traded company could be worth $10 billion, $100 billion or more.
Evernote has raised $166 million to date. It was initially given $9 million from angel investors; it raised $6.5 million in Series A funding; $10 million in Series B; $20 million in Series C; $50 million during a venture round. According to the TechCrunch report, Evernote still has most of the previous $96 million in funding left in the bank.
Is There A Technology Bubble?
Evernote is just the latest company to be invested in at a valuation of more than $1 billion. Just a few weeks ago, Instagram was acquired by Facebook for what could be worth much more than $1 billion. Before the end of the month, Facebook itself could become one of the largest IPOs in American history. Investors suspect that Facebook could be valued at $100 billion.
Compare these huge number to purchases of just the last five years, such as when Yahoo bought Flickr for $35 million, and you can begin to see why some are concerned with the rate at which a company grows in valuation. Take Viddy for instance, the short video-sharing platform, which was reported to be raising $30 million at a $370 million valuation, and you can begin to see how inflated the numbers have become behind such companies.
New York Times' Bits blog writer Nick Bilton raised the question of whether a technology bubble ready to pop in a recent article. Bilton wrote, Today's acquisitions and valuations not only echo the dot-com bubble of the late 90s, but now completely dwarf the money that was passing hands then.
Chris Dixon, an influential investor and founder living in New York City, argues against the notion that technology in America is being traded at inflated rates. You could certainly debate other public tech stock valuations (there are a number of companies that recently IPOd that many reasonable people think are overvalued), but on a market-cap weighted average the tech sector is trading at a very reasonable 17 P/E., he says.
Dixon points to Facebook's estimated value -- $100 billion -- and notes that it will have ultimately cost the company about 1 percent of that in order to acquire Instagram. Is Instagram worth $1 billion? If your company is worth $100 billion, which is what's expected from Facebook, it is.
One of the most important points Dixon makes concerns Series A funding. He says, Many good companies are having trouble raising Series As and the valuations I've seen for the ones who do have been pretty reasonable. The point directly applies to Evernotes' relatively small valuation in the early stages of existence. Evernote was given $6 million then $3 million one year later in early angel investment rounds of funding.
BusinessWeek writer Ashlee Vance appears to be less convinced by the fact that there's no technology bubble. No one is suggesting that the top tier of ad-centric companies--Facebook, Google--is going down should the bubble pop, she writes. As for the next tier or two down, where a profusion of startups is piling into every possible niche involving social networking and ads-the fate of those companies is anybody's guess.
And therein appears to be one thing we can all agree on. Macro trends in the economy are almost impossible to predict. If it were easy, investing would be much easier. So, if you've pushed money into the private markets or given seed funding to a young company, you're almost certainly aware of the fact that every investment is relative to the time given to the investment and return on investment. Whether you're willing to take a chance is an entirely different story.
© Copyright IBTimes 2023. All rights reserved.