iPhone 5 Release Date, Features: Next iPhone's Home Button Photos Leaked, Suggest Rounded-Square Shape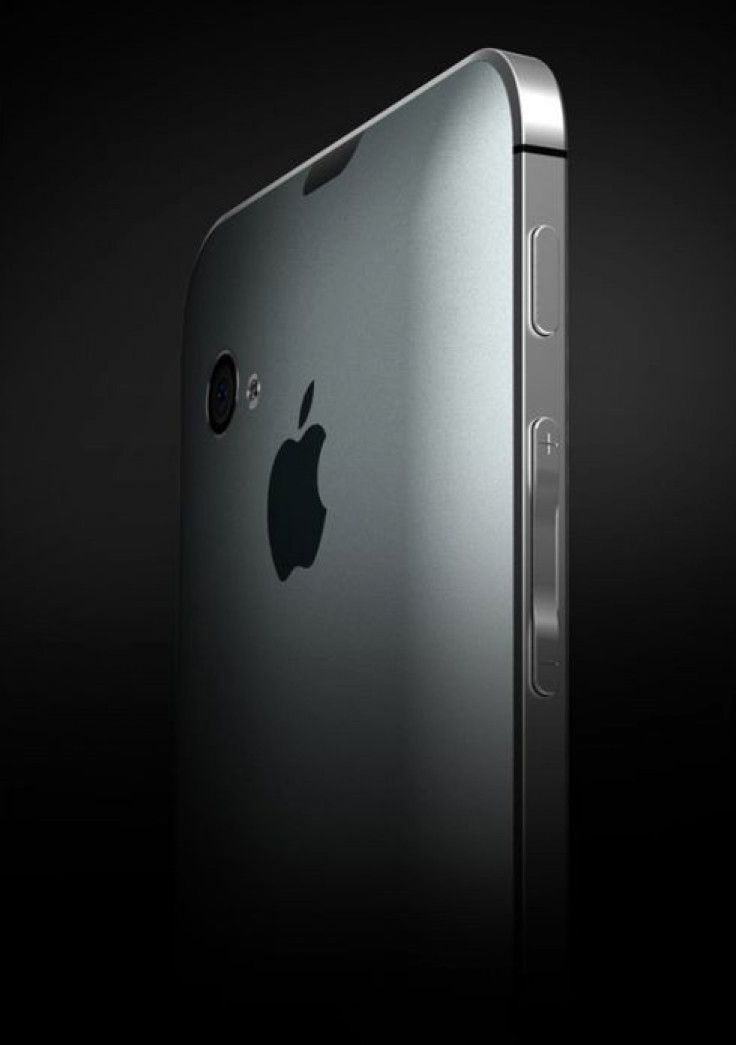 Before the launch of the iPhone 4S, Apple fans expected the company to offer a completely revamped model of its flagship smartphone. But that didn't happen and people didn't experience anything new from the device's look as it was pretty much identical to its predecessor, the iPhone 4. This must be the main reason for growing rumors that Apple will finally bring some momentous change to the form factor of its sixth generation iPhone.
While it's difficult to predict whether the Cupertino-based tech giant will opt for a significant revamp of its flagship smartphone with the release of the device's upcoming iteration, presumably called the iPhone 5, expectations of millions of Apple fans around the world are definitely high.
Fueling rumors about a re-designed iPhone, Rene Ritchie of iMore came up with a report last week in which he seemed concerned about what he called a confluence of events (that) led some to speculate that Apple could go wider instead of just bigger, which would be closer to 16:9 than the current 3:2.
According to him, there are many prototypes in Apple labs that have helped building up rumors about different sizes and cases of both iPhones and iPads.
We haven't heard anything about a 16:9 iPhone, but we have heard Apple is (perhaps still) discussing or experimenting with alternatives to the current Home button, said Ritchie. Could these experiments come together into an almost all-screen iPhone?
May be, but the latest report by Apple Bitch seemed to disagree with it. The report said that Chinese parts vendor TVC-Mall has begun selling iPhone 5 home buttons in both black and white on its Web site, which contradicts earlier rumors regarding an oval shaped home button or the lack of a home button at all in the next iPhone.
According to the report, the home buttons appeared on TVC-Mall's site under the category of iPhone 5 replacement parts, a section of the site which, until recently, had been empty.
The biggest surprise, or perhaps disappointment, for some is that the Home buttons appear to be round in shape, said the report. If the parts turn out to be genuine, then this would essentially quash any suggestion that Apple was redesigning the iPhone 5 with an oval touch capacitive Home button.
However, the alleged iPhone 5 Home Buttons appeared to be slightly different from the round home buttons seen on other iOS devices. As MacRumors pointed out, the new home buttons appear to have a rounded square shape much like iOS app icons, but retain the round depression for the button as seen in existing devices.
TVC-Mall listing notes the distinction:
Are you interested in the iPhone 5 which will come out soon? Different from iPhone 4S 4, the iPhone 5 home button is round in the centre and square outside as the pictures show. The two parts are indivisible.
According to MacRumors, it's not clear whether the rounded square section of the button, if real, would be visible to users as the round portion might simply sit below the surface of the device's bezel making it invisible to users.
We suspect that that the rounded square portion of the new home button will lie below the surface of the iPhone, serving to hold the button in place while remaining invisible to the user, said the report. In this scenario, only the standard round home button portion would protrude through the surface of the device to be accessed by the user.
The report said that the purported iPhone 5 Home Buttons were also listed for sale in both black and white at TrueSupplier and showed more clearly that the rounded square would sit behind the front of the device and help to hold the home button in place.
Questions Raised On Genuineness
An iDownloadBlog report raised a few questions on the genuineness of the home buttons.
China And Fake Apple Products: First of all, China is known for producing forged Apple products. Hence, these buttons could possibly belong to a black market 'iPhone 5' handset, rather than an actual Apple-made device.
Still Months To Go For A Final Release: If the next iPhone does get released in October as rumors suggest, there're still six months to go to see that happen. It's suspicious, therefore, that a third-party vendor has already finalized parts from a finished product. If anything, these home buttons are more likely from a prototype, said the report.
Old iPhone Home Buttons: As noted by MacRumors, if only the standard round home button portion would protrude upward, the rounded square section become invisible to the end user, and that would be similar to what the current iPhone model has.
That said, these could very well be old iPhone home buttons.
More From The Rumor Mill
Significantly Thinner Design, 7.90mm In Depth: Taiwan newspaper DidiTimes reported, citing sources in Apple's supply chain, that the next iPhone would feature in-cell touch panels, making it a thinner and lighter device altogether. The in-cell touch panels basically put together touch functionality with the TFT (thin-film transistor) manufacturing process, which helps get rid of the need for additional glass.
DisplaySearch analyst Davis Hsieh also believes that the next iPhone aka iPhone 5 will come with the technology. Hsieh told reporters at the DisplaySearch Taiwan Flat Panel Display Conference that Apple is likely to use display technology provided by Japanese panel makers rather than Taiwan-based suppliers for its next-generation iPhone to achieve a thinner profile for the device, Focus Taiwan reported.
Of course, Taiwanese panel makers are also developing this technology, but Japanese suppliers still run faster [..] compared with on-cell technology, touch panels that use in-cell technology can be made thinner because the touch sensors are actually placed inside the color filters rather than on top of them, Hsieh told reporters.
According to KGI Securities analyst Ming-Chi Kuo, using the in-cell touch panels could result in thickness savings of as much as 0.44mm by removing the separate touch sensor layer and one layer of adhesive, Apple Insider reported.
The current iPhone 4S is 9.3mm thick, and Kuo thinks that Apple wants to break the 8mm mark with its next iPhone. He predicts that the depth of the next iPhone will measure 7.90mm.
Liquidmetal Casing: Korean publication ETNews recently reported that the next iPhone would be considerably thinner and lighter thanks to its recently won patents for liquid metal, which the company acquired in August 2010 from Delaware-based Liquidmetal Technologies.
iPhone 5 is likely to take liquid metal, an alloy of zirconium, titanium, nickel, copper and so forth having an outer surface smooth like liquid, said the report.
4-inch Display: As Brian White of Topeka Capital Markets said, the next-gen iPhone could sport a 4-inch display, contrary to earlier reports of a large 4.6-inch and 3.5-inch screen. Some other sources also said that the device would sport Quantum Dot LED curved glass edge-to-edge display with 1280 x 720 resolutions (367ppi).
A5X Variant, 1GB RAM: Some reports also said that Apple had internally seeded a prototype next-generation iPhone, packing a variation of the A5X's S5L8945X architecture and 1GB of RAM. The variant in question is rumored to be an entirely new processor dedicated to the device's smaller form factor and less visually intensive needs.
Camera, OS and Other Features: As far as the other likely features are concerned, the upcoming iPhone model includes an 8 megapixel (or even higher) camera with the ability to take pictures in the panorama mode, a 2 megapixel front-facing camera for video chatting, iOS 6, 4G LTE technology, Near Field Communication (NFC) technology, improved Siri and a much-improved battery life.
Must Read: iPhone 5 Release Date 2012: 'iPhone Nano' Rumored Again, Why Apple Shouldn't Bother About It
© Copyright IBTimes 2023. All rights reserved.
FOLLOW MORE IBT NEWS ON THE BELOW CHANNELS