Does The 'Game Of Thrones' Season 8 Poster Reveal Who Wins Iron Throne?
The final season of "Game of Thrones" is finally set to premiere in just a few short weeks, and as HBO gears up for the final episodes of the epic series, promotional photos posters and videos continue to be released. However, the official poster for the show's conclusion could be providing a clue to just how the story ends—and who will be on the Iron Throne when the wars being fought officially come to an end.
The official poster was revealed to Entertainment Weekly and features the show's lettering for its title abbreviation, as well as information about the final season airdate. More notably, however, it starts by calling back to the first season poster with an image of the Iron Throne. However, as the image heads closer to the bottom, it makes a significant change—merging with the face of one of Daenerys' (Emilia Clarke) dragons.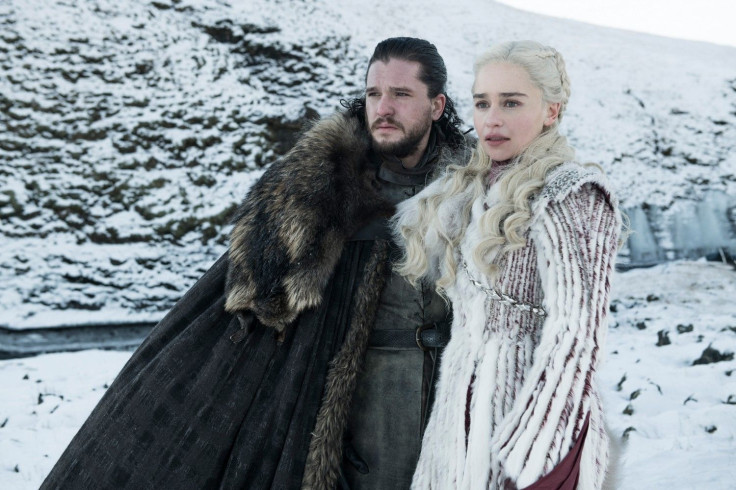 While HBO won't confirm anything, the merging of the dragon and the throne may be a clue about how things will end when the series concludes for good.
The season one poster which shares similarities to the final season one showed the Iron Throne with Ned Stark (Sean Bean) seated on it and holding a sword. The fact that the design somewhat calls back to that could be a hint about how things will end for Daenerys.
As fans know, though he did not want to ever take the throne for himself, things didn't end well for Ned on the show, as he was quickly accused of treason by Cersei (Lena Headey) and later executed by Joffrey (Jack Gleason). With a dragon now featured on the poster instead and knowing that they are vulnerable and can be killed, the poster could be a hint that Drogon and Rhaegal may not make it to the end of the show if the call back is to be taken as a literal interpretation of what will happen.
Of course, if the show isn't literally mirroring the Season One poster for the sake of making things a little different, the merging of the dragon and the throne could be a sign of just who ends up on the Iron Throne as well. Because the dragons are Daenerys' children and are the symbol of the Targaryen dynasty, it could be a subtle hint that a Targaryen will definitely be sitting on the Iron Throne when the wars come to an end.
Of course, whether that Targaryen could be Daenerys or Jon Snow (Kit Harington) is something fans will need to figure out for themselves.
"Game of Thrones" Season 8 begins airing on HBO on Sunday, April 14.
© Copyright IBTimes 2023. All rights reserved.