Donald Trump Accused Of Raping 13-Year-Old Girl: Lawsuit From Casey Anthony Attorney Allowed In Federal Court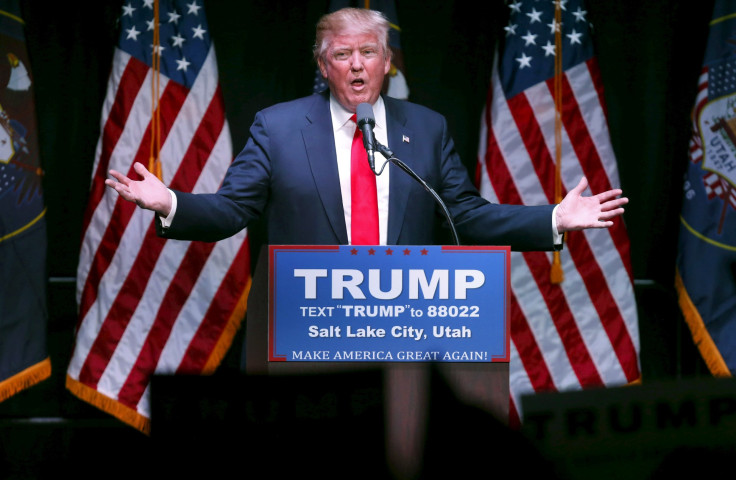 A lawsuit claiming that Republican nominee Donald Trump raped at least one 13-year-old girl in 1994 may have its day in court after a federal judge reportedly ordered a status conference to review the case, the Independent reported Tuesday.
The lawsuit, filed in the U.S. District Court of New York, alleges that Trump and financier Jeffrey Epstein raped two underage girls at several parties at Epstein's apartment in Manhattan. The girls, identified in court documents as "Tiffany Doe" and "Jane Doe," were allegedly promised money and modeling careers if they attended the parties.
The details described in the document are graphic. At one party, Trump is accused of tying one of the young girls to the bed before raping her while the victim repeatedly plead with him to stop.
Trump's lawyer has denied the accusations. A status conference is a meeting to update the court on how the two sides are proceeding including any settlement discussions under consideration and any discovery that has been conducted.
"As I have said before, the allegations are categorically untrue and an obvious publicity stunt aimed at smearing my client, " Alan Garten, Trump's general counsel for nearly a decade, told LawNewz.com.
Trump will reportedly head to court after the election on Dec. 16. The attorney representing the two women accusing the presidential hopeful of raping them while they were children previously became well known for representing Casey Anthony, who was accused of murdering her two-year-old daughter in Florida in 2008.
This is not the first time that Trump has been accused of rape. Trump's ex-wife Ivana Trump accused the businessman of raping her in a sworn deposition that surfaced after their divorce. She later walked those statements back and said that he did not rape her in a "literal or criminal sense."
The allegations come as questions about Trump's conduct around women has reached a fever pitch in the 2016 campaign. A video came out Friday afternoon showing Trump boasting on a hot mic about sexual assault. Trump said the video shows "locker room banter" and don't represent how he truly feels.
© Copyright IBTimes 2023. All rights reserved.
FOLLOW MORE IBT NEWS ON THE BELOW CHANNELS