Donald Trump, Allies Have Stakes In Hydroxychloroquine Drugmaker Sanofi, Says Report
KEY POINTS
Trump seems to have another motive for asking Americans to buy hydroxychloroquine: report
He owns a small indirect stake in Sanofi, S.A., one of the major producers of hydroxychloroquine
Three of Trump's family trusts have investments in Dodge & Cox, whose largest holding was in Sanofi
President Donald Trump's unrelenting salesman-like push over the past month for Americans to use the anti-malarial drug hydroxychloroquine to cure COVID-19 -- despite there being no clear medical evidence this drug can do so -- has led to the obvious question, "Why?"
Trump's answer is, "What do you have to lose?" The president gave this as his excuse for promoting the drug on April 4 during a televised White House coronavirus press briefing.
"I'm not looking at it one way or another," said Trump. "But we want to get out of this. If it does work, it would be a shame if we didn't do it early. What do I know? I'm not a doctor. But I have common sense."
Trump also said the U.S. doesn't have time "to take a couple years" to test the efficacy of a drug that can treat COVID-19.
Trump's blatant push to sell hydroxychloroquine (a prescription oral drug) has long been opposed by Dr. Anthony Fauci, director of the National Institute of Allergy and Infectious Diseases (NIAID). As far back as March 21, Dr. Fauci was asked by a reporter if hydroxychloroquine can be used to treat COVID-19.
"The answer is no," answered Dr. Fauci emphatically. "And the evidence that you're talking about ... is anecdotal evidence."
Dr. Fauci later emphasized there's nothing to suggest hydroxychloroquine has any effect against the novel coronavirus that causes COVID-19.
"In terms of science, I don't think we can definitively say it works," he told CBS's Face the Nation. "The data are really just at best suggestive. There have been cases that show there may be an effect and there are others to show there's no effect."
There may now be a clearer reason as to why Trump keeps pushing hydroxychloroquine as a COVID-19 cure -- he and his associates stand to make money from its sales.
In a report published Tuesday, The New York Times revealed Trump has a "small personal financial interest" in a mutual fund whose largest holding last year was in French multinational pharmaceutical company Sanofi S.A., which makes Plaquenil, the brand-name version of hydroxychloroquine.
Sanofi told the paper that the company no longer sells or distributes Plaquenil in the U.S.
In 2019, Trump reported each of his three family trusts has investments in Dodge & Cox, a leading U.S. mutual fund company, whose largest holding was in Sanofi. He recently said the federal government will distribute 29 million doses of the drug. He also said he'd called Indian Prime Minister Narendra Modi asking India allow the hydroxychloroquine it produces to be exported to the U.S.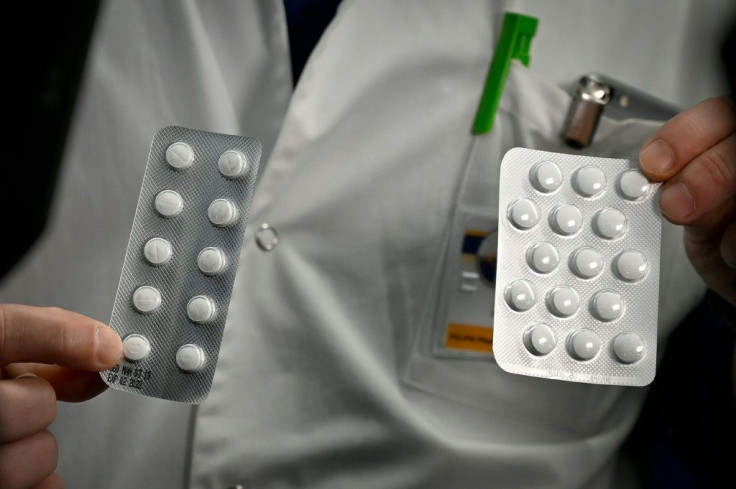 The Times argued that if hydroxychloroquine becomes an accepted treatment for COVID-19, Sanofi and several pharmaceutical companies stand to profit. And among the many shareholders who would benefit are Trump allies and executives.
Among Sanofi's largest shareholders is Fisher Asset Management. This investment firm was founded by Ken Fisher, an American billionaire investment analyst. Fisher is also a major donor to Trump and other Republicans. Another investor in Sanofi is Invesco Ltd, the Georgia-based investment management company previously run by Wilbur Ross, the current Secretary of Commerce. Ross, however, claims he doesn't "have any involvement in the decision to explore this as a treatment."
Trump's allies have consistently cited a study published in the International Journal of Antimicrobial Agents (IJAA), the peer-reviewed journal of the the International Society of Antimicrobial Chemotherapy (ISAC) as their basis for claiming the effectiveness of hydroxychloroquine against COVID-19. ISAC is a federation of affiliated member societies aiming to increase the knowledge of antimicrobial chemotherapy and combat antibiotic resistance around the world.
ISAC, however, has now repudiated this study titled, "Hydroxychloroquine and azithromycin as a treatment of COVID-19: results of an open-label non-randomized clinical trial." In a letter dated April 3, ISAC President Andreas Voss said ISAC has concerns regarding the veracity of the study.
"The ISAC Board believes the article does not meet the Society's expected standard, especially relating to the lack of better explanations of the inclusion criteria and the triage of patients to ensure patient safety," wrote Voss.
He also said although ISAC recognizes the importance of quickly publishing new data, "this cannot be at the cost of reducing scientific scrutiny and best practices."
© Copyright IBTimes 2023. All rights reserved.