Donald Trump Comments On Women, Mexicans Jeopardizes Republican Party's Chances In 2016 Presidential Race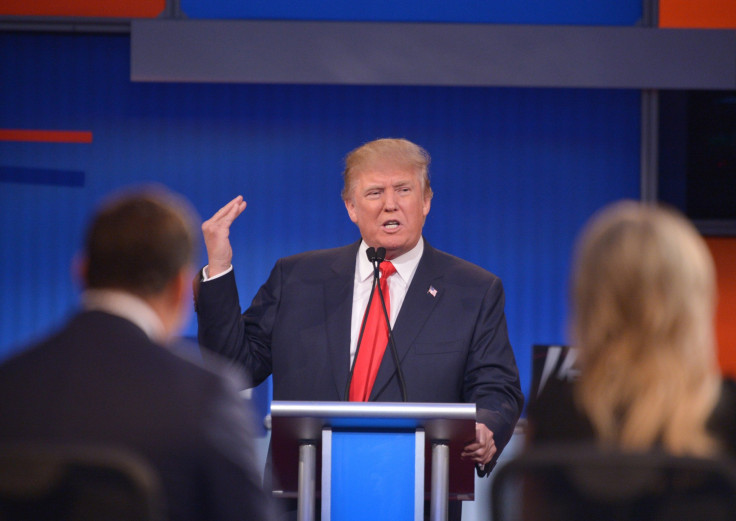 When it comes to slanderous remarks about women, Donald Trump is on a roll. The GOP presidential candidate defended his past comments during the Republican Party's first prime-time debate Thursday night. Trump shot back at Fox News debate moderator Megyn Kelly when she confronted him about calling women "fat pigs, dogs, slobs and disgusting animals."
"I think the big problem this country has is being politically correct. I've been challenged by so many people and I don't frankly have time for total political correctness, and to be honest with you, this country doesn't have time either," Trump said. "Frankly what I say and oftentimes it's fun, it's kidding, we have a good time."
Whether or not Trump is only "kidding" when he calls women "fat" or "disgusting," his apparent insults apply to the majority of registered voters in the United States, and that could mean trouble for the GOP. For decades, the Republican Party has failed to capture the women vote during presidential elections, with its candidates often taking a tough stance on gender-sensitive issues such as abortion, birth control and equal pay. The party has also struggled to embrace Hispanic voters, an increasingly important constituency that has also been the target of Trump's incendiary remarks in recent months. With Trump leading in the polls and recent elections showing that Republicans can't win the White House with just the votes of white men, Trump's controversial comments on women and immigration could hurt the GOP's prospects of winning key voting blocs in the 2016 race, regardless of who the eventual nominee is, political experts predict.
"What emerged on the stage last night was a Democrat's dream come true, as far as the gender gap is concerned," said Jennifer Lawless, a professor of government at American University in Washington, D.C. "What Trump did was different than the other candidates. He demonstrated an utter disrespect for women."
In morning-after interviews with NBC's "Today" and MSNBC's "Morning Joe," Trump said he didn't recall specifically insulting women. But various news outlets have reported that the real estate mogul called a lawyer "disgusting" when she wanted a break to pump breast milk for her baby, once declared celebrity Rosie O'Donnell a "fat pig," "ugly," a "slob" and an "animal," and that he told a New York Times columnist she had the "face of a dog," according to the Associated Press . Trump, who has been married three times, also has "joked" that he would date his own daughter Ivanka, a businesswoman and former model, because of her looks.
Trump said on Twitter after Thursday's debate that Kelly "bombed" as a moderator and "was not very good or professional." He also retweeted a post that referred to the Fox News host as a "bimbo."
"I was pretty stunned. In what universe is it OK to then also condemn the female debate moderator?" Lawless said in a telephone interview Friday. "It was really quite shocking."
Earlier this week, Trump, chief executive of the Trump Organization Inc., suggested shutting down the federal government to block a spending bill that includes funding for Planned Parenthood, an organization which supports various women's health needs and receives more than $500 million in taxpayer money each year, according to the New York Times .
So far, the Republican Party has remained quiet about Trump's so-called "war on women" rhetoric. In an interview with CBS , presidential candidate and Wisconsin Gov. Scott Walker, who has attacked Democratic front-runner Hillary Clinton for supporting equal pay, said Friday that Trump "can speak for himself," while conceding it's not the sort of language he would use to talk about women.
Trump was not the only GOP candidate whose comments during the Fox News debate could turn off women voters. Sen. Marco Rubio of Florida said he did not support abortion rights, even in cases involving rape and incest. "Future generations will look back and call us barbarians for murdering millions of babies," Rubio said Thursday night, after Kelly asked about his stance on the issue. Meanwhile, former Arkansas Gov. Mike Huckabee attacked Planned Parenthood by saying it sold parts of aborted fetuses "like parts to a Buick."
The voter gender gap has haunted Republicans for decades. Women make up the country's largest voting bloc, and they tend, overall, to lean left compared with men. Since 1980, women have been more likely than men to vote for a Democratic candidate in presidential polls, according to Pew Research Center.
"For some women, [abortion] is a hot issue. But those are Democratic voters already," said Michael Hannahan, political science lecturer and director of the Civic Initiative program at University of Massachusetts, Amherst. "How many people are Republicans really going to lose?"
The gender gap during presidential elections was wider than ever in 2012, according to a Gallup poll. Republican challenger Mitt Romney won among men by an eight-point margin with 54 percent compared with President Barack Obama's 46 percent. But it wasn't enough to win the race. Obama won over both Republican and Democratic women voters in the 2012 presidential election by 12 points with 56 percent compared with Romney's 44 percent, according to the poll.
Democrats have also typically fared better than Republicans with Latino voters. In the 2012 presidential election, Obama won 71 percent of the Hispanic vote, while Romney garnered 27 percent, according to an analysis of exit polls by the Pew Hispanic Center, a project of the Pew Research Center. The U.S. Hispanic population grew by nearly 49 percent between 2000 and 2012, according to Census data.
"The future of the Republican Party hinders more on their ability to capture the Hispanic vote because it's growing," Hannahan said in a telephone interview Friday.
But while Republican White House hopefuls Jeb Bush and Rubio are both frantically courting Hispanic voters, Trump has referred to Mexicans who illegally cross the border as "criminals, drug dealers, rapists." Instead of backtracking, Trump made further digs on the U.S. immigration system during Thursday's debate.
"Our politicians are stupid. And the Mexican government is much smarter, much sharper, much more cunning and they send the bad ones over because they don't want to pay for them," he said.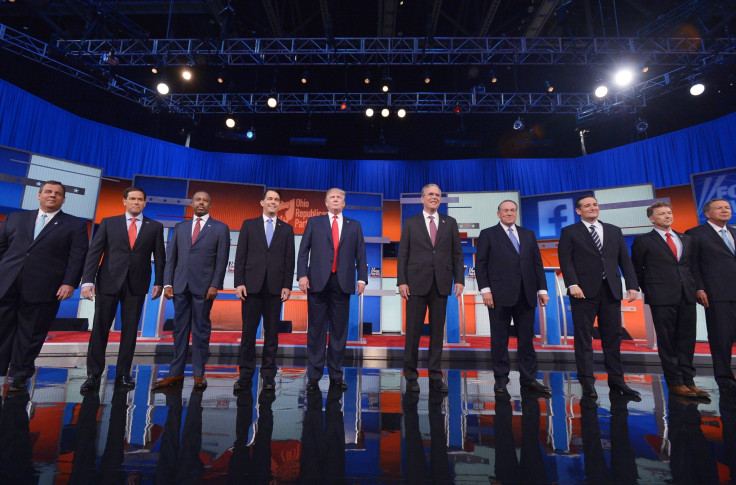 Trump's rising popularity has seen his divisive remarks broadcast to 2016 voters across the nation in recent weeks. According to a Washington Post-ABC News poll conducted July 16 to 19, 24 percent of GOP voters overall support the billionaire businessman. No other GOP candidate comes close. But it's far too early to tell whether Republicans will make Trump their presidential nominee.
"The polls right now are utterly meaningless," said Hannahan, whose research examines the effects of political campaign activity. "I don't think there's a snowball's chance in hell he is going to be the Republican nominee."
Trump has at least managed to win over one noteworthy woman during the course of his unorthodox candidacy. Beada Corum, 92, of Knoxville, Tennessee, said she registered to vote for the first time just to cast her ballot for the Donald.
"He's got a strong mind and he speaks it out just the way he thinks it ought to be," she told local news station WVLT on Wednesday. "We got a good country but it's going downhill so fast and we need somebody in there who can straighten it out."
FOR FREE to continue reading
✔️ Unlock the full content of International Business Times UK for free
offer available for a limited time only
✔️ Easily manage your Newsletters subscriptions and save your favourite articles
✔️ No payment method required
Already have an account?
Log in
© Copyright IBTimes 2023. All rights reserved.