Donald Trump At Evangelical Liberty University: GOP 2016 Front-Runner To Give January Convocation Address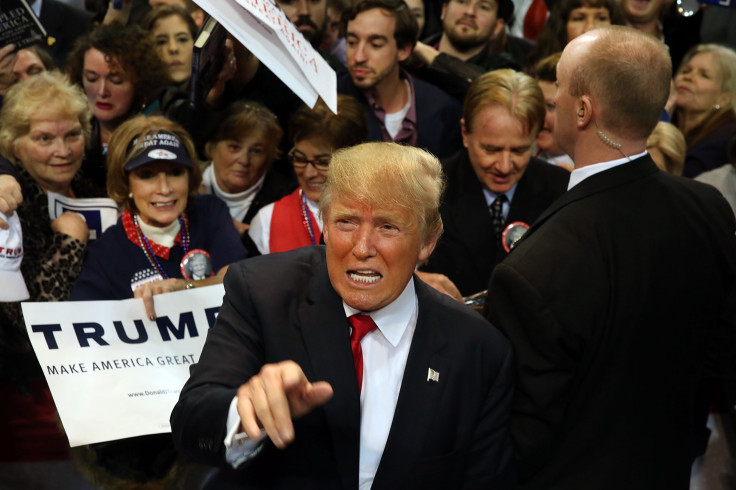 Republican presidential front-runner Donald Trump will speak this month at Liberty University, the private evangelical university founded in Lynchburg, Virginia. Trump is set to deliver the convocation address on Jan. 18, the first day of classes for the school's spring semester. He has spoken there before in 2012, when he previously delivered a convocation address. Liberty University convocations are typically attended by thousands of students and faculty from the school, whose student body numbers about 13,000. Held in the school's 12,000-seat arena, the convocation is also open to the public.
Liberty University has often been at the center of right-wing politics. It was founded by the late evangelical Baptist pastor and televangelist Jerry Falwell in 1971, and its current president is his son, Jerry Falwell, Jr. The school has hosted several conservative political candidates, including Bernie Sanders and Ted Cruz, who announced his presidential bid at the school's convocation in March.
And while Falwell Jr. has not been as active in politics as his late father, in December he waded into the spotlight with a controversial statement in which he told students to carry concealed weapons to "end those Muslims before they walked in." He later said that he was specifically referring to the Paris and San Bernardino terrorist attacks. After those comments, Trump called Falwell Jr. to tell him he was proud of him.
Falwell Jr. also said recently that his three favorite GOP presidential candidates are Trump, Carson and Cruz.
"I think Trump reminds me so much of my father," Falwell Jr. said on Fox News. "He says exactly what he thinks no matter what anybody cares."
Falwell also said that he stayed in "close contact" with Trump and his aides since Trump's first visit to Liberty in 2012.
In a news release on the school's website, Liberty University President Jerry Falwell Jr. says he and his wife, Becki Falwell, have stayed in "close contact" with Trump and his top aide, Michael Cohen, since that visit.
Falwell also said on Monday night that he was exploring whether Republican candidates would participate in a presidential forum hosted by an outside party but held on the Liberty University campus in February. Previous plans for a January Republican debate at Liberty University fell through in December.
© Copyright IBTimes 2023. All rights reserved.