Donald Trump Formally Announces Rick Perry As His Pick For Energy Department Secretary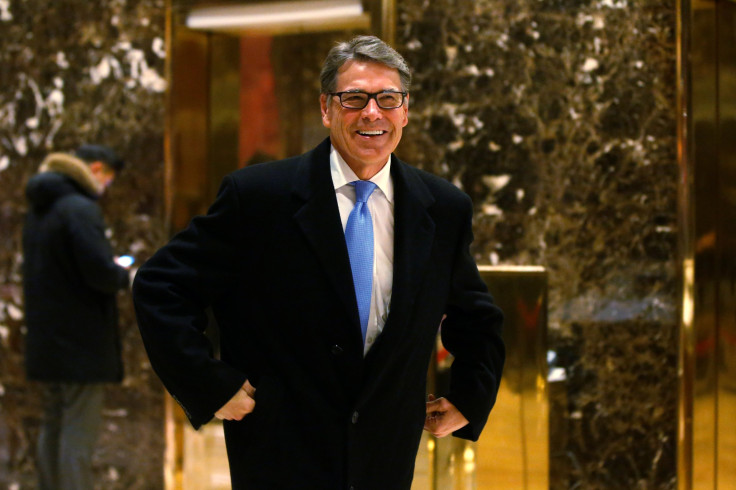 U.S. President-elect Donald Trump on Wednesday formally announced Rick Perry as his pick for the secretary of the U.S. Department of Energy. Perry, who was a former Texas governor and Trump's presidential rival, had said in 2011 that he would eliminate the Department of Energy.
"As the Governor of Texas, Rick Perry created a business climate that produced millions of new jobs and lower energy prices in his state, and he will bring that same approach to our entire country as Secretary of Energy," Trump reportedly said, in a statement. "My administration is going to make sure we take advantage of our huge natural resource deposits to make America energy independent and create vast new wealth for our nation, and Rick Perry is going to do an amazing job as the leader of that process."
Trump and Perry met each other at Trump Tower to discuss the position Monday. Perry, who ran in both the 2012 and 2016 primaries, welcomed the planned nomination to serve under Trump, who takes office on Jan. 20.
As the head of the Department of Energy, Perry will be responsible for clean energy, nuclear weapons cleanup, and the promotion of energy research and innovation.
During a Republican presidential primary debate in November 2011, Perry attempted to name the three departments he would eliminate.
"I will tell you, it is three agencies of government when I get there that are gone: commerce, Education, and – what's the third one there? Let's see." While he was unable to remember the name, he later clarified that he did, indeed, mean to say the Department of Energy.
Perry, who had a face-off with Trump in the primary battle for the Republican presidential nomination, had hurled several insults toward the business mogul.
"Let no one be mistaken Donald Trump's candidacy is a cancer on conservatism and it must be clearly diagnosed, excised and discarded," Perry said, during a speech in Washington, D.C., in July 2015. "It cannot be pacified or ignored for it will destroy a set of principles that has lifted more people out of poverty than any force in the history of the civilized world and that is the cause of conservatism." He also called Trump "a barking carnival act."
© Copyright IBTimes 2023. All rights reserved.