'Donald Trump Is A Jerk,' Says Jeb Bush At Town Hall Meeting On Saturday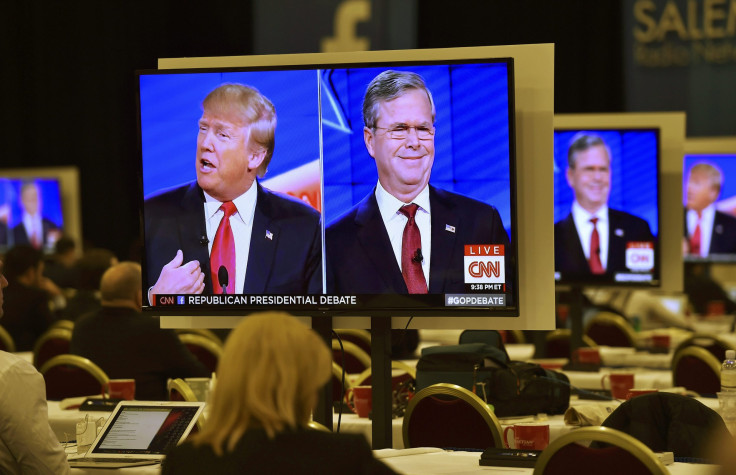 Former Florida Gov. Jeb Bush has taken off the gloves in the Republican presidential-nomination contest, calling billionaire businessman Donald Trump "a jerk" at a campaign town-hall event Saturday. "I gotta get this off my chest: Donald Trump is a jerk," Bush told his supporters in Contoocook, New Hampshire. The crowd responded with applause and cheers, CNN reported.
Bush made the comment about the GOP front-runner while replying to an audience member with Asperger's syndrome who asked him how he would support Americans with disabilities in the event he became president. Bush discussed his track record in Florida, pointing to his work with Florida's Legislature in raising funds for the state's disability system.
But the former governor's remarks didn't end there. Bush recalled an incident in November when Trump appeared to mock a New York Times reporter with a disability. "You cannot insult your way to the presidency," Bush said. "You can't disparage women, Hispanics, disabled people. Who is he kidding?"
The rivalry between the two candidates heated up this week, beginning at the CNN-hosted debate in Las Vegas Thursday. During the debate, Bush was more direct in confronting Trump than he has been on the campaign trail so far. Trump fired back, calling Bush "dumb as a rock" in a Twitter post Friday:
Bush said at his town-hall meeting Trump's behavior is "deeply discouraging. ... We should reject that out of hand. And I hope you're going to reject it by voting for me. But a guy like that should not be the front-running candidate of our great party. That is not how we win," Bush said.
After calling Trump a jerk, Bush joked that the experience was cathartic. "I feel better now. I gave myself therapy there," he said. "Thank you for allowing me to do it."
© Copyright IBTimes 2023. All rights reserved.