Donald Trump Jr.'s Wife Files For Divorce After 12 Years Of Marriage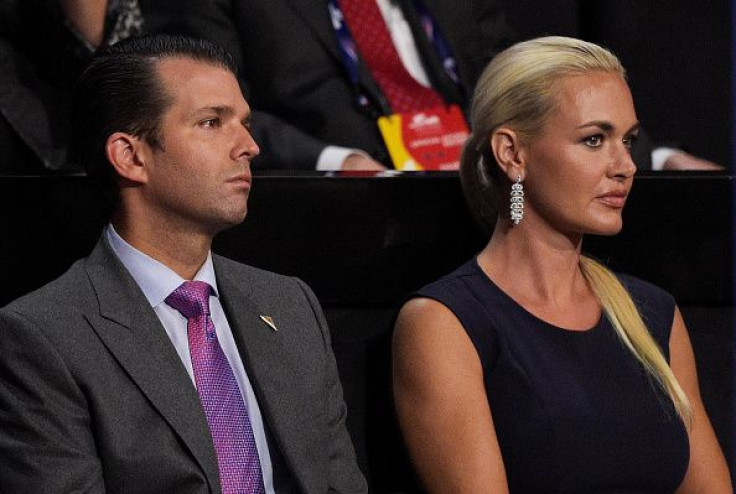 Donald Trump Jr.'s wife, Vanessa Trump, has filed for divorce from her husband after 12 years of marriage.
The couple released a statement (via People) confirming their decision to go their separate ways.
"We will always have tremendous respect for each other and our families. We have five beautiful children together and they remain our top priority. We ask for your privacy during this time," the statement read.
Vanessa filed for divorce from her estranged husband on Thursday. A day before her filing, rumors swirled that the couple was headed for divorce. Vanessa and Donald Jr. tied the knot in 2005 at the president's Mar-a-Lago estate in Palm Beach, Florida.
On Wednesday, a source close to the couple said, "I heard for a while they have been living separate lives… Even before all this Trump presidency stuff started they weren't good and their marriage was strained."
But another source told People that Vanessa's filing came as a surprise to everyone because no one knew that the couple was facing some marital issues. "They always seemed very cute together, and were a really fun couple," the second source said.
In February, the couple also made headlines after it was reported that they didn't celebrate Valentine's Day together. Vanessa reportedly took her two eldest sons to a low-key sushi restaurant to celebrate the occasion. Donald Jr., on the other hand, went on a date with their eldest daughter, Kai, 10.
The couple's two youngest children, Spencer, 5, and Chloe, 3, both stayed at home. The doting parents are very close to their five children so it is possible that they will share custody of all of them.
Last month, Vanessa was hospitalized as a precaution after she was exposed to a white, powdery substance after she opened a letter that was addressed to her husband. A rep for the NYPD revealed that the substance was non-toxic.
Donald Jr. released a statement following the incident.
"Thankful that Vanessa & my children are safe and unharmed after the incredibly scary situation that occurred this morning. Truly disgusting that certain individuals choose to express their opposing views with such disturbing behavior," he said.
© Copyright IBTimes 2023. All rights reserved.