Donald Trump Releases 'Friday The 13th' Attack Ad Calling Ben Carson A 'Violent Criminal'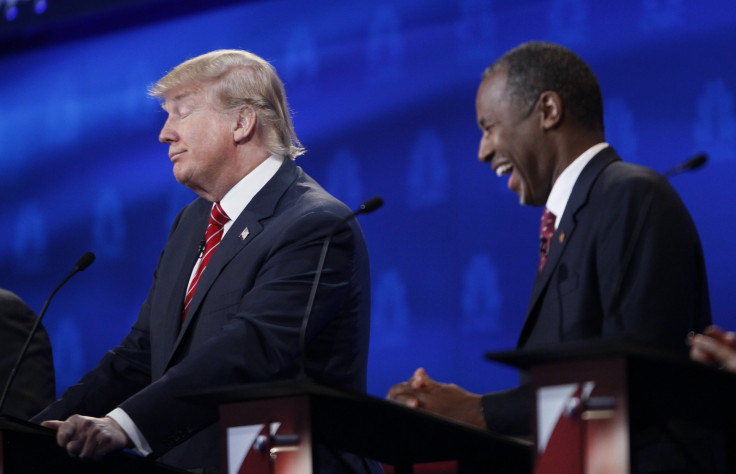 Under the icy notes of a piano soundtrack similiar to that of the 1980s slasher film "Halloween," Donald Trump lodged a horror-themed attack ad against his chief rival for the GOP nomination, Dr. Ben Carson, calling the former neurosurgeon a "violent criminal."
"Happy Friday the 13th," read the Instagram post, spreading across the Internet like wildfire within seconds. It's the latest attempt by Trump to bury his competitor for a passage in Carson's autobiography "Gifted Hands" in which he writes of his rage issues as a teenger and young adult. Particularly, Carson describes an attempt to stab one of his friends; later on, outside of his book, he admitted to attacking his mother with a hammer.
In the ad, the slasher music plays as Carson tells an interviewer about the attempted stabbing. The ad asks if Carson is a "violent criminal" or a "pathological liar" before concluding: "We don't need either as president."
The "Friday the 13th" video comes a day after Trump, while discussing the autobiography, compared Carson's "pathological" tendencies to the behavior of an unrepentant "child molestor."
"It's in the book that he's got a pathological temper," Trump told CNN's Erin Burnett. "That's a big problem, because you don't cure that."
"As an example: child molesting," Trump continued. "You don't cure these people. You don't cure a child molester. There's no cure for it. Pathological -- there's no cure for that."
© Copyright IBTimes 2023. All rights reserved.